New Acura flagship can give drivers "P-AWS"
By Jim Bray
October 17, 2013
Acura is definitely not pussyfooting around! Honda's flagship division has released a pair of new top line models, both of which are very nice vehicles that offer consumers plenty of performance, high technology and abundant features for a not unreasonable dollar.
Don't confuse them with Acura's real flagship NSX, however. That new supercar is oozing its way toward the marketplace at glacial speed, whereas the new generations of the MDX SUV/crossover and RLX sedan are starting to appear on North American roads already. And so they should. They're far more mainstream than the someday-to-be-available hybrid supercar and so should appeal to a wide range of luxury vehicle shoppers.
Four doors, low floor...
The RLX sedan (click the image above to open a slide show) replaces the RL, which for whatever reasons didn't sell well. It's too bad, because it was a very nice car. Perhaps it was too small, perhaps it didn't stand out from the competition enough to snag sufficient stares from potential owners, but it was comfortable (even though the rear seat was a tad tight for a supposedly top line sedan), it drove well and it was chock full of the latest gizmos.
Perhaps its sales also suffered because it offered only V6 power in a segment where V8's were popular. If so, it's kind of ironic since many of these same competitors are beginning to eschew V8's in favor of V6 engines of varying aspiration, which means the segment is moving toward what the RL/RLX has offered since Day One.
In other words, Acura has gone from a laggard to a trendsetter without actually having to do anything except maintain its original course! Don't they look prescient now!
RLX's are powered by a 3.5 liter, 24 valve, SOHC VTEC V6 the company rates at 310 horses @ 6500 rpm and 271 lb.-ft. of torque @ 5800. That's plenty of motivation for a vehicle this size and it moves the sedan along smartly. Variable cylinder management on what this "most powerful Acura ever" - by which the car can run on either three or six cylinders depending on how you're driving - helps the six banger up its fuel mileage tally to a decent 10.5/6.4/8.6 (city/highway/combined).
Power gets to the front wheels via a six speed Sequential SportShift automatic transmission with paddle shifters that does a very nice job of swapping cogs. There's also a sport setting that puts the transmission into fully manual mode with which you can let the engine rev higher before shifting up to the next gear. It makes the RLX a bit more interesting to drive - not that it's a snoozefest when not in this mode - and it works well, giving this rather staid sedan a nice, sporty aspect.
The old RL offered a "super handling all wheel drive" (SH-AWD) system that appears to be gone by the wayside now in favor of the basic front wheel drive configuration. But that doesn't mean the RLX has become a front-end-plowing boat: Acura has fitted the RLX with an interesting new feature it calls "P-AWS," which stands for Precision All Wheel Steering (as opposed to ones that aren't precise, I guess).  
The company says P-AWS is the first system ever to let the rear wheels adjust their toe angles independently of each other. What that means, they say, is that the rear wheels can pivot in and out 1.8 degrees, either in the same direction as the front wheels or angled slightly in the opposite direction - depending upon your speed and what you're doing (changing lanes, plodding along, or carving up a few apices at higher speeds).
As with the cylinder deactivation, the P-AWS is unobtrusive - you just drive the car and it works as the vehicle's nervous system deems prudent. And the car does handle very well.
The suspension is independent all around and it treads the line between sport and luxury nicely, just as it should - not jarringly tight but not enough to rock you to sleep, either.
For such a conservative vehicle, the RLX is actually quite intriguing to drive. I had a week in it right after a week in the new Lexus IS 250 and much to my surprise I actually preferred driving the Acura!
The inside story of the RLX is that, since it's longer and wider than the RL, it definitely feels bigger, more roomy. Whether or not that's a good thing is up to the individual, of course; as someone of shorter (but no less porky) stature, the old car's size up front was just fine for me, but rear seat passengers during my test period definitely preferred the RLX - so Acura's strategy was undoubtedly right.
Of course you also get the latest nannies, such as adaptive cruise control, lane departure warnings, blind spot protection and the like. You can shut them off if you want and they'll stay shut off till you reactivate them, which is as it should be.
The cabin is a very pleasant place to be, with understated luxury and good quality materials. It's comfortable and feels like a luxury sedan should - offering such stuff as a 12 way powered and heated front seats with driver's side memory, active noise cancellation and active sound control to keep things serene at speed (and it does). You also get a heated steering wheel and heated rear seats and about as much technology as you could need - and then some.
Honda and Acura are trying to come up with a new interior interface that eliminates some of the seemingly thousand or so buttons, knobs and gewgaws that have been so confusing in the past. So they've added a touch screen LCD to the mix and it works very well. Unfortunately, what you end up with is both a touch screen and the old cursor control knob thingy system and that muddies the water even more. If they'd just dump the cursor control knob thingy system and put its functionality onto the LCD all would be well.
Mention should be made of the new Krell audio system. Krell is a very high end home audio company (its name comes from the movie Forbidden Planet, by the way) and the RLX' optional audio system sounds fantastic. Alas, it no longer plays DVD-Audio discs like the old ELS system did so, while it may sound better than the exquisite ELS system, it's at the price of some functionality. To be fair, however, few people will notice or care.
Besides, as noted below, the ELS system no longer plays DVD-A, either. Rats! What's an audio snob to do?
The RLX starts at $49,900 according to Acura Canada's website. The fully loaded version with all the stuff that can be stuffed into it (including the Elite and Tech packages) tips the fiscal scale at about $62,200.
Acura's RLX is a very nice car that comes in at a reasonable price for this niche. It's good to drive, stuffed with luxury and technology, and a definite upgrade from the old RL. I don't think it's as nice to look at as the RL, outside at least, but that's a personal choice - and it isn't as if the new car looks like a rock troll! It's certainly worth a look if you're shopping in this segment.
Crossing over, Acura Style...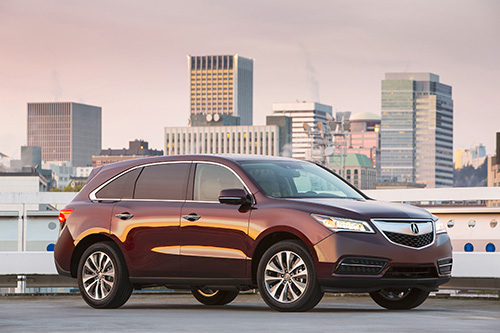 The MDX (click the image above to open a slide show) hasn't been a slow seller for Acura but it was still time to introduce a new version of the company's biggest SUV/Crossover. This third generation is a logical successor to the line and it shares a lot of the stuff that makes the RLX such a nice vehicle in which to spend time.
No P-AWS here, but you do get the good "old" SH-AWD system and it still works fine. It isn't the sort of all wheel drive system you'll want to use if you're climbing every mountain and fording (Acuraing?) every stream, but for winter, rain, and just plain good stability, it's more than adequate.
Powering the new MDX is a direct-injected, 290 horsepower, 3.5 liter, i-VTEC V6 with Variable Cylinder Management that, as with the RLX, lets you cruise along using only three cylinders as a fuel saving measure. It also has a six speed automatic transmission with manual mode and paddles, just like the RLX, and there's also a "sport" mode.
In fact, there are so many similarities about the vehicles that one could almost think of them as two sides of the same coin - just SUV and Sedan versions of the same basic theme. It isn't exactly true, but the analogy is reasonable.
The MDX's "P-AWS-less" SH-AWD is complemented by Agile Handling Assist, which supposedly smooths the ride and makes acceleration more enjoyable. However you slice it, the MDX is no Cayenne or X5, but it's a pretty darn decent ride nonetheless.
As with the RLX, the new front end features a row of cool Jewel Eye LED headlights, with five separate high-intensity LED's. They're very cool and they light your way home well.
The "slightly down market" aspect of the MDX - five LED's in the headlights instead of the RLX's eight, slightly less power, etc. - appears throughout the SUV in other ways. For example, the power front seats only have 10 adjustments (and I didn't miss the extra two), so while these "undersights" mean the MDX isn't quite the flagship vehicle the RLX is, it's surely close enough. It's a fine drive, with plenty of luxury and comfort throughout.
Acura has taken pains to make getting into the still small third row easier with this new generation. They've put in a new "One Touch Walk-In" feature by which you simply press an illuminated button and the second row seats fold automatically and slide to their most forward position. There's also a new, four position recline and extended slide capability on the second row seats to help you find the best balance between second and third-row legroom.
Despite this, the third row is still small and getting into it - for a short and portly, middle-aged (born in 1397 A.D.) fellow - was still an unpleasant experience. Kids will probably scamper back there with abandon, however, damn their eyes.
All the nannies of the RLX are on tap here, too, including a new Lane Keeping Assist System that's designed to keep the vehicle on the straight and narrow during normal driving conditions. Acura describes it thus: "If the car begins to cross lane markings unintentionally, the Lane Keeping Assist System is engineered to apply light steering torque to return the vehicle to the centre of the lane while a continuous beep inside the cabin is provided to alert the driver."
At least it doesn't slap you with a dead fish, though maybe that's on tap for 2015.
There's also a multi-angle rear view camera and the usual bevy of belts and bags to keep you safe.
The ELS audio system is as excellent as ever, non-DVD-A capability notwithstanding, and the test vehicle also had a second row DVD entertainment package that featured an ultra-widescreen LCD that folds down from the roof. Wireless headphones are included, and the control panel pops out to be used as a remote control.
With a system like this, you won't need to pump the ankle biters full of valium before you head out on that long road trip!
The center stack features the same type of redundant interface systems as the RLX, with the same confusing result. Pick one, Acura (preferably the touch screen).
The 2014 MDX also includes as standard features stuff such as keyless access system with push button start, exterior and interior LED lighting, and acoustic glass front windows and windshield. Step up to the highest end Elite package and you'll get all those abovementioned nannies as well as remote engine start, the DVD (why not Blu-ray?) rear entertainment system with HDMI connectivity, and a surround view camera system.
Speaking of Blu-ray, you could the middle row entertainment system's HDMI input to plug in a portable Blu-ray player if you have one, and the MDX will display it at 720p. That should be more than adequate for such an application and considering the quality of the LCD screen.
The 2014 Acura MDX starts at $49,990, which Acura says is $3,260 less than the 2013 model. Opt for the highest level of content and it'll set you back just shy of $66 grand.
Copyright 2013 Jim Bray
TechnoFile.com