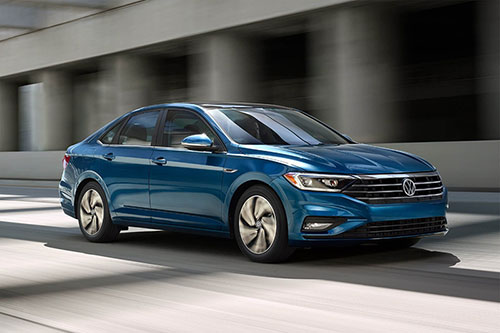 Reborn VW Jetta is a terrific small sedan
By Jim Bray
May 10, 2018
It may be German inside and out, but VW's new small sedan makes me think in French.
French, as in "Je t'adore" because (putting it into pun-dit English) "Jetta adore" is how I came away from my week with the new, 2019 Volkswagen Jetta. This probably surprises no one who reads my columns regularly, because you know that I'm a big fan of VW's, just about any VW – and that includes Audi and Porsche as well (and would probably include such other VW brands as Lamborghini, Bugatti and Bentley, if I were ever lucky enough to get seat time in them).
Click on the image to open a slideshow.
But this piece is about the Jetta, which is all-new for 2019. I'm always afraid when a new generation of a favourite car comes out, concerned that the manufacturer will have taken a great car and (for whatever reason) made it worse. So, I entered this Jetta review with some trepidation that was, fortunately, short-lived.
Essentially a Golf with a trunk, the Jetta now rides on VW's MQB platform, which is shared by the Golf, the new Tiguan and the new Atlas, as well as a couple of Audis and other VW group brands that aren't sold here (such as Seat and Skoda). Upon that platform Volkswagen's designers have built the most handsome Jetta ever (beauty, of course, being in the eye of the keyholder), a car that also looks as if it should be more expensive than it is.
VW Canada's sample Jetta was a top line one, wearing the Execline trim and lovely Silk Blue Metallic paint, yet it came in at right around 30 grand Canadian, which is a reasonable price considering what a great car it is.
And if you want to eschew some features, you can get into a base Jetta ("Comfortline") starting at about $21,000.
The new Jetta gets its power from VW's great little 1.4 litre turbo four, which the company says puts 147 horsepower and 184 pound-feet of torque onto the road via the car's front wheels (no all-wheel drive version is offered). There's noticeable turbo lag initially, but after an instant the power kicks in nicely and the little Jetta moves ahead as if it were propelled by solid rocket boosters – and I noticed little if no torque steer during the process.
The power goes through a six speed manual or an eight speed automatic. VW's sample had the automatic, alas, but as it turns out it's a great one! Alas, again, it doesn't come with paddle shifters that let you control the tranny manually without taking your hands off the steering wheel. I love paddles, and so I missed that on this new Jetta.
Would that be a deal breaker? Probably not: this automatic tranny is good enough that I just might opt for it over the six-speed manual anyway (causing me, a confirmed stickaholic, to worry about prompting a lightning bolt for my heresy). And it features a wonderful manual mode (accessed via the shift lever on the centre console) that snaps to attention the instant you want it to.  
Outside, the new Jetta sports a great-looking body. Pictures don't do it justice; I thought the new, larger grille would be a tad off-putting in real life, but once I'd seen the car in person that angst disappeared: this is easily the best-looking Jetta yet, from any angle. I liked the previous generation Jetta but must admit that, by the end of its cycle, it was starting to look a little bland. The new one is modern and classy and should age as well or better.
The inside looks and feels Volkswagen, which is a very good thing. There's a lot of black, but it's handsome black and looks a lot richer than it deserves to at this market level (and you can order a two tone, Titan black & Antler Beige, interior). The seats are comfortable and the trunk looks big enough for a mafia hit person to use the next time a St. Valentine's day massacre is called for.
The Jetta Comfortline (starting at $20,995) comes standard with the six-speed manual transmission (the automatic will cost you $2,400). Other standard features include 16-inch silver "Rama" aluminum-alloy wheels, LED headlights and taillights (and Daytime Running Lights), chrome grille, and a multi-function steering wheel that works well and feels great in the hands. You even get a rear view camera, automatic headlights, an electric parking brake (alas, for those who enjoy doing handbrake turns...), heated cloth seats up front and a 6.5-inch Composition Color touchscreen infotainment system with Bluetooth connectivity. There's also a USB port (why only one?), four speakers, and Volkswagen App-Connect.
"Highline," the middle trim level (starts at $24,095), includes standard features such as 16-inch two-tone "Rama Black" aluminum-alloy wheels; a big (though not panoramic) sunroof; dual-zone automatic climate control; rain-sensing wipers, auto-dimming rear view mirror; leather wrapped steering wheel and shift knob; keyless access and push button start, and leatherette seating surfaces. An eight-inch "Composition Media" infotainment system with six speakers is also standard, as is satellite radio capability and a Blind Spot Monitor with Rear Traffic Alert.
I'm not a big nanny guy, but I have grown to appreciate a rear-view camera and cross traffic alert, which can be really handy when you're planning to back out of a parking space.
There's also a Driver Assistance Package, for $995, which includes Adaptive Cruise Control, Front Assist emergency autonomous braking, lane assist and high beam control. I'd rather save that grand and put the money toward an advanced driving course.
Your Jetta not hot – or cool - enough for you yet? Well, there's also an 'R -Line package ($1,700), that adds 17-inch "Viper" aluminum-alloy wheels, a sport suspension, a gloss-black front grille, R-Line rear bumper with dual exhaust, front fog lights, black mirror caps, R-Line badging, a black roof liner, R-Line multi-function steering wheel with contrast stitching, and (available) two-tone black and grey seating surfaces with contrast stitching. The package also gets you an electronic differential.
Step up to the Execline Jetta (starting at $27,695) and you get upgraded stuff like LED Projector headlights (with signature LED DRL's), 17-inch two-tone "Tornado Metallic" aluminum-alloy wheels, electronic differential, Driving Profile Selection, 10-colour customizable wrap-around ambient lighting, a great 10.25-inch Volkswagen Digital Cockpit display (essentially a big LCD that lets you reconfigure the vehicle information displayed). The audio gets upgraded to a darn good, 400-Watt BeatsAudio system with eight speakers and a subwoofer, and a nice, eight-inch Discover Media touchscreen (with Navigation and voice control) on the centre stack.
You can also add the Driver Assistant Package, which is how VW's sample was configured.
One thing VW's high-end sample didn't have (besides paddles, whine whine) is a powered front passenger seat (the driver's seat had it, though). This isn't a big deal, though my wife missed the convenience. And despite its power and memory settings, I couldn't get the driver's seat quite low enough up front to be perfect for my robust thighs. Not a big deal, either, but surprising in a car that otherwise made me feel as if VW had taken my measurements and built me a car.
You have to pay attention when closing the doors because if you don't close them firmly they may not close all the way. It quickly becomes second nature quickly, but it seems quite un-German.  
Driving the Jetta is a blast, and if you want to up the fun ante there's a nice sport mode in the transmission. All you have to do is pull the shift lever back once more after shifting into drive (do it again and it goes back into normal mode). Manual shifting is accomplished by pushing the lever over toward the passenger side, then moving it forward and backward to shift.
There's also a sport mode button on the centre console that tightens things up even better (there's also an eco setting that doesn't), and you can create a custom mode. A nice touch is that VW has programmed the Jetta to fire up in the last mode you used. A minor feature, perhaps, but it beats having to reconfigure the car every time you get in. I wish all cars were like this.
As great as it is, this new Jetta is no GTI, but hopefully Volkswagen will see fit to add a GLI model to the Jetta line, like they have in the past. In the meantime, the car is certainly no slouch and were I shopping in this segment the new Jetta would be atop my list.
It's a great car.
Copyright 2018 Jim Bray
TechnoFile.com
Jim Bray is a member of the Automobile Journalists Association of Canada. His columns are available through the TechnoFile Syndicate.