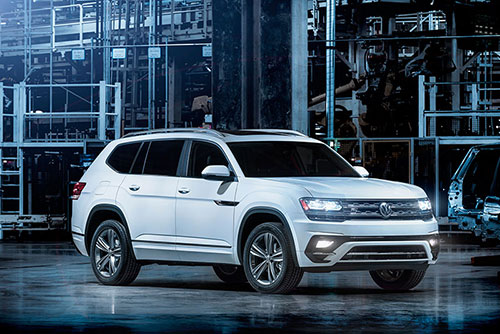 Does VW's Atlas hold the company's future on its shoulders?
By Jim Bray
August 17, 2017
Volkswagen's first all new SUV since the Tiguan is here, and it's bigger, more angular - and more modern in VW's inventory, than the Tiguan and the Touareg.  Will it be enough to help turn around any negative public impressions there may be coming out of the diesel kerfuffle of the past couple of years?
Click on the image to open a slideshow.
Who knows? I doubt one model could do that - though the Atlas is a darn fine place to start. Besides, I think the whole diesel thing was BS anyway - and a shame from consumers' standpoints. That's because, if I were to buy a vehicle today that was offered in gas or diesel, in most cases I'd opt for the diesel. Sure, they're down on horsepower, but they generate gobs of torque, which is more important for the lead footed, plus they get terrific fuel mileage. And, though prices wobble wildly, diesel is often cheaper than gasoline.
Are diesels dirtier than gas engines? Maybe. But today's engines are marvels of cleanliness thanks to decades of competition - and legislation - so I'll worry about that when Al Gore sells his beachfront mansions (won't they be under water any day now anyway?) and starts bicycling to his summits and junkets. Oh, and when volcanoes stop spewing their pollution into the atmosphere. CNN, too, though that's a different topic…
But back to the Atlas, which Volkswagen Canada said in its press release "launches a big new chapter in the company's history." The new, seven passenger Atlas replaces the two row Touareg, at least temporarily, and also points the way toward where Volkswagen is taking its vehicle design.
To that end, it has a more angular and chiseled look than either the Tiguan or the outgoing Touareg (the 2018 Tiguan will adopt the theme as well) - but it also looks more "modern" since both other models are very due for updating (though I think they've aged gracefully). And it still looks like a Volkswagen, which is a bonus.
Full disclosure: Volkswagen is my favourite brand currently, not only VW's but also their stablemates Audi and Porsche, all of which I love to drive. I also put my - well, my wife's - money where my mouth is and bought one, used, a few years ago, and still love it. So I go into this expecting - well, hoping - that I'll come away from the review liking the vehicle. They haven't let me down yet.
VW also owns Bentley, Lamborghini and Bugatti, but I haven't even been able to sit in any of them so far. Perhaps it's a defense mechanism on the part of the VW folks but, yes, VW Group, that's a hint.
Anyway, the 2018 Atlas is based on VW's "Modular Transverse Matrix" platform (which they call MQB) - which also underpins a bunch of the maker's other makings - and it's solid, tight, and mostly nice to drive. The Atlas is also the biggest VW on sale in Canada, though it doesn't feel nearly as big to drive.
Outside, Atlas features a world of high tech stuff, including standard LED headlights and daytime running lights. LED taillights are available. Inside, there's a pretty roomy third row of seats that are pretty easy for an old and fat guy to get into. Getting out is even easier. VW says the second row seat folding required to get into Steerage even works when there are child seats installed, though we didn't try that.
The driver's compartment is lovely - and typically Volkswagen. Besides comfortable seats (heated/cooled, power and leather - with heated rears - in VW's "Execline" sample) everything is where it should be and close at hand - and the Atlas also offers (optionally) an interesting new Digital Cockpit that lets you reconfigure how vehicle information is displayed. It's similar in concept to Audi's nifty new system, and the neatest thing about it is that, since the whole shebang is really just a big LCD screen, you can have your navigation map displayed between the speedo and tacho meters, which makes checking your progress only a quick glance down instead of off to the side. Important? I don't know. But it's cool and efficient.
My screen of choice was "gear and speed," which put a digital speedometer on screen; I like having a digital speedometer because it gives you instant info instead of you having to estimate how fast you're going via a needle on a scale. This comes in handy for the lead of foot.
The Atlas' greenhouse is very good, too, with plenty of space to view out, and VW's sample had a lovely panoramic sunroof as well. It also had second row Captain's chairs (a $625 CAD package) that fold flat - meaning that when you fold second and third rows flat you can haul a lot of beer in this baby.
You can choose from two powertrains, a two litre turbocharged and direct-injection four cylinder engine putting out 235 horsepower (front wheel drive only) or - as was in VW's sample, fortunately - a 3.6 litre VR6 engine with 276 horsepower. Both come attached to an eight-speed transmission, but the V6 also gets 4MOTION all-wheel-drive.
4MOTION Atlases have multiple driving modes, such as snow and off road, but it also has a pretty good Sport mode that really helped make the Atlas decent to drive. It was set into Eco mode when I got it and it was really disappointing. Sure, I guess it'll get you better fuel mileage, but at the cost of you being beaten off the line by Prii.
This is exacerbated by the eight speed tranny and its habit of zipping up through the gears (if you aren't driving it spiritedly) quicker'n you can say "dieselgate." It didn't come with paddles, either. The transmission shifts very well, though, and if you tug back on the lever while in "Drive" it'll activate another iteration of Sport mode that also tightens up the vehicle's responses nicely.
Eco mode, via the console's knob's central button, tends to inflict more than a tad of wallow on the Atlas, whereas Sport (there's also a "custom" mode you can tweak more) tends more toward fun. Whatever mode you choose, Atlas will default to it when you fire it up again. A small point, but very thoughtful.
The centre stack's LCD screen is interesting in that it not only works as you'd expect, quickly and logically, but it also changes as your fingers approach. For example, the "half buttons" along the bottom expand into "full buttons" as you near. Cool. Vital? Hardly. Yet I mentioned it…
I liked the optional Fender audio system quite a bit. It offers good power and fidelity and cranks nicely.
Alas, Atlas, your makers have mounted the big outside mirrors too high, and when combined with the A pillars they help to create huge blind spots that are really annoying, especially when you're turning a corner. I wouldn't find this a deal breaker, but it made me drive with the seat higher than I like.
Atlas is rated to tow up to 5,000 lbs.
Safety equipment abounds, not surprisingly for a 2018 vehicle. You get automatic post-collision braking system (I wonder if it works if you don't hit a post), hill hold control, adaptive cruise control with Stop & Go, Blind Spot Detection with Rear Traffic Alert, Autonomous Emergency Braking with Pedestrian Detection, Park Distance Control, a 360 degree view camera and Park Assist.
VW's top of the line sample came in at a healthy $53,165.00, the only option being the captain's chairs, but you can get into an Atlas beginning at $35,690. That's the four banger and front drive only, of course, and not nearly as well equipped with creature comforts, but you still get a lot of safety stuff and other niceties. Compare the prices with the entry and "exit" of Toyota's fine Highlander ($35,500 to $49,995 loaded, though all come with V6's) and you can see there's a bit of a premium for the Volkswagen - but if you like a more "interesting" drive it's worth it.
Add that great feeling of solidity you get from VW's - I've said before that German cars feel as if they're carved out of a single block of metal - and you have a very nice addition to the Volkswagen line.
I have no idea how Atlas will do at holding up VW's bottom line, but if there's any justice it should do quite well.
Copyright 2017 Jim Bray
TechnoFile.com