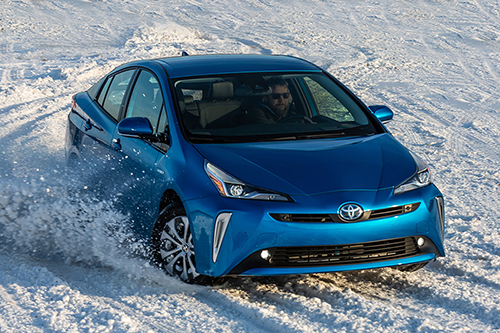 Toyota adds all-wheel-drive to its stable of Prii
By Jim Bray
July 26, 2019
Hybrids have come a long way since the first Honda Insight crawled into the marketplace like a partially squashed ladybug a couple of decades ago. And that has caused me to become, if not a hybrid owner then at least a hybrid tolerator. And this 2019 Toyota Prius is a prime reason why.
Click on the image to open a slideshow.
Hybrids are a segment that used to be mostly bland and boring, and gutless to drive, but that segment, at least as personified by the four hybrids I'll be reviewing over the next while, has evolved to the point where you don't have to put your boy racer pants back in the drawer to enjoy the fuel savings. Well, mostly.
And those fuel savings can be quite substantial. I spent a week driving the 2019 Prius Technology AWD-e as if it were a Porsche Cayman, using its "power" mode almost exclusively because it makes the car more interesting and rewarding to drive. Yet during that time, I managed to get 4.5 litres per 100 kilometres combined, which is even better than Toyota's estimate and works out to just under 63 miles per Imperial gallon (and about 53 miles per U.S. gallon).
That's pretty remarkable. It makes me wonder how much less gas I could have used if I had merely gotten with the program and driven the Prius in a more sedate and serene manner.
And other than the CVT, a horrid transmission choice about which I complain regularly because of their noise, it's a nice vehicle to drive as well.
Okay, there's one other issue: for some reason, Toyota still insists on having the Prius beep when you shift it into reverse, the way big trucks beep when they back up. That would be okay, I suppose, if the beeping could be heard outside, like it is with trucks.
But no!!!!! The Prius beeps can be heard only inside the car, as if Toyota thinks its Prius drivers are so stupid, they can't figure out the car is in reverse because a: you just shifted it there and b: the car is actually moving backwards! Oh, and because the rear-view camera has fired up.
The beeping could also be unsafe: when backing out of a parking spot at a local mall, I heard the beeping and ignored it as usual – except it turned out that I was confusing it with the rear cross traffic alert and because of that I very nearly backed into another vehicle!
I really don't get it. And it's so annoying that were I ever to shop for such a Prius, I'd pass it by in favour of something less annoying – like the all-new Corolla hybrid I'll be featuring in an upcoming column, which is only front wheel drive but which is also cheaper and nicer – and just as nice to drive – as the Prius AWD-e.
But that's for another column. In the meantime, if you can get around the whining and the beeping, you'll find yourself in a very nice car that's also equipped quite well.
Except for one more thing: Toyota, in a move being partially abandoned currently by Honda thanks undoubtedly to much gnashing of teeth from owners and writers, has removed physical volume and tuning knobs from the centre stack. Oh, Toyota's sample had a wonderful big, new screen that has up/down buttons beside it for the volume (and there are steering wheel-mounted controls as well) but when you're driving (or passenging) and want to crank up the tunes quickly – or move away from some crap song that's playing on one station – it takes more concentration and effort than a quick twist on a knob.
Okay, these may be pretty minor issues to many folks, but add 'em all up and you may find them not so minor.
Fortunately, there is plenty of good stuff to mention as well. Chief among these is the new, electronic all-wheel-drive system, which will undoubtedly come in handy when the driving conditions get crummy. Toyota thinks the model could account for about two thirds of Prius annual sales in Canada.
It's an automatic, on-demand system, so it defaults to front wheel drive (which is better for fuel economy) and uses an independent electric, "magnet-less" rear motor to send power to the rear wheels when you first start from a dead stop (it cuts out again at 10  km/h, though it's also available up to 70 km/h when needed). Toyota says this system eschews the need for a centre differential "or other torque-apportioning device" and it also eliminates a front-to-rear driveshaft as well.
It seems to work, though my time with the Prius happened when the roads were bare and dry and the temperatures were very warm and so the driving was anything but challenging. I'd be curious to try it in a Canadian winter, which would be its natural habitat.
The AWD isn't the only tweak to the 2019 Prius, of course.  Toyota says it also features "newly refined front and rear exterior styling" (which is still weird-looking to these eyes) and some new wrinkles inside – such as the optional 11.6-inch tablet-like screen on the centre stack. That screen is a peach, too, working much like a tablet and offering you easy access to various functions.
Other interior niceties include a "SofTex-trimmed", heated tilt/telescopic steering wheel (available on Technology models), which features "surface temperature-regulating properties to help make it feel more comfortable in hot or cold weather." Prii also come standard with heated front seats, driver's door Smart Key/Push Button Start and remote illuminated entry. Technology models get the Smart Key System on three of the doors (front and the hatch). And the higher trim levels also get adaptive headlights and a colour head's up display.
It's comfortable inside and reasonably roomy (this is, after all, a small car) even in the rear seats, which also split/fold to create more storage space (Toyota claims "up to" 1,855 litres with the seats down).  
All of the 2019 Prii come with Toyota's Safety Sense P (TSS-P), a bunch of active safety features such as a Pre-Collision System with Pedestrian Detection, Lane Departure Alert with Steering Assist, Automatic High Beams, and Full-Speed Range Dynamic Radar Cruise Control. Not only can you shut off the ones you don't want, but the car remembers the drive mode you were in last, so you don't have to keep putting it back into Sport (or eco) mode every time you fire it up.
Trim levels consist of Base and Technology models, with the AWD-e model offered in Base, Technology and Technology with Advanced package grades. There are also two new colours available for 2019: Supersonic Red and Electric Storm Blue.
Toyota Canada's AWD sample was of the Technology persuasion and topped the fiscal scale at $35,240. That's not small change, but you can get into a base, front wheel drive Prius for $27,790 according to Toyota's Canadian website.
On the other hand, if you're looking for a car such as this – and don't care about the all-wheel drive – you owe it to yourself to check out the new for 2020 Corolla, now available for the first time as a hybrid. It's a better-looking car inside and out (though you don't get the big LCD on the centre stack), it's better to drive, and it starts at under 20 grand, though the hybrid and its associated stuff starts at about five grand more. And, though my sample had a CVT inflicted upon it as well, you can even get a six-speed stick on a couple of trim levels!
Stay tuned for my review of that great new car.
In the meantime, if you're shopping specifically for a Prius, this is a nice one.
Copyright 2019 Jim Bray
TechnoFile.com
Jim Bray is a member of the Automobile Journalists Association of Canada. His columns are available through the TechnoFile Syndicate.