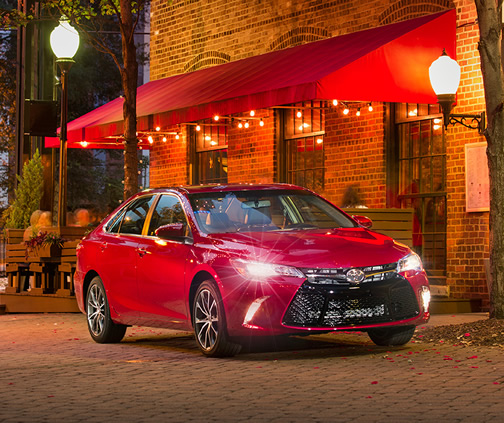 Toyota Camry: the extraordinary ordinary family car
By Jim Bray
May 11, 2017
It's been called vanilla, boring, bland, but what the Toyota Camry really is, is a fabulously designed and rendered sedan that gives a driver everything needed and most of what could be wanted - in an unassuming but handsome package that's as state-of-the-art as most people could want.
It also sells oodles (it's been one of the top selling cars for years now) and, judging by the Toyota logo and the number of old Camry still on the road, it'll probably run forever.
That, to me, makes it an automotive masterpiece.
Click on the image to open a slideshow.
Sure, I've called the car vanilla, and I suppose it still is in some ways - in that it's not yummy like butterscotch or a fantastic driving car like an Audi A6 or even, well, the Hyundai Elantra Sport reviewed here last week. I meant that crack originally as a minor put down of what I considered to be a boring car, but over the years that I've reviewed cars (including more than a few Camrys) the Camry has grown in looks, driving feel, and features - so much so that this current version (which will be replaced for 2018 with an even newer one) really is pretty much all one could want in a car. And it's even decent to drive!
Do I smell the ozone of a pending lightning strike at my head?
Okay, if you're an enthusiastic driver, the Camry might let you down a tad, but you might also be surprised at just how capable - and even fun - the vehicle is. Toyota Canada's sample wore the XSE V6 trim level, which adds to the Camry's already fine mix Toyota's nearly ubiquitous 3.5 litre V6 engine, a power plant the company says cranks out 268 horses. That might not sound like a lot in an age when you can get 400 nags from a V6. It's definitely enough, however, and it hauls this midsize sedan along very well indeed.
The four cylinder engine is fine, but the V6 makes the car a lot more interesting to drive.
Camrys also feature a nicely-shifting six speed automatic transmission - with paddles, too, on some models (the LE and XLE trim levels don't get the paddle shifters). Paddles might not seem like a big deal but once you've used them you may discover you like them a lot. I love 'em, even if they're mounted in a non-sporty car, because they give you better control of the tranny - for example, to downshift when going down hills - while allowing you to keep both hands on the steering wheel, where they belong.
All Camrys are front wheel drive - no all-wheel drive or wagon versions are available currently - but that's more the state of the marketplace than an oversight by Toyota.
For 2017, the Camry XSE V6 gets extra safety features, including a pre-collision system, adaptive cruise control, lane departure alert, LED headlights and automatic high beam. That's on top of the usual Toyota safety suite available across the line, stuff like a back-up camera, 10 air bags and the Toyota Star Safety System (which includes such goodies as traction and stability control, ABS, etc.).
Not only is the Toyota Camry more attractive than a purportedly vanilla car should be, other than the big grinning grille the company is inflicting across its line, it also features an upscale interior that's brimming with luxurious materials and features.
As far as usability is concerned, I love how Toyota has designed the Camry's centre stack, with an easy to use LCD screen that's surrounded by big, easily legible and "hittable" (even while wearing gloves) buttons. In an era in which some cars are getting increasingly difficult to use, this is a marvelous simplicity of design I'd love to see other manufacturers emulate.
For 2017Camrys also get Display Audio with Bluetooth and USB input, as well as air conditioning, cruise control, keyless entry, and much more, as standard equipment.
Toyota's XSE sample also rode on a sport tuned independent suspension with Macpherson Gas Struts (with coil springs and a stabilizer bar) at both ends. The tilt/telescopic steering wheel feels great in the hands, has easy to fathom buttons for the audio system and more, and the steering feel out on the road is - like so much about this car - nicer than one might expect from "an appliance." The result is a car that's nimble enough to surprise, and it'll even please your right foot when you choose to drive it aggressively. Oh, it's no Panamera, but it's a surprisingly spry Camry.
Pairing my Android phone to the Camry was easy and once I shut off most of the prompts the voice control worked well without once making me want to punch it out.
The XSE's seats up front are leather and operate via power. They're also very comfortable, and there's decent room in the back for a third person in the middle of the split/fold bench.
Toyota's sample was pretty well stock, which in the XSE trim level means it's already-fairly-loaded. It did have one option, however: the special Ruby Flare Pearl paint that added $255 to the $35,495 base price of the XSE V6.
Camrys are also available five other trim levels, starting with the four cylinder LE (Starting MSRP: $24,970) and going all the way up to the XLE V6 (Starting MSRP: $36,520). Hybrid versions are available in three models, but you'll have to deal with a continuously variable transmission (CVT) that, in my experience, adds noise and subtracts driving feel from the equation.
Toyota also tosses in three years or 60,000 kilometres' worth of  roadside assistance. Toyotas being Toyotas, chances are you'll never have to use that particular feature, but it's there anyway just in case.
Toyota's Camry has traditionally been looked down upon by enthusiast drivers, but as the current generation shows (and hopefully the one that's nearly here), it's a far more interesting car than one might expect from such a mainstream "family hauler." Toyota has done a really nice job with the Camry and even though I'd probably never buy one myself (if for no other reason than that it's bigger than I like) I can understand why it's so popular: it's a heckuva car!
Copyright 2017 Jim Bray
TechnoFile.com