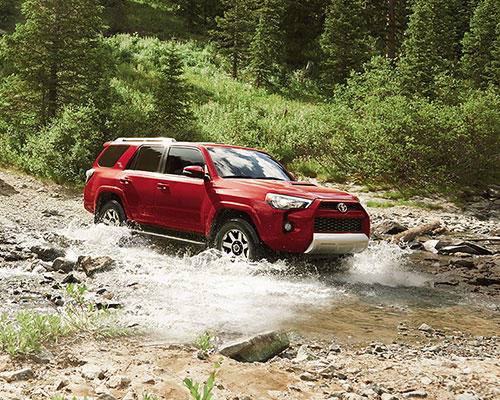 Toyota 4Runner and Tundra: a focus more on utility than fun
By Jim Bray
February 28, 2019
In the world of sport utility vehicles there's something for practically everyone, whether you want to focus on the sport or the utility.
Toyota aims to fill both those niches with its wide variety of vehicles, and I got to spend some quality time during our last bitterly cold spell in one of the first SUV's I can remember, as well as a follow up week with one of their big pickup trucks. Neither is particularly sporty, but if you're looking for a vehicle that'll probably outlive you while taking you up the sides of a mountain, you may want to give them a look.
Click on the image to open a slideshow.
The 4Runner has been around forever, nearly, and while this generation is getting a little long in the tooth it's still a pretty compelling ride for people who value robust off-road performance more than creature comforts. Toyota Canada's sample 2019 4Runner wore the new "Nightshade" trim level which, fortunately, is not as deadly as its name might indicate.
4Runners are of a body on frame design, which basically means it's more like a pickup truck (it's like a fully enclosed Tacoma) than it is like a "crossover" (which seems to indicate unibody construction, like the vast majority of today's cars and SUV's, where the vehicle's entire structure is the "frame"). This truck-like mien means the 4Runner is not only rugged and versatile, it also comes with the kind of robust off-road technology for which Toyota has been known since the early days of the classic Land Cruiser and Hilux.
And as much as I missed the sport, and the comforts and the conveniences you can get elsewhere, it's hard to argue against a vehicle whose focus is clearly and simply getting its owners from point a to point b safely and (other, perhaps, than the gas mileage one can expect from a truck-based vehicle) efficiently.
You can now get the 4Runner in five or seven-passenger versions, and it was the three-row version that Toyota sent. It isn't much of a third row (few of them are), but I took one for the team and wriggled my ponderous posterior into the third row when we needed to use all rows for a few trips. Getting the third seat up and down isn't too bad, but getting in and out – if you're a fat middle aged oaf, at least – was challenging enough that on my second attempt I just hopped into the hatch and crawled to the third-row seat from there.
It worked, but I'm hoping desperately that footage of it doesn't show up on YouTube.
Obviously, as is so often the case, the third row is for the very small, the very short, or for very short trips – emergency use only, as it were. And if you leave that row folded down when you don't need it, you have plenty of hauling space for stuff other than kids or other folks you're trying to punish.
You can get into a 4Runner starting at $46,155CAD, according to Toyota Canada's website, but the Nightshade duds the sample wore ups that price to about $55,115. That's quite a bit of coin however you slice your lucre. There's a TRD Pro version as well, which lists at $56,580
Still, you can spend a lot more…
4Runners come with a four litre, six-cylinder engine coupled with a five-speed automatic transmission. This seems like stuff from the tar pits compared to some other configurations out there these days and it's not a particularly compelling vehicle to drive if you're a fan of the "sport" part of the SUV equation. In fact, I swapped 4Runners with my son for a drive – he owns a 2005 4Runner Sport – and I enjoyed driving his more than I did the brand new one.
I have a feeling that word "Sport" in the model designation had something to do with it.
That V6 engine puts out 270 peak horsepower @ 5,600 rpm and up to 278 lb.-ft. of torque @ 4,400 RPM, which is reasonable if not exciting (want exciting? Buy a Macan!). The five-speed automatic transmission, Toyota says, is "super electronically controlled" with "overdrive, lockup torque converter and transmission cooler for responsive shifts, confident acceleration, and a fuel efficiency rating of 13.2 litres/100 km (city/highway combined)."
Power gets to the ground (whether paved or unpaved) via a one-touch, on-demand 4WD system with active traction control, hill start assist and downhill assist.
The independent suspension up front features double-wishbones (the stuff of sports cars) and it (and the four-link rear suspension) also features stabilizer bars. The 9.6-inch ground clearance is the stuff of off-road delight.
4Runners also come standard with trailer sway control technology, a tow hitch and 4+7 pin wiring harnesses. The tow rating is up to 5,000 lb (2,268 kg).
If this review seems damning with faint praise so far, here are a couple of things I loved about the 4Runner: it doesn't feature a lot of the nannies that rub me the wrong way in so many vehicles these days. So, there's no blind spot monitor, lane keeping assist, etc. I suppose this is due at least in part to the fact that 4Runners' natural element doesn't have a lot of lanes, let alone traffic.
It also features wonderful, retractable running boards that made it a lot easier to get in and out. Roads were sloppy during part of my time with the 4Runner and I figured that when I washed it the running boards, which would stay retracted, would either ice up or not come clean. Neither happened, fortunately, a tribute to some good design on the part of the folks at Toyota.
You do get back up and parking sensors and a rear-view camera, however, which are wonderful features.
Yet the 4Runner Nightshade also didn't have a couple of things I expected to find on a vehicle in the $55K range, including a power tailgate and rear cross traffic warnings. And you only get an old fashioned, non-locking gas tank filler door that in this day and age seems like an invitation to siphon. What gives with that?
The interior is comfortable and laid out well, if a tad more utilitarian than I like (obviously, I'm not part of the target market niche). Seats are very nice, the second-row splits/folds in three and it also reclines a bit. I shan't say any more about the third row.
The upgraded JBL audio system is very good, and there's an abundance of little storage spaces inside the 4Runner to stick your junk (well, stuff…).
Other things you get with the Nightshade edition include a series of black accents outside, including the front and rear bumpers, chrome grille, roof rack and 20-inch alloy wheels. It also includes the automatic running boards (which can deploy and retract when you open or close the driver-side front door). The interior features stuff like a leather shift knob and black trim.
As with some of Toyota's TRD packages, the Nightshade version seems more cosmetic than performance-oriented, but that might be right up your alley.
Competition includes the Nissan Pathfinder, Ford Explorer and Honda Pilot.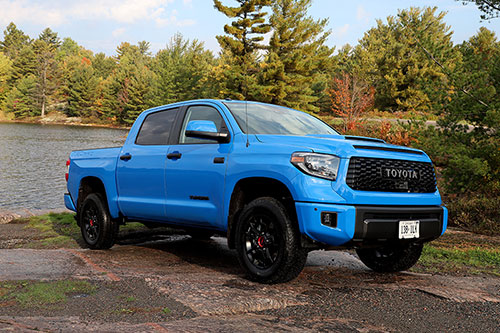 The Tundra is Toyota current and best attempt at wresting pickup truck sales away from the holy trinity offered by the "Big Three" US-based manufacturers. It's a good truck, too, though I'm not the best one to comment on pickup trucks – especially since I was so spoiled by the Ram 1500 Limited I drove around the same time. To be fair, that Ram is a few tens of thousands of dollars more expensive than the Tundra TRD Pro I sampled (approximately $85K for the Ram and a starting price of about $60K for the Tundra TRD Pro), and it has a lot fewer toys and comfort stuff.
Click the image to open a slideshow.
The TRD Pro series is offered in three colours: Super White, Midnight Black Metallic or Voodoo Blue; Toyota Canada's sample was the latter persuasion, and it's an attractive shade that kind of toes the line between baby and sky blue. It also features Toyota's 5.7 litre i-FORCE V8 engine, which the company says cranks out up to 381 horsepower and 401 lb.-ft. of torque, which I imagine should be plenty for most needs. It's paired with a six-speed automatic transmission with sequential shift mode, which makes me wonder why the 4Runner only gets a five speed.
All Tundras that come with the 5.7L engine also come standard with a 144 litre fuel tank, lock-up torque converter, trailer brake controller, and Toyota's Tow Package. The company also says that 4x4 models feature a one-touch 4WD mode with auto limited slip rear differential, active traction control, and trailer sway control.
But it's the TRD Pro we're talking about here, and it also gets its share of specific stuff. So, you get things like Fox 2.5-inch front shocks with 46 mm pistons, TRD-tuned springs that allow for an extra two inches of front lift. The truck also uses 2.5-inch Fox rear shocks featuring 2.5-inch piggyback reservoirs, with wheel travel increased by more than two inches at the back.
The TRD Pro designation also brings Rigid Industries LED fog lights, as well as LED headlights with LED accent lights and a unique black treatment. There's also a new grille and hood scoop.
Inside, the TRD Pro package means you get logos on the driver and front passenger's leather seats, with red stitching on the dash, seats and armrests. TRD Pro floor mats, shift knob and a centre-console emblem help complete the look. And you get a sprayed in bed liner.
One thing I thought was really cool was the dual TRD Pro exhaust, fitted with Black Chrome exhaust tips. It helped make the Tundra sound absolutely awesome!
While the Tundra comes off as a tad Spartan, you do get such nice things as a display audio system with touchscreen, USB audio input and steering wheel-mounted controls. There's also Bluetooth connectivity, air conditioning, power locks and windows, a 4.2-inch multi-information display, and more.
The truck drives as one might expect a truck to – which means it chitters over road irregularities even as it cuts a swath through traffic. I much preferred the civilized ride of the Ram, but of course your mileage – and your budget – may vary.
Naturally, both the Tundra and the 4Runner receive Toyota's Star Safety System, which includes stuff like Stability Control (VSC), Traction Control (TRAC), Anti-lock Brakes (ABS), Electronic Brake-force Distribution (EBD), Brake Assist (BA) and Smart Stop Technology (SST). Tundra ups the ante by adding a Pre-Collision System with Pedestrian Detection (PCS w/PD), Lane Departure Alert (LDA) with Sway Warning System (SWS), Automatic High Beams (AHB) and high-speed Dynamic Radar Cruise Control (DRCC).
I always feel kind of bad when reviewing trucks and truck-based SUV's because they're probably the last vehicles I'd buy and I believe that colours my commentary. So, if you're into this type of vehicle, I hope you'll take my ranting with a grain of salt.
That said, while I probably wouldn't buy either of these vehicles for my own use, I can find nothing really wrong with them. Sure, I'd like more features and conveniences, and maybe something which doesn't feel like a truck and with which I don't need a running start with a jump to get into and out of – but if you're looking for a robust vehicle such as these Toyotas, they certainly deserve a test drive.
Copyright 2019 Jim Bray
TechnoFile.com
Jim Bray is a member of the Automobile Journalists Association of Canada. His columns are available through the TechnoFile Syndicate.