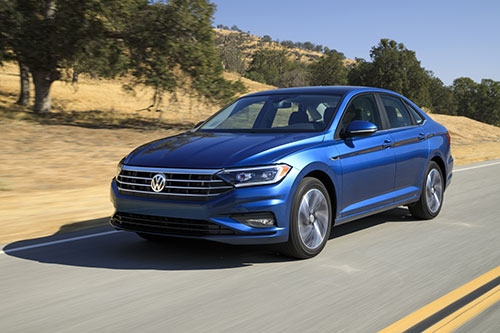 Hot on the heels of new Star Wars comes the return of the Jetta - and Kia's new Forte looks cool as well
By Jim Bray
January 18, 2018
One of my favourite sedans is about to be reborn and if initial pictures are any indication it will be an interesting step forward.
That car is the Volkswagen Jetta, which until this new generation basically resembled a Golf with a trunk (not that there's anything wrong with that). The new generation is not only redesigned, but VW says it also features a transferrable six year, 72,000 mile New Vehicle Limited Warranty.
Alas, that new warranty is only from VW USA; VW Canada will continue with its four year, 80,000 km warranty, but this probably isn't a big deal in this day and age of vehicle dependability.
The new Jetta will now be built on VW's MQB platform - which is the basis for oodles of other current and coming VW products - and upgrades the styling from the handsome but a tad bland previous generation. The first thing you'll probably notice is a bigger and more "in its face" grille that's more reminiscent of the current Passat than the Golf. Since I'd rather be torn apart by wild dogs than go to the Detroit Auto Show I'm relying on photographs, which often don't do a vehicle justice, but I think the new front end is quite fine.
The rear end is even better, blending a set of slim taillights into a bum that looks quite trim. The side view shows the car's more hatchback-like profile (it isn't a hatchback, though). VW promises LED lighting will be standard, which is nice.
The new Jetta has been expanded in every direction from the current generation, offering a longer wheelbase (105.7 inches compared to 104.4) and shorter overhangs (which should translate into more interior space). It's also longer, wider and taller than the "Last Jetta" (sorry for the Star Wars joke again…).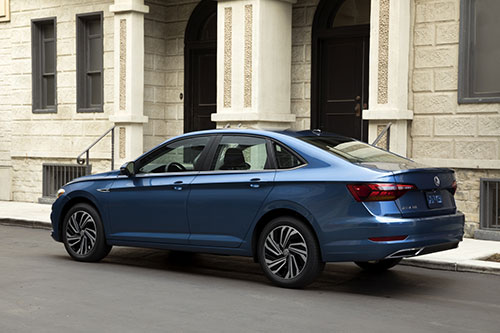 Inside, the Jetta gets the kind of high tech features that are being crammed into most cars today, and it also comes with new fabric colours and designs and optional 10 colour customizable wrap-around ambient lighting - which is probably the closest thing to a cure for cancer that there is (okay, that's sarcasm).
You'll be able to get heated and ventilated front seats in the new Jetta, as well as leather and dual-zone Climatronic automatic climate control. The new center console is claimed to be large enough to fit a standard iPad. Naturally, some of this stuff will undoubtedly be optional.
VW interiors have been some of my favourite since I started reviewing them a decade or so ago, for their attractive and simple interfaces for which you didn't need to peruse the manual to figure out. This has slipped a bit in the past couple of years, but VW's are still some of the easiest cars to use that I've driven - and now, as they have with the new Atlas and Tiguan SUV's, you can also get VW's very cool Digital Cockpit, a configurable LCD screen where traditional gauges and instruments would be.
VW also says that "every Jetta offers standard Driver Personalization with up to four driver settings. Dependent on trim, customizable features include: driver seat memory, driver assistance system preferences, temperature, Volkswagen Digital Cockpit arrangement (if equipped), ambient lighting color, radio presets, navigation view, and more."
Powering the new Jetta is VW's 1.4 litre turbo four and you can still get a manual transmission - in this case VW's slick six speed unit, which is wonderful. You can also opt for an eight speed automatic. The release didn't say anything about their six speed DSG dual clutch automatic, so I assume it's either dead or now has an extra couple of "gears."
That turbo four puts out 147 horsepower and 184 pound-feet of torque, which VW says is the most in its class. I've driven a Golf with that engine and, while I'd love more, it's enough for a car in this niche - especially the torque.
Naturally, you'll be able to get stuff like App-Connect and driver aides like Front Assist, Blind Spot Monitor with Rear Traffic Alert, Adaptive Cruise Control, Lane Assist, and Light Assist. Upmarket Jettas (Jettae?) can be had with that Digital Cockpit and ambient lighting scheme, and also available will be a panoramic sunroof and a 400-watt BeatsAudio system.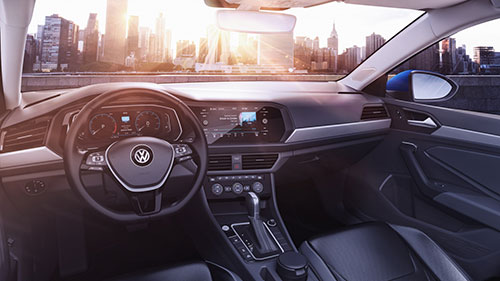 I'm more familiar with VW's Fender audio system, which is a fine one, so I hope this new BeatsAudio system is at least as good.
Pricing starts at $18,545 USD, which VW says is less than the outgoing model, and it'll be available (again, in the US and not necessarily Canada) in S, SE, SEL and SEL Premium trim levels. By the time the 2019 model actually appears in dealerships, an R-Line trim will also be added, with what VW describes as sportier styling and an electronic differential.
Hopefully, a GLI will come along later and, hopefully, some of the Jettae will be available with an independent rear suspension because the standard model apparently attaches its rear wheels to a steel I beam - though I may be exaggerating a tad there.
However it's slung, I look forward to trying the new Jetta. If it's as nice as the outgoing one, it'll be a great car.
No diesel, though, alas. Undoubtedly for obvious reasons but, dammit, I love diesels and don't care how much they bother the Al Gores of the world!
A "Kia" package….
However great the new Jetta may be, it's going to be facing off head to head (or grille to grille) against a South Korean car that's not only aimed right at it, but whose design studio has been populated in recent years by folks they hired away from - you guessed it: Volkswagen.
It's the new Forte, Kia's version of Hyundai's Elantra and if it's as good as the Elantra is those fine folks at VW - let alone the other carmakers - will have a real battle on their hands.
I'm a big fan of the South Korean cars, leaning a tad toward Kia because I think they just look better inside and out. And while I haven't driven Kia's new sensation - the Stinger sports sedan - I've driven the new, entry level Rio and think it's a terrific little car.
Kia says this third generation Forte features a more sophisticated design and "desirable features that transforms one of Kia's best-selling vehicles into something more than a compact car meant for getting people from one point to another." Forte, the company claims, now offers drivers "a higher level of comfort, fuel efficiency and advanced driver assistance technologies that are aimed to make the journey – whether  a short commute or long haul – a more rewarding and decidedly upscale experience."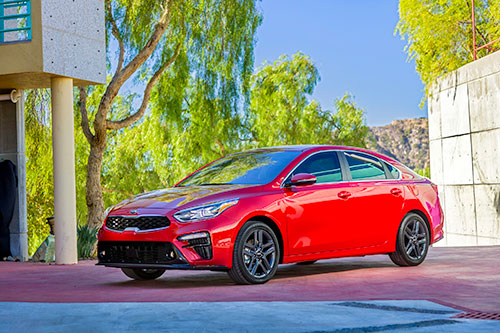 That, as they say, and about $250 buys you a Starbucks. But sarcasm aside, I've always liked the Forte; my next door neighbour has been driving one (the "Koup") happily for years and it looks as if this new one (judging from pictures) might be a real winner.
I like its nose, which continues Kia's old "tiger's nose" nose design. It has more personality than the Elantra's more conventional (and bigger) grille. And from the picture released with the news release, the Forte will look quite a bit like the new Stinger (the Forte is front wheel drive, though), and that's not a bad thing.
The Forte's new cabin, pictures of which I haven't seen yet, should be more roomy thanks to the overall car having grown in a manner quite similar to the Jetta. Kia says that, again drawing inspiration from the Stinger, the Forte boasts a horizontal theme designed to create a sense of openness, with clean lines and minimal buttons that are placed intuitively below an eight inch color touchscreen.  
Kia interfaces are right up there in ease of use with Hyundai and VW, so the new Forte should be a model of usability.
Fortes will be powered by a second generation two litre Nu four cylinder engine you can have mated to either a six speed manual or the new "Intelligent Variable Transmission" which from its description sounds awfully like a CVT so I hope I'm wrong.
On the other hand, Kia claims that its new IVT has gotten around some of the things I hate about continuously variable transmissions, such as the "rubber band feel" when you accelerate and the gawdawful banshee-like screaming that emanates from them. 
We'll see. The Kia folks are pretty smart, so maybe they've pulled it off.
That two litre engine puts out 147 horses and 132 torquey thingies and Kia says it should be good for 35 mpg.  
Naturally, the Forte will be available with Kia's version of today's nannies, called in this case the Advanced Driver Assistance Systems (ADAS). These include Blind-Spot Collision Warning (BCW) and Lane Keeping Assist (LKA), as well as Forward Collision-Avoidance Assist (FCA) and Smart Cruise Control (SCC).
Pricing wasn't announced yet but should be very competitive.
As a fan of both these cars, I look forward to trying them and will report back to you as soon as I get the chance.
Copyright 2018 Jim Bray
TechnoFile.com
Jim Bray is a member of the Automobile Journalists Association of Canada. His columns are available through the TechnoFile Syndicate.