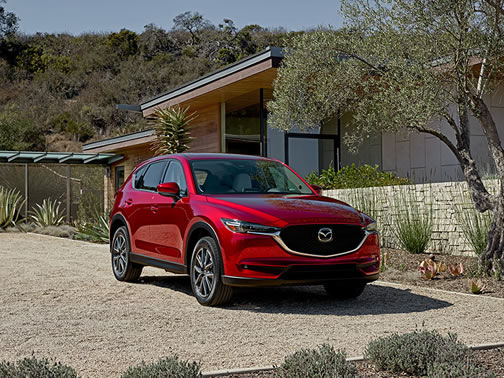 New CX-5 continues Mazda's zoomy tradition
By Jim Bray
August 31, 2017
Here we go again, another Mazda review, another vehicle that does everything it should well, but which adds a little extra "zing" to the equation or, as Mazda has put it for so long, with "Zoom-Zoom."
Sure, it could use a little more "Zoom," but it's still pretty good, and it's a darn fine mid-sized SUV as well.
Click on the image to open a slideshow.
I love Mazdas and have only found one over the years I've been reviewing them that was lacking enough in "Zoom-Zoom" for me to whine about it - even though I'd love to see a little more of it in most of their current vehicle line. It was the original CX-5, back in 2012, the first Mazda product to offer its SKYACTIV technology. The two litre engine in question only put out 155 horsepower, which prompted me to quote the book of Daniel: "For what doth it profit a man, if he gain the whole world, and suffer the loss of his own soul?"
My point was that I hoped Mazda, while attempting to appease the greenies with its SKYACTIV technology (which, to be fair, involves more than just their engines), didn't enrage their fans at the same time. I know they annoyed my best friend, who drives a first generation Mazda3 and is seriously looking at a new CX-5 for his next vehicle, because after he drove that original CX-5 he referred to it as "Snooze-Snooze," and he doesn't even have my lead foot.
Fortunately, that, as they say, was then and this is now. Since then, Mazda  has offered a larger, 2.5 litre Skyactiv engine for the CX-5 and it's really what the doctor ordered. It puts out 184 horsepower and 185 pound-feet of torque, and the difference was apparent readily. The Zoom, most of it anyway, was back! And that was still the first generation CX-5!
With this second generation, 2017 CX-5, Mazda has topped that engine's output, a tad, while also upping the ante in several other ways. The CX-5 now puts out 187 horses @ 6,000 rpm and that's combined with 185 torquey thingies @ 4,000. Of course that still isn't enough, but - well, it really is enough for the real world. While I still love the eyelid-peeling abilities of a Porsche 911 Turbo S, when I took the CX-5, accompanied by said friend, on a highway trip into the Rocky Mountains I had no issues at all. Not only was keeping up with traffic in the Mazda no problem, I also had no trouble passing road hogging oafs who refused to drive even as fast as the speed limit.
Sure, you have to plan your passing a bit more than if you have more oomph under your right foot, but it isn't usually a big deal.
There is another engine choice coming and it might be the one that turns the cranks of the lead-footed among us: a diesel version. I think I'd opt for the diesel were I buying a CX-5, though I haven't had a chance to drive it yet. I also couldn't find its specs on Mazda's websites but Car and Driver Magazine claimed Mazda would get 173 horsepower and a quite delicious 310 lb.-ft. of torque from the 2.2 litre four cylinder unit. Since I'd rather have torque than horsepower (though both is better!) I'm smiling already!
You can still get that two litre engine I whined about as well, but only on the base, front wheel drive model with the manual transmission. The original CX-5 I drove had an automatic, so perhaps the stick shift is enough to prevent the engine from lulling you to sleep.
In Mazda's great tradition, the CX-5 is a relative blast to drive. It handles better than one might think it should, it feels nearly as solid as something from Germany, it has all the technology you could want, and it will  haul you and your stuff in style and comfort.
For what else could anyone ask?
Well, paddle shifters would be nice. I love paddles and use them all the time when they're installed, so I miss them when they're not offered. But the lack of paddles is my biggest complaint about the CX-5, and  I don't think it would be a deal breaker - all things being equal -were I shopping in this niche.
The CX-5 features a lovely and reasonably tight independent suspension Mazda says was revised "for a more compliant ride." It may be more compliant, but it's still a peach - nice and tight and sporty without rattling your teeth out of your head..
Mazda also says the CX-5's chassis is 15 per cent stiffer than "old" CX-5's and features "the first North American application of G-Vectoring Control in an all-wheel-drive vehicle," says Mazda, "with the models equipped with predictive i-ACTIV AWD receiving a new ball-bearing rear differential for reduced friction, greater strength and greater efficiency."
To channel Yoda, "understand the technology I do not," but I understand the driving experience and that's what I love about Mazdas. The CX-5 is just about as sporty a driving experience as I've had in an SUV/Crossover at this level of the marketplace.
The six speed automatic doesn't hurt; it shifts well (though sometimes it seemed reluctant to upshift when I was in sport mode but not really pressing it) and it offers a manual mode that works well, despite the lack of paddles. If you're used to other manufacturers' auto/manuals you may notice that Mazdas shift the opposite way (forward to upshift instead of backward), and I this caused me some minor issues for the first few days of my week with Mazda Canada's sample, but by the time they pried it out of my warm, live hands I'd gotten a handle on it.
Mazda's sample was the top line GT trim level and that meant it came with a long list of standard equipment, including:
Rearview Camera (wide angle)
power tailgate
power glass moonroof
navigation system
LED headlights
Bose premium audio system (and a good one, too!)
Heated leather seats
7 inch colour touchscreen display with Mazda Connect
heated steering wheel
10-way power driver's seat, with memory
Colour Head's Up display
advanced blind spot monitoring
rear cross traffic alert
smart city brake support
radar cruise control.
That brings the price to $34,700 CAD without any options. The sample had another two grand worth of upgrades, including $450 of lovely "soul red metallic" paint and the $1600 Technology Package (enhanced Radar Cruise Control with Stop & Go function, Distance Recognition Support System, Forward Obstruction Warning, Lane Departure Warning System, Lane-keep Assist System, High Beam Control System, Traffic Sign Recognition System (very cool - it reads traffic signs such as speed limits and displays them on the HUD) and a free trial for satellite radio).  
Perhaps just as important as Zoom-Zoom is a vehicle's ability to get rid of its speed, and the CX-5's suite of power-assisted disc brakes with ABS (etc.) does a fine job, with good pedal feel and stopping performance.
It's also an easy vehicle to get into and out of, even for fat old men, with easy access to the rear seats and storage compartment as well.
The exterior, which was always attractive, is a little cleaner and more modern now and the interior - as is Mazda's wont at least recently - looks richer and better appointed than you might expect in this market niche. I'm a tad ambivalent about the console-mounted volume control and think the LCD's control interface is a tad clunky, but wouldn't consider these points as deal breakers - especially since there are plenty of other control systems out there that are worse.
In fact, if I were shopping in this niche the Mazda CX-5 would be very near the top of my choices, thanks to its terrific combination of features and driving dynamics as well as its reasonable price.
It's a terrific vehicle.
Copyright 2017 Jim Bray
TechnoFile.com