Mercedes-Benz celebrates 20 years of innovation in Silicon Valley
By Jim Bray
October 8, 2015
(Note: this is Part One of Two.)
Sunnyvale, California - "The best or nothing." That's the slogan German automaker Mercedes-Benz uses these days, and while one might be able to argue that cars such as the Bugatti Veyron may represent "the best" when compared to, say a B Class, it's hard to argue that, overa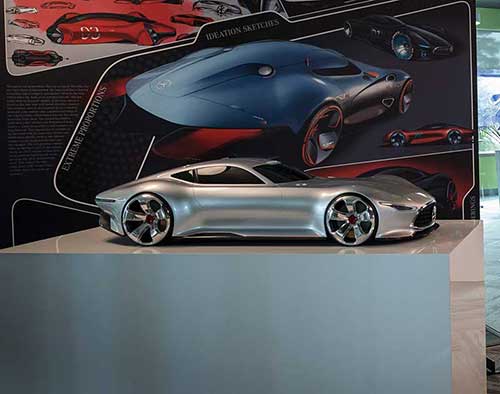 ll, Mercedes isn't the brand most people think of when the topic of the best car companies comes up.
Click here or on the image to open a slideshow.
It's no accident. Not only was Mercedes-Benz the first car company back more than 100 years ago, but it has led the field when it comes to innovation nearly consistently since then. Heck, if you want to see what's going to be on your entry level car in 10 or 15 years, you need look no farther, generally, than the mighty S Class, which keeps upping its own ante with new technology, from the once rare and now common antilock brakes and traction control features, to seat massagers, lane departure systems and plenty more.
As German as Mercedes-Benz may be, however, it turns out that it's in Southern California that some of its latest innovations are being designed - not just at the Sunnyvale complex the company invited a bunch of us writers to be dazzled by, but at other locations such as their Advanced Vehicle Design centre in Carlsbad (I wonder if it's cavernous!).
The occasion for which Mercedes invited us was the 20th anniversary celebration of the company's establishing its R&D centre smack dab in the middle of Silicon Valley, a place known more for innovation in tech areas other than automotive. But as with other technologies - audio, video, computers, smart devices, etc. - there's been a convergence going on for many years now in the car business, a marrying of various facets of today's high tech world into products (in this case, cars, SUV's and trucks) that make use of all the parts to create wholes that, to destroy an oft-cited cliché, are greater than the sum of their different bits.
Why Silicon Valley? Well, besides the weather and the scenery, "Mercedes-Benz understood that the Silicon Valley ecosystem, with its universities, venture capitalists and bold entrepreneurial spirit, enabled continuous innovation," said MBRDNA (Mercedes-Benz Research and Development North America) president and CEO Arwed Niestroj in his speech welcoming us to the facility. "Thus, we incorporate the spirit of the Valley into the global Daimler R&D network," he noted.
Ralf Lamberti, Director, User Interaction & Security for Daimler AG, said of the decision to set up shop in LaLa land, "personally, I believe what makes the difference (between Silicon Valley and other areas) might be a rare combination of the American dream of freedom, entrepreneurship, the generous acceptance of failure, not to be doomed if you don't succeed and the complete different approach regarding the money needed to start a business. You can smell it. There is something different in the air." Lamberti said Mercedes-Benz built the facility to "anticipate trends and provide answers before the questions are even asked. The Silicon Valley spirit allows us to innovate quickly, and (to) swiftly integrate those innovations into our vehicles."
That, he said, helps accelerate the development cycles in a major way, not only in terms of the car's hardware but also of its software - for example, the way the car interacts with customers' smart devices. "People expect the software of their infotainment system to be up to date," he noted, referring to the concept as the three M's (Music, Maps and Mobiles) and noting how far the company has come in creating not only the technology itself, but in making it useable by mere mortals who aren't necessarily nerds and/or geeks (my term, not his). This includes offering "cloud-based" services that can download improvements wirelessly to ensure they're always up to date.
Much as I distrust "the Cloud," using it like this is a great idea. After all, technology is neither good nor evil; it depends on who's wielding it and for what purpose. For example, in the movie "I Robot," such automatically downloaded updates were used for ill, as the robot manufacturer's central computer created an army of rampaging robots using "the Cloud" - and yet the Main Brain doing the dirty deed wasn't really evil; it was only trying to save humanity (from itself, as it turned out). Take out the Main Brain twisting its mandate, however, and you'd merely have robots - or cars - that are always up to date without the customer having to worry about it. And that's pretty cool.
Niestroj noted that the R&D performed at MBRDNA goes beyond merely designing cars, also embracing the concept of "Business Innovation" in such a way that the centre has become "a think tank for truly unique and creative solutions and…pilot programs of modern mobility," he said. "Together we take on the challenges of creating the next innovation, get inspired by the newest trends, find the best solutions for the customer and building comfortable, safe, sustainable and luxurious cars." In other words, planting the seeds of MBRDNA in Silicon Valley puts the company in the epicentre of technological innovation and market trending, a fine place from which to grow relevant technologies and new business ideas.
We got to experience one of those business ideas via Sprinter van shuttles that took us from our hotel in San Jose to the Sunnyvale facility, with its big, revolving three pointed star and row of recharging electric Benz vehicles out front. The Sprinters are used for a kind of taxi/shuttle service for busy parents called "Boost by Benz," a two year old pilot project the company is running in the area. Boost is designed to transport children between activities when their parents are busy working, empowering themselves, or whatever. The passenger vans are manned (er, "personned") by certified drivers and trained concierges who provide what the Boost by Benz website refers to as "white-glove service aboard eco-friendly Mercedes-Benz Sprinter vans, giving youngsters a safe and friendly ride."
It made me think about my school bus driving days of decades ago, and I wondered if the concierges' special training includes such things as the proper brandishing of a fire axe to get the ankle biters to settle down. Not that I'd ever have done that…
Basically, Boost by Benz is a kind of kiddy limo service with an online component that lets you can keep track of your parental duties without actually having to perform them. Subscribers arrange for a pickup, and the Boost folks take care of the rest - and Mummy and/or Daddy (or Parent 1 and/or Parent 2, if you're politically correct) can track where their pride and joy is via a smart phone app; they also get a text message when the kid is aboard safely. As the Boost by Benz site says, "by blending the ease of technology with the best in transportation, you'll rest easy knowing your kiddos are safely bound to their next adventure."
That was just one of the pilot projects that has come out of MBRDNA. Another, which so far doesn't appear to have proved ready for prime time, was a kind of mobile mechanic service that would see a Mercedes-Benz technician come to your home, office (or wherever) and perform scheduled maintenance on your pride and joy (I'm talking cars here, not kiddos).  
So MBRDNA isn't just about designing new and innovative cars, it's also about ways to use the technology in new business ventures. But it was mostly cars that we were there to learn about, future and truly smart cars (as opposed to the Smart car) that point to the directions that motoring is heading. And there was plenty of food for thought offered during the rest of our day-long visit.
I'll outline that fascinating part of my Mercedes-Benz California adventure next week.
Copyright 2015 Jim Bray
TechnoFile.com