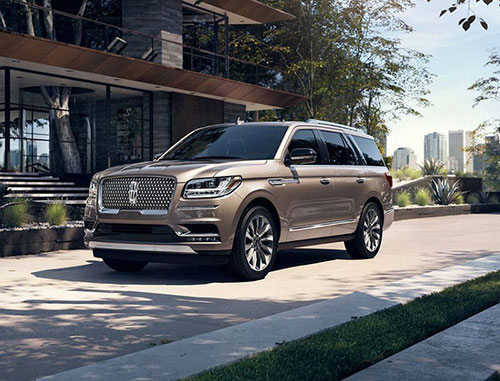 Big Navigator a cushy and plush drive
By Jim Bray
May 4, 2018
This was certainly the nicest bus I've ever driven!
Lincoln's new Navigator, redesigned for the 2018 model year, is a really nice vehicle for those looking for a motorhome-sized SUV that coddles with the best of 'em.
It isn't a motorhome, of course, just a reasonably conventional LARGE three row SUV for the luxury-minded buyer.
Click on the image to open a slideshow.
And it features the great new interior treatment I first saw on the company's Continental, though I don't believe it's identical to that one. I may be a voice barking in the wilderness, but I think these new Lincolns feature one of the best interior designs I've been in. In fact, if this interior keeps trickling across the Lincoln line to the little MKC (the smallest Lincoln SUV, which will apparently be renamed upon the debut of its next generation), they might have one of the most compelling interior lines in the business.
If only the Navigator didn't drive like the HMS Titanic!
Actually, that crack isn't quite fair because, despite a soft suspension and an appalling amount of wallow, the Navigator is still a surprisingly capable vehicle. You'll never confuse it with a Cayenne, but it doesn't pretend to be anything other than a Lincoln, so I guess that goes with the territory. And it is very, very comfortable territory once you park your posterior onto one of the many seats.
The truck-based Navigator also now comes with wireless charging and standard Wi-Fi, as well as driving modes that can help you keep the boat in the canal. There's also plenty of storage space to be had. The lucky folk being treated to all this indulgence also get treated to six USB ports, four 12 volt power outlets and a 110 volt plug. You can also get a wireless phone charger in the first-row center console.
It's cool as well as classy, too – and in some cases very handy: as you approach the behemoth, a Lincoln logo on the grille illuminates, LED lighting in the lower front body and taillamps fire up, and a logo-shaped "welcome mat" appears on the road under the front doors. Even better, the power-retractable running boards extend at your approach, meaning you can merely walk up to the vehicle rather than having to take a running jump up to the high cabin.
I imagine that the 22-inch wheels also contribute to this very elevated feel for the Navigator.
A big vehicle like this requires big power lest it offer the blinding acceleration of a three-toed sloth. And it does: Navigator comes with what I was told is the same twin turbo V6 found in the awesome Ford Raptor truck, cranking out a healthy 450 horsepower for smooth acceleration when you want and/or need it. Power gets to the wheels via a 10 speed transmission that shifts very well – and is augmented by paddles for manual shifting, though they seem to prefer shifting when they want, rather than when I wanted.
Lincoln says Navigator's high-strength aluminum-alloy body sheds nearly 200 pounds over a conventional steel one, helping whatever fuel economy you get as well as contributing to better handling.
It doesn't create as much "better handling" as I'd like, but part of that is merely because the vehicle carries a certain amount of inertia with it. Handling would also be improved by a suspension that didn't hearken back to the "land yacht" days. Indeed, this Navigator is soft, very soft. You can tighten it up via its driving mode selector, which in this case has a sport setting they call "Excite" (which should lead to a class action lawsuit from people who consider driving excitement to mean a taut, cat-like suspension). Excite mode here would be labelled more accurately "less wallow," but I don't suppose that would fit in the LCD display (let alone the marketing campaign!).
As one might expect, a vehicle of this size offers plenty of room, in all three rows. Once I figured out how to move the second row seats out of the way to allow the urchins (and me, for one trip) access to Steerage, I discovered a third row that's probably the most comfortable of any I've been in. It's about the same, size-wise, as the Ford Expedition with which it shares its heritage, but the Lincoln's perch is even more comfortable.
The process involved in moving the second row seats isn't particularly onerous and the captain's chairs move out of the way nicely enough that even a short and fat oaf (I managed to find one to test this…) can get in and out without major contortions.
Navigator's "advanced cargo management system" includes a nifty, adjustable shelf behind the rear seats that lets you customize your storage so your groceries will stay inside when the tailgate is up, even if you're parked on an incline, if you're so inclined.
Lincoln Canada's sample Navigator (base price $90,500 CAD) also came with about 10 grand worth of extras, including the tech package and a nifty rear seat entertainment centre (big LCD screens parked on the back of the front seats in a manner that looks as if they'd be easy to pull off – I didn't actually try that!).
It also had a heavy duty trailer tow option and a "perfect position" option for the front seats that offers a dizzying amount of adjustments. The gas and brake pedals are adjustable forward and backward as well, so if you can't find a perfect driving position in the Navigator you haven't tried hard enough.
Add a couple of other toys, including that tiered cargo mount system and the attractive "ice mocha" paint, and the total tally reaches $100,300. That's a lot of dough, but the Navigator is a lot of vehicle.
The rear seat entertainment system has streaming capability, or you can plug in an SD card, HDMI cable or a USB drive. Oh, and each screen can be programming individually. Heck, the kids might never want to leave!
The Navigator's Revel Ultima audio system, with 20 speakers, is a very good system – not the best I've heard, but it definitely rocks very nicely. 
Navigator's new interior features SYNC 3 with both Apple CarPlay and Android Auto, and the steering wheel-mounted controls are easy to fathom, easier than on the Expedition I drove the week before. That's all part of this new Lincoln interior I like so much. Second row passengers get their own audio and climate controls, too, while even those sentenced to the Purgatory of Steerage can be treated to a power reclining feature. My four-year-old grandson loved this!
Okay, he didn't really care about the reclining feature, since he's in a car seat anyway. He just enjoys pushing buttons, something I believe he learned from his Grandma.
The instrument panel is a big LCD, and its look is configurable. I love these things – Audi started it, supposedly, but I've seen it on a couple of other vehicles as well, including the current Mercedes-Benz E class, and it lets you tweak the panel's info to put the stuff that's most important to you front and centre. There's also a pretty substantive (information-wise) head's up display.
Lincoln's new Navigator isn't a vehicle I'd run out and buy but I'm not the target audience anyway. I have a feeling, however, that those who actually are in the Navigator's target audience will like it a lot, and it may even grab some sales from competitors such as the Cadillac Escalade.
Well done, Lincoln!
Copyright 2018 Jim Bray
TechnoFile.com
Jim Bray is a member of the Automobile Journalists Association of Canada. His columns are available through the TechnoFile Syndicate.