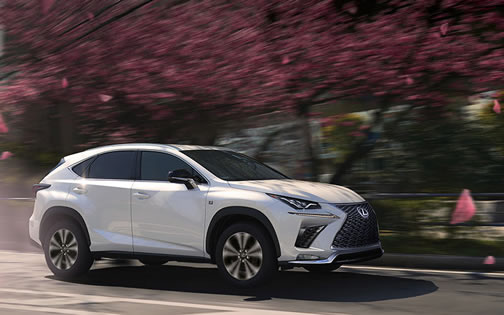 Lexus NX hybrid a winner despite a couple of annoyances
By Jim Bray
May 17, 2018
The good news is that my favourite Lexus has received some tweaking for 2018, and the Japanese luxury brand has wisely refrained from messing too much with the successful NX SUV/crossover.
The bad news is that doesn't mean there's nothing to whine about, which comes in handy for a reviewer who doesn't want to seem overly hyperbolic about a vehicle. And in this case, one of my complaints is easy enough to correct: buy the turbo gas engine version rather than the hybrid, with its whiny continuously variable transmission.
Click on the image to open a slideshow.
It's a complaint I have with just about every vehicle I've driven that has a damn CVT. These "gearless" transmissions not only suck most of the fun out of the driving experience (instead of shifting, they feel like your vehicle is sliding along a big elastic band), they also howl like an outraged banshee when you prod the accelerator pedal, which isn't what a vehicle – especially a luxury vehicle – should do.
Lexus Canada's sample NX 300h (the vehicle was called the NX 200 originally, but that name has been upgraded even though the engines haven't been), was the hybrid and therefore I went in with more than a small chip on my shoulder. Making that sliver into a full cord of wood was the trackpad on the centre console, which is Lexus' current offering for those who want to operate the LCD that's mounted atop the centre stack.  
I hate trackpads at the best of times (which includes on computers) and operating this sucker while the vehicle is in motion is a real experience - and not a good one. To be fair, once you've programmed the LCD via the trackpad you can eschew it for many functions thanks to steering wheel-mounted controls. There's also voice recognition, though it isn't nearly as smart as it seems to think it is (this is common and not limited to Lexus).
And, to ensure you don't think this is my hybrid angst kicking in, the gas version has the same damn thing. And other Lexi have it as well. Beware!
It may come as a surprise to you that even with those two issues I came away from my week with the NX thinking it's still the nicest new Lexus on the road today. It's not only the best-looking Lexus you can buy - even that damn "spindle" grille (which makes current Lexi look like big vacuum cleaners) works really well on this vehicle - and unlike other Lexi these days (such as the RX and the IS lines), the vehicle doesn't come off as severely over styled. In fact, it looks fantastic, especially in the "Atomic Silver" paint of Lexus' sample!
The interior is pretty much today's Lexus as well, which other than the trackpad is a darn nice place to be, classy and luxurious and enjoyable.
And if you drive the NX h in the spirit of a hybrid, meaning taking it easy on the gas pedal and driving as smoothly as you can, it'll even return pretty good gas mileage. But you do have to drive it gently: during my week with the it, I took it on a road trip to a mountain town I used to live in and on the way down I drove it in my normal style (severely lead footed) and the three-hour trip went through nearly a whole tank of gas.
On the way back, I "got with the program," and the vehicle was driven in a manner more befitting a lifestyle choice such as a hybrid, and wouldn't you know - the little Lexus used only about a third of a tank over the same distance! It was quite a remarkable demonstration, though I doubt I'll learn any lesson from it. And, to be fair, some of that improvement (but surely not all) would have come just by my not perennially pinning the petrol pedal to the platform.
Lexus says the hybrid can achieve a fuel mileage of 7.2/7.9/7.5 (litres/100 km city/highway/combined) or 39/36/38 miles per gallon. That compares with their figures for the turbo of 10.6/8.5/9.7 litres/100 km (27/33/29 mpg).
If you enjoy the driving experience, the only mode that's worthy of consideration is Sport, though it ups the noise ante from the CVT. Methinks if you want to use sport mode as much as I do, you'll be better served with the turbo, non-hybrid version.
The hybrid's power plant is a 2.5 litre Atkinson cycle four banger that produces "194 net system horsepower" and includes drive modes from Sport and Normal to Eco and EV. EV is pretty useless if you aren't cruising through a parking lot, but it does work. The other engine (the "fun" one!) is a two-litre turbo four that cranks out a reasonable "up to" 235 horsepower, that oomph getting to all four wheels by a real automatic transmission - in this case a six-speed version with paddles.
The gas NX 300 start at $44,050, according to Lexus Canada's website, but the Hybrid sample (which included the Premium Package, tipped the financial scale at $55,300 CAD, not counting taxes and the other kilos of flesh car buyers have to shell out these days.
Tweaks for 2018 include new air intakes on the front, "for enhanced engine and brake cooling," according to Lexus, and there are also new Bi-Beam LED headlights. The rear fascia has revised taillights, too. Other enhancements include keyless entry door handles that light up and an outside-sliding sunroof Lexus says has a larger opening than before and which (thanks to it now opening above the roof instead of inside) offers more headroom inside. I could probably stand up inside the NX anyway, so didn't notice the extra cranial capacity.
As one would expect from a Lexus, the inside is very nice. You get very comfortable eight-way power adjustable front seats (with driver's seat memory) and a power reclining/folding 60/40 split rear bench. Controls are where you need them, close at hand, and are for the most part very straightforward.
All NX models now get Lexus Enform App Suite 2.0, which "puts your favourite apps at your fingertips, and lets you bring your music along for the ride," according to Lexus, while "Enform Safety Connect offers emergency assistance at the press of a button." The suite includes automatic collision notification, stolen vehicle locator, emergency assistance button and enhanced roadside assistance. There's also stuff for traffic, weather, slacker (I think this was designed for me!), Yelp, sports, stocks, fuel and NPR One (no subscription required – because who wants to pay for NPR?)
Also new for 2018 is the standard application of Lexus Safety System + (pre-collision system, automatic high beam, dynamic radar cruise control, and lane departure alert with lane keep assist). There's also a rear-view camera, eight airbags, a tire pressure monitoring system, first aid kit, and plenty more.
You can enhance the gas-only NX via a few different packages, including Premium ($48,000 - adds a heated steering wheel, power tilt/telescoping steering column, power hatch, integrated garage door opener, 120V power supply, power moon roof, exterior mirrors linked to driver's seat memory system, heated and ventilated front seats, 18 inch alloy wheels, the Blind Spot Monitor and Rear Cross Traffic Alert systems, etc.
The Executive Package ($56,700) adds (new for 2018) unique 18-inch alloy wheels, a kick sensor on the power back door and heated rear seats. There's also a handy head's up display that works pretty well with polarized sunglasses, wireless charging for compatible personal electronics (which, of course, I don't have so can't comment on its effectiveness), power folding rear seats with remote switches, and more.
And if that isn't enough, there are three F Sport packages that, in Lexus tradition, are more F than Sport, in that they're mostly cosmetic rather than offering stuff like more power, tighter suspension, etc.
You can add to the hybrid version an Executive Package ($62,750), which adds the kick sensor for the powered hatch, heated rear seats, panoramic view monitor (an upgrade to the rear-view camera system), clearance and backup sensors with rear cross traffic braking, triple beam LED headlamps, and a unique 18-inch alloy wheel design. The package also comes with rain-sensing wipers, the head's up display, blind spot monitor, wireless charging, power folding rear seats with remote switches, and more.
Doing the math as presented on the company's Canadian website, the gas-only NX 300 configured as closely to the "base" hybrid as I can figure it will run you a few grand more than the gas version – money you could put into gasoline for the non-hybrid (and thereby enjoy the ride more).
Some governments may still allow you to force your friends and neighbours to subsidize your "green" purchase via tax kickbacks, which could help even out the hybrid/non-hybrid price if you aren't above introducing your fellow citizens to the joys of tyranny.
So, when it comes to value, the hybrid and the turbo could work out to be pretty similar. But if you enjoy the task (or is it the "art") of driving, there's only one version to look at, and it ain't the hybrid.
Copyright 2018 Jim Bray
TechnoFile.com
Jim Bray is a member of the Automobile Journalists Association of Canada. His columns are available through the TechnoFile Syndicate.