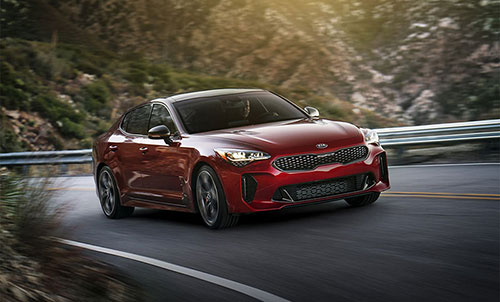 Kia's sporty Stinger is definitely no stinker
By Jim Bray
October 5, 2018
Kia's new sporty flagship is a nice four door hatchback – a sports sedan that isn't quite a sedan but which looks, acts, and (even better!) drives like a sports sedan.
Move over BMW? Probably not, though there's sure a lot to like about the Kia Stinger, including interfaces that are easy to figure out and to use – something to which a lot of the competition should take notice.
Click on the image to open a slideshow.
The Stinger is Kia's first rear wheel drive car, though Kia Canada's sample was all wheel drive (that's all you can get on this side of the Canada/US border). And it drives like an all wheel drive sports sedan should: sticks to the road really well, with maybe a dash of understeer to help keep things interesting. That doesn't mean the car plows ahead in a straight line when you want to zig and zag, fortunately. In fact, I took the Stinger across Canada's highest mountain pass (the 7200-foot Highwood Pass), a lovely driving road that offers long straights and plentiful twists and turns and, while a bit of understeer did show up, it was quite gentle and didn't bother me a whit.
The Stinger, in fact, is a blast to drive. It's also comfortable, appointed very well, and just all round nice. And because it isn't a BMW, or Lexus, or Audi, you pay a bit less for the privilege of owning it.
As far as its looks go, the Stinger is recognizable immediately as a Kia, and I happen to think that's a good thing. Kia and its stablemate Hyundai were smart several years ago and hired some big design guns from the German competition, led by ex-Audi guy Peter Schreyer, and their vehicles have been getting better, better looking, and better driving. Can't complain about that too much!
The Stinger offers the same basic shape as Kia's mid-size sedan, the Optima, and its bigger Cadenza, but in a more aggressive-looking package that looks lower and wider and much more muscular. It works. Very well. And the hatch is big and opens high (though the lift over is also a tad high for those challenged vertically).
Inside the Stinger is a very nice hive from which to savour the drive. The car seats five comfortably, everything is laid out logically for the driver and it all works as it should. In recent years, I've held up Kia and Hyundai, and Volkswagen and Ford, as the epitome of great interface design, with no damn pointing devices or cursor controller knobs to cause angst when you're trying to cause burnouts (or just drive normally…), and the Stinger continues that great tradition.
Add to that such great features as (optional) Brembo brakes, torque vectoring, 19 inch wheels, multiple drive modes (Smart, Eco, Comfort, Sport and Custom) and an "available" Dynamic Stability Damping Control system that helps adapt the suspension to your preferred drive mode, and available adaptive headlights, and you have a car that really isn't missing much in the way of goodies.
I tried all the drive modes, but settled on "Custom" because it let me set everything to sport mode, which tightens up the car's responses very nicely without making it jarring.  I wish the car would remember the last mode you used, so you don't have to choose it every time, but that's hardly a big deal and hardly a Kia-only thing.
Kia's sample had the upgraded engine choice, a 3.3 litre twin turbo V6 that cranks out a lovely 365-horsepower and 376 lb.-ft. of torque, and does it with a delightful noise. The base engine is a two litre inline turbo four that puts out 255 horses and 260 lb.-ft. of torque and it's probably more than adequate – but if you have the cash and the desire, I'm willing to get the V6 will put a bigger smile on your face.
Acceleration is definitely smile-inducing and during our highway jaunts I came to really love the car's performance. And the eight-speed transmission, with paddle shifters, works very well; the manual mode is one of the better ones I've experienced recently, shifting then you tell it to rather than when it deigns to.
As someone who loves the toys, I liked the Stinger's top line interior, and on our day-long trek across the eastern edge of the Rocky Mountains, which took the better part of the day, I never had issues with numb bum or such – a tribute to the great seats and driving position.
And, as someone who hates some of today's nannies (lane keeping assist is one of the worst), Kia's use of them is at least restrained and the nannies are shut-offable.
Still, you get lane keeping assist, adaptive cruise control, 360 degree camera monitoring system, a head's up display (though I had to really crank the brightness to use it with my polarized sunglasses), all of today's connectivity stuff, etc. etc. etc..
One small quibble about ease of use: while the Stinger has proximity sensors for the lights and mirrors (they leap to attention as you approach with the key fob in your pocket), you still have to push the button on the door handle, which seems kind of silly. That's hardly a deal breaker, of course; I wish my 14-year-old wagon would even do that much!
The Harman Kardon premium audio system of Kia's sample cranks out 720-watts thanks to the car having a separate amplifier than what's stuffed into the traditional head unit. You get 15 speakers throughout the cabin, including subwoofers under the front seats, filling it with glorious sound. Heck, Kia even says the system is designed to restore audio signals that are lost in the digital compression process. I keep some lossless files on a USB drive to test car systems, ones whose quality I know well to ensure apples-to-apples audio performance, and I was very happy with the Kia's system.
If I hadn't been cranking the tunes so much I would have undoubtedly noticed more that the Stinger (other than its engine's glorious sound) is a darn quiet car in which to ride.
Kia seems to be targeting the niche in which live the Audi A4, BMW 3 series, Lexus IS and the like, though it's bigger than the others (Kia says it's even bigger than a Lexus GS). It doesn't feel that big, however, but in its overall demeanour it does feel like one of those other cars. It not only offers the same type of luxury and convenience features, it also ups the performance ante to their level.
Stinger's base, two litre engine puts out a few more horses than the Lexus IS300, the Audi A4 and BMW 3 series (all base models, of course) and its turbo V6 out cranks them, too. Heck, you can't even get a V6 in the A4 any more unless you upgrade to the S4 (which used to be a V8), but even its 354 horses pale (behold a pale horse!) in comparison to the Stinger's, as does its torque. Well, maybe they don't pale – and power/torque figures are only part of the equation – but the specs definitely show that the folks at Kia have done a remarkable job with the Stinger.
Just as Hyundai is doing with its Genesis line (with which the Stinger shares some stuff), Kia's Stinger could be considered as a "throwing down of the gauntlet" move on the part of the South Korean company.
And, like Acura, Lexus and Infiniti did to the luxury market some three decades ago, its entry price belies the stuff you get on the car. The base Stinger (the GT-Line, with its two-litre turbo four), starts at $39,995 Canadian, and the top line GT Limited starts at $49,995 and that's about it unless you opt for the $200 premium paint option.
How does that compare to the IS, A4 and 3? According to their respective Canadian websites, the base Lexus IS is $41,050, the A4 starts at $41,350 (but the better comparison S4 starts at $58K) and the 3 series kicks off at $54,100 CAD. And that doesn't include the standard equipment level of each car's base model, in which case the Kia may get even more attractive.
Each of these competitors' loaded price ($56K for the IS 350, $56,400 for the A4, and over $60K for the 3 series) is higher than the Kia's as well. I didn't include Jaguar, Infiniti, Acura, Mercedes-Benz prices, but except for the Acura TLX they're all in the same relative ballpark – er, carpark.
"But it's only a Kia", I hear. And that's right. It is only a Kia, a car company that not too many decades ago was pretty much an automotive joke.
I heard the same stuff about Toyota, Datsun and Honda when I was a young man (yes, there were cars then), mostly from fans of the Detroit Big Three. And look how that worked out. Who's laughing now?
So, don't be afraid to try a Stinger if you're shopping in this niche.
Copyright 2018 Jim Bray
TechnoFile.com
Jim Bray is a member of the Automobile Journalists Association of Canada. His columns are available through the TechnoFile Syndicate.