Honda and Toyota offer wildly different visions of Crossover styles
By Jim Bray
April 20, 2017
One's a truck that drives like an SUV; the other is an SUV that drives like a truck. Which one makes more sense?
Naturally, it depends on the task at hand. If you're looking for a small pickup truck that rides like more a car, the Honda Ridgeline is the clear choice. But if you want a brawny adventurer that'll be as comfortable off the asphalt as it is inside the city, the Toyota 4Runner is the winner.
Click on the images to open a slideshow.
And never will the twain meet, except perhaps in this column.
Honda's new Ridgeline - in the "Black Edition" livery of this review - is built on the same basic platform as the company's big SUV, the Pilot and, while it'll probably be fine for many off road excursions, it's more of a city folk vehicle than a backwoods brawler.
On the other hand, Toyota's 4Runner - in the "TRD PRO" livery of Toyota Canada's sample - is a tough off roader that shares DNA with the Tacoma pickup truck. And it's happy to bounce you along the paved roads before devouring happily its natural element, the great outdoors.
I'm not a truck guy and so am probably not the best person to review these vehicles, but if I were looking for a small pickup truck, the Ridgeline - now in its second generation - would be tops on my list. Well, it would be if it weren't a current Honda (more about that later). The Ridgeline is not only good as a truck, it's also more flexible than any other truck I've seen. Heck, it even has a trunk! Yep, it's a "trunk-ated" truck.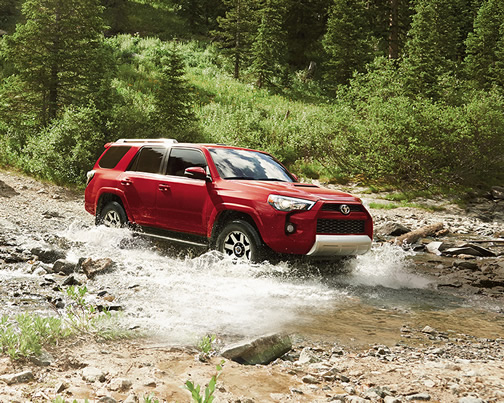 On the other hand, my eldest son has a mid-2000's 4Runner that has - and undoubtedly will for many years - served him and his family extremely well. My son's is the Sport version (which is no longer an available trim level in Canada or the U.S.) and that means it's more interesting and rewarding to drive than the current model, if such things are important to you. On the other, other hand - especially in this top line TRD Pro clothing - the 4Runner would probably conquer Mount Everest if you were to be silly enough to try assaulting the world's laziest mountain in an SUV.
Click on the images to open a slideshow.
Gotta Honda-it to you…
The current Ridgeline was new last year and Honda's re-imagining managed to keep what was great about the original version, while updating its look to create a handsome, yet still truck-like, exterior. The interior is all car/SUV, and typical current Honda, and seats up to five. It also features a magic rear seat you can configure for a variety of hauling duties, whether you want to carry a bicycle or just a week's worth of groceries.
Ridgelines also have one of those dual action tailgates people of a certain age (my youngest son calls it "old") may remember from 1960's domestic station wagons: it folds down like every other tailgate, but it also opens sideways to allow even easier access to the bed. I wish all trucks were like this.
Then there's that fantastic trunk mounted Honda has below the rear of bed. It's big enough for quite a bit of stuff, it locks, and it's also waterproof so you could stuff it full of beer and ice if you're of the tailgating persuasion. And while you're tailgating - or even if you just want to make your neighbours move out - you can partake of the (optional) Truck Bed Audio System, which pipes the truck's audio system to the world at large.  
Ridgelines get their motivation from Honda's latest 3.5 litre V6 engine with Variable Cylinder Management (VCM, which can deactivate cylinders to save fuel if you're just cruising along). It puts out 280 peak horsepower (up 30 from the last generation) and 262 lb.-ft. of torque (up 15). Honda says the Ridgeline is also about 35 kilos lighter than the previous version, as well as more aerodynamic, which helps with acceleration and fuel economy.
Power gets to the wheels via a six speed automatic transmission with, unfortunately, no paddles on the steering wheel. But it works fine.
2017 Ridgelines come standard with all-wheel-drive (though you can get FWD in the U.S.), in this case with Honda's "Intelligent Variable Torque Management" system, which is also lighter than before while offering better all-weather traction and handling. The system vectors torque from front to rear and from left rear to right rear as needed. There are also Normal, Snow, Mud and Sand settings to help you excel wherever you might be going.
Thanks to the Ridgeline's unibody construction and independent suspension, driving it feels more like you're driving a Pilot than a truck, which to me is a very nice thing. In fact, I'd keep forgetting it was a truck until I'd check the inside rear view mirror and notice how close the rear window is compared to a Pilot's.
Ridgelines are rated at about 1,600 pounds payload and boast a scratch-resistant bed with eight 350 pound tie down cleats. The bed is five feet wide and 5.4 feet long (a short bed, but four inches longer than the old Ridgeline's) and there's four feet of space side to side, so you could haul plywood or drywall, etc. as long as you don't mind it hanging out at the back. There's even a power outlet available back there, so you can plug in your tools and/or toys.
The Black Edition ($48,790 - a premium of about $1,500 over the next highest "Touring" trim level) adds such niceties as 18 inch Black aluminum wheels, Black Edition emblems and seats, special ambient lighting, a black chrome grille and bumper skid garnish/door/tailgate handles. Basically, it's cosmetic stuff, not that there's anything inherently wrong with that - and that's all on top of the other extras you can get from the other trim levels. Base Ridgelines start at $36,790 CAD and they're still equipped pretty well, though you don't get a sunroof, leather or power seats for that price.
It's a heckuva truck, and unique, but it's also a current Honda and that means living with it might drive you nuts. Honda still hasn't seen fit to put volume and tuning knobs to access the audio system so, other than the redundant controls on the steering wheel, you have to use the touch screen and that's not a good thing when you're driving, especially if the road is bumpy or curvy.
Pairing my cell phone to the Ridgeline went far easier than it does usually with a Honda product, but even there it was frustrating because when I got the truck its complement of phones was full and I had to delete one before it would accept mine. No big deal, but would it tell me that rather than just sitting there, pouting? NOOOOOOO! I  had to figure it out for myself, which is always problematic.
I really hope Honda figures out this ergonomics stuff because their vehicles are really good as a whole. But the little quibbles are, at least to me, annoying enough that, taken together, they'd be a deal breaker.
4Runner TRD a real PRO
I wouldn't buy the 4Runner, either, but I can see why people do. It's a brawny bruiser of an SUV even in its basic livery, and the TRD Pro treatment ups its off road abilities above and beyond its prodigious performance. Don't want a truck-based SUV/crossover but want a Toyota? That's why there's a Highlander in the company's inventory as well.
The 2017 4Runner is available in five models, from the base SR5 (Starting MSRP: $44,800) through the
OFF-ROAD (Starting MSRP: $46,720), Limited five passenger (Starting MSRP: $50,305) and Limited seven passenger (Starting MSRP: $51,500), and the TRD Pro of this piece (Starting MSRP: $52,195).
The 4Runner's TRD Pro package adds a bunch of stuff, (and deletes some, such as a third row seat), including a "Lever-type" 4WD Selector, 4-Wheel Crawl Control (CRAWL), Multi-Terrain Select, a rear differential lock, automatically disconnecting differential, TRD-tuned front springs, TRD Bilstein High-Performance shocks with rear remote reservoirs, and lots more.
The package also brings big Nitto Terra Grappler All-Terrain Tires, 17 inch Matte Black
Aluminum Wheels with TRD-badged centre caps, Multi-terrain ABS, a TRD logo on the front seat headrests, black seats with cool red stitching, Optitron instrumentation, black end caps for the roof rails, a hood scoop, unique grille, TRD Pro badging, black accents on the bumpers, a TRD-Stamped aluminum front skid plate, TRD Pro shift knob and TRD Pro badged floor mats.
All that's on top of the basic 4Runner, a vehicle that still gives you a lot of goodness.
4Runners get their power from a four litre V6 Toyota says puts out 270 peak horsepower and up to 278 lb.-ft. of torque. Those are decent numbers, but in practice it doesn't seem like enough. Maybe it's because of the gearing, or the fact that you can only get a five-speed automatic transmission instead of the more popular six or more speeds. I dunno, but I do know that the 4Runner's acceleration is, well, laid-back. On the other hand, this isn't a racing truck and acceleration isn't its raison d'etre. 
The 4Runner is rated as having a 2,268 kg (5,000 lb.) towing capability, and every 4Runner comes with a tow package as standard equipment, including a heavy duty tow-hitch receiver, 4+7 pin wiring harness, pre-wiring for a trailer brake controller wire, and a supplemental transmission cooler.
Inside, the 4Runner's interior looks about 10 years old; heck, the top line TRD Pro doesn't even offer automatic HVAC, and the knobs, switches and other gewgaws feel old tech even if they aren't. Still, 4Runners get such stuff as a 6.1 inch Display Audio system (with eight-speakers, and it's pretty good), navigation, Bluetooth, steering wheel-mounted audio controls, a leather wrapped steering wheel and shift knob, eight-way power-adjustable driver's seat and four-way power adjustable front passenger seat.
The front seats are heated, there are power door locks with keyless entry (no push button start/stop or proximity access, though), auto up/down function on all the windows, a power rear hatch window, moon roof, tilt/telescope steering wheel, a backup camera, 17 inch aluminum alloy wheels, heated exterior mirrors, running boards, a rear spoiler, tonneau cover, and more. There's also abundant safety stuff.
Obviously, the 4Runner, even in its "garden variety" form is an extremely capable vehicle and will probably take you into and out of the back country happily for many years. And if that's what you're looking for in an SUV you probably can't go wrong with the Toyota.
On the other hand, if your hauling needs are more truck like, and you can your head get around the interior "Hondaisms," the Ridgeline should also perform really well over the long term.
Two jobs, two solutions from two Japanese companies with reputations for building fine vehicles that last forever.
Isn't the free market wonderful?
Copyright 2017 Jim Bray
TechnoFile.com