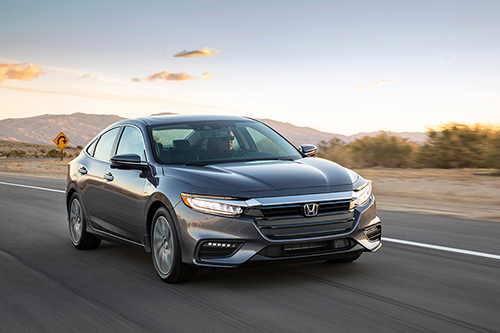 Honda's innovating Insight is reborn as a nice hybrid sedan
By Jim Bray
August 30, 2019
The Honda Insight may not be a household name, but the original version was a ground-breaking vehicle in that it was the first "mainstream" hybrid vehicle offered for sale in North America.
Click on the image to open a slideshow.
That car was an underwhelming achievement, however, a little two-seater that looked like a squashed ladybug and boasted the acceleration of a bicycle (okay, I may be exaggerating a bit). It was focused clearly on saving gas, with the driving experience secondary (if the designers thought about it at all!). Heck, its performance was such that when I reviewed one back around the turn of the century, my wife and I drove it to the Columbia Icefields in the Rocky Mountains and on some of the steeper hills it almost felt as if we should get out and push.
That said, the car was fine as a commuter vehicle as long as you didn't mind getting your doors blown off by pedestrians and not having much room for groceries.
The second generation was a nicer vehicle, but compared to the number of Prii I see on the roads around here, that Insight didn't set the market on fire, either.
This third "in-car-nation" may not turn out to be Honda's better mousetrap either, but of all the Insights so far, it's easily the nicest in which to spend some time behind the wheel.
Supposedly based on the Civic, the car actually looks and feels more like a current Accord, though it isn't as big. But if you just give it a quick look you might confuse the two – and that's a good thing considering how ugly the current generation of Civics is.
Honda describes the new Insight as "an upscale, stylish five-passenger sedan positioned above the Civic in Honda's passenger car lineup. The all-new Insight utilizes the latest generation of Honda's innovative two-motor hybrid system and will launch…as the newest electrified vehicle in the Honda lineup."
It is stylish – one of the nicer-looking current Hondas, in my never humble opinion – and it does come off as kind of upscale, but it also has the type of current Honda-isms that drive me crazy – like overly aggressive nannies and a lack of tuning knob for the radio – so in that vein it's really just another mainstream Honda, except that it's also a hybrid.
The Insight gets its power from the third generation of Honda's two-motor hybrid drivetrain, which couples a 107 horsepower 1.5 litre DOHC i-VTEC Atkinson-cycle inline four-cylinder gas engine to an electric propulsion motor that produces 197 lb.-ft. of torque. Honda says that, "thanks to its clever two-motor design, Insight operates without the need for a conventional automatic transmission."
Alas, this means you get a damn CVT, which Honda in this instance calls an Electric Continuously Variable Transmission. Like most such trannies, it's obnoxiously loud, but it isn't as awful to drive with as some CVT's. This improvement in the driving experience seems to be happening elsewhere, too, so maybe the technology is maturing. But that noise! Jeez, it's enough to overpower the audio system! Again, though, this issue isn't Honda-specific.
Some CVT's give you paddle shifters so you can pretend you're shifting a real automatic transmission, but for the Insight, Honda calls the paddles "Deceleration Selectors." The paddles, which are mounted behind the steering wheel, where you'd expect them to be, let you toggle between three different levels of regenerative braking. Honda says the system not only "increases battery charging via regeneration, it also helps reduce stress on the brakes."
There are also drive modes of varying usefulness. In EV Drive, the Insight uses only the electric drive motor, powered from the battery. This lets you ooze along slower than pedestrians (which makes the setting kind of "pedestrian"). Hybrid Drive uses the gas engine to drive a generator that supplies power to the drive motor, while Engine Drive connects the gas engine directly to the drive wheels for when you take your Insight to the drag strip.
The battery pack is mounted below the folding rear seats, which means it doesn't take up storage space elsewhere, such as the trunk.
Honda claims 4.6 litres per 100 kilometres fuel economy, and I achieved right in that neighbourhood despite my heavy right foot. Honda also claims a combined power rating (gas plus electric) of 151 horses, which leaves Toyota's new Corolla hybrid (121 hp) in the dust, though the difference doesn't feel nearly as great as it looks on paper.
You can choose from two trim levels: Hybrid, and Hybrid Touring, but every Insight comes standard with multi-element LED headlights, push-button start, and the damn Honda Sensing suite of advanced safety and driver-assistive technologies. This means the car will holler at you if your wife undoes her seatbelt while pulling into a parking space, it'll flash "BRAKE!!!!" at you from the instrument panel if it thinks you're about to rear end someone – even if you aren't – and it also has that obtrusive Lanewatch monitor that fires up the LCD screen with a view down the right side of the car when you activate the right turn signal light. I find this Lanewatch thingy to be obtrusive, in that it grabs my attention away from the entire view outside.
And that's a shame, because the company still makes excellent cars – they're just annoying and, in many cases, butt ugly (beauty, of course, being in the eye of the "keyholder"). Your mileage may vary, of course.
Standard connectivity features include an eight-inch Display Audio screen with Apple CarPlay and Android Auto integration. The Insight Hybrid Touring version adds leather to the mix, along with a power sunroof, four-way power passenger seat, Honda Satellite-Linked Navigation System and more.
All this whining notwithstanding, the new Insight is a very pleasant vehicle to drive. Sporty it ain't, but of course that isn't its mandate, er, persondate. But despite that, its suspension is reasonably tight, the acceleration is okay when you press it, the steering feels just fine, as do the brakes.
It almost seems as if Honda is pushing the Insight as just a great sedan rather than a great HYBRID, though it's only available as a gas/electric hybrid. Bottom line is that the Insight is kind of like a good-looking, gas-sipping Civic, and it's hard to argue that's a bad thing.
The Honda Insight starts at $28,790 CAD, and the Touring version lists for $32,490. There aren't a lot of options available, which means Insights – especially the Touring versions – are equipped pretty well right out of the box.
I was surprised pleasantly by the new Insight. If you're looking for a Honda hybrid that's affordable and drives well, you should take this little beastie for a test drive.
Copyright 2019 Jim Bray
TechnoFile.com
Jim Bray is a member of the Automobile Journalists Association of Canada. His columns are available through the TechnoFile Syndicate.