Ford introduces magic trailer-backing technology
By Jim Bray
March 17, 2016
Talk about having a backup plan!
Whether you're towing a boat trailer, a camper - or a howitzer - one of the biggest challenges is backing the thing up without your little train skewing off in the wrong direction. But Ford thinks it has the solution, with a nifty wrinkle it's making available on some of its new pickup trucks.
Called "Pro Trailer Backup Assist," the thing is kind of analogous to the self-parking feature Ford and others have introduced over the past several years, except that instead of being designed for cars driven by the parking-challenged and aimed mostly at parallel parking, it's meant to help truck drivers back their trailers into spaces - boat launch ramps, loading docks, driveways, whatever - easily and reasonably quickly.
The company demoed the feature at a recent event on the eve of the Calgary Auto Show, an event at which they also introduced their new Super Duty and Raptor pickups, a couple of workhorses (well, one could be thought of as a "funhorse") that look extremely capable.
I gave the backup assist system a very quick try at the event (they wouldn't let you drink if you were going to drive the truck, and they had nice wine!) and it seems to work well. I don't back trailers a lot - I think the last time was when I was in the militia as a teenager and had to back a deuce and a half truck pulling 105 mm. howitzer - so I didn't bring a lot of experience to the experiment. But that was the whole point of the exercise.
What makes backing with a trailer so cuss-worthy is that you have to think in reverse - and I don't mean that you're backing up so it's already in reverse. What I mean is that you have to steer in the opposite direction of where you want the trailer to go, lest it jackknife and everyone watching points and laughs.
Ford describes Pro Trailer Backup Assist, which is says is available for the 2016 Ford F-150, thusly: "It works by letting the customer steer the trailer instinctively as they control the accelerator and brakes while the truck takes care of the rest." And you thought trucks were just big dumb beasts!
It's actually quite a simple and elegant system. Basically, you engage it, remove your hands from the steering wheel and shift the transmission into reverse, then control the feature via a little knob protruding from the dashboard just to the right of the driving position. As you back up, you can turn the knob left (counter clockwise) when you see the trailer heading into the weeds on the right, and turn the knob right (clockwise) when you want to prevent the trailer from going off the cliff to your left.
In other words, turn the knob gently left to turn the trailer left and right to turn it right, eliminating the weird opposite steering you have to do when you back a trailer conventionally. I could see this being really popular with professional truckers backing their 53 foot trailers into a narrow docking bay; too bad Ford doesn't sell such vehicles.
Anyway, the result, besides less laughter from onlookers, is less time spent backing up a trailer. Heck, I imagine it would even be helpful when experienced "trailer towers" want to back a trailer more quickly.
The Pro Trailer Backup Assist automatically steers the truck to turn the trailer the desired amount you've input via the little knobby thing. Ford says the system may also limit the truck's speed to "enhance the comfort and control over a variety of road surfaces." I didn't really get a chance to try that at Ford's event, which was really just a quick demo where you backed up into a lane laid out with cones, but have no reason to doubt Ford's claim.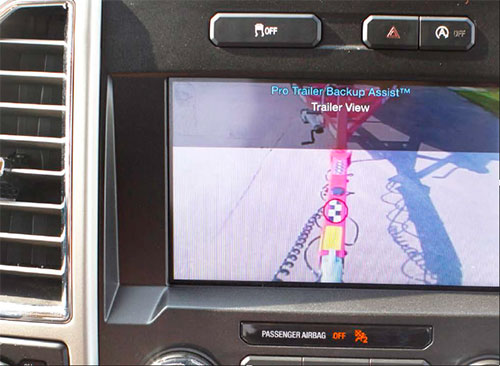 I'm not a real fan of nannies on vehicles - especially the obtrusive ones like front collision avoidance, lane keeping assist and adaptive cruise control - but this is one I think could prove to be quite handy. Besides, it's more of an aid than a nannie, so it doesn't get my back up. Too bad I'm not a truck guy…
Doing Heavy Duty duty…
Ford also unwrapped its 2017 Super Duty at the event, calling the F-Series model "the toughest, smartest, most capable Super Duty ever." The truck, which includes a new, high-strength steel frame and segment-first, high-strength, military-grade, aluminum-alloy body (following in the footsteps - or tread marks - of the current F-150) also features stronger axles, springs and suspension. The company claims that the high-strength steel and high-strength aluminum alloy tack helps reduce weight by up to 158.76 kg (350 pounds). That, of course, can translate into better fuel mileage (not that you can expect a Super Duty to sip like a Prius!) or more payload. Or just bragging rights…
The new Super Duty comes with 16 new, class-exclusive features and up to seven cameras(!), which Ford says makes it "the ultimate tow vehicle." There's adaptive steering, too, which the company says "reduces the amount of steering input needed to change direction at low speed, while reducing sensitivity to steering input at higher speeds."
Truck folks who like a dose of fun and creature comforts with their off road excursioning might get a kick out of the new generation F-150 Raptor SuperCrew, which also was also unveiled at the Calgary event.
The supposedly all-new 2017 F-150 Raptor SuperCrew adds agility, versatility and room to "the toughest, smartest, most capable F-150 Raptor ever."
The truck starts with (besides a key!) a purpose-built fully boxed frame that Ford says is the strongest in the F-150 lineup. It features more high-strength steel than the outgoing Raptor and the enhanced suspension, use of advanced materials - including high-strength steel and high-strength, military grade, aluminum alloy, an all-new turbocharged EcoBoost engine and "smart engineering" - shaves "up to" 227 kg (500 pounds) over the old Raptor, bringing a better power-to-weight ratio than the previous F-150 Raptor, with the same benefits of increased payload, better fuel economy or just more fun handling.
F-150 Raptor SuperCrew comes with four full-size doors so rear passengers can get in and out more easily and offers "more legroom and comfort on the trails and more space to stow gear while exploring the Canadian wilderness." Not that I expect the rear compartment will shrink if you cross over to the U.S….
The SuperCrew's wheelbase (145-inch) is a foot longer than the standard Raptor SuperCab's, while the new, high-output 3.5-litre EcoBoost, 10 speed transmission and torque-on-demand transfer case make the beast "even more powerful, efficient and easy to drive off-road."
We didn't have a chance to drive either of these new trucks at the event, but I drove the old Raptor a few years ago and even though the joy of trucks is basically lost on me I had a blast with it. Looks like the new one will be the same, only more so, and I guess that's as it should be.
Copyright 2016 Jim Bray
TechnoFile.com