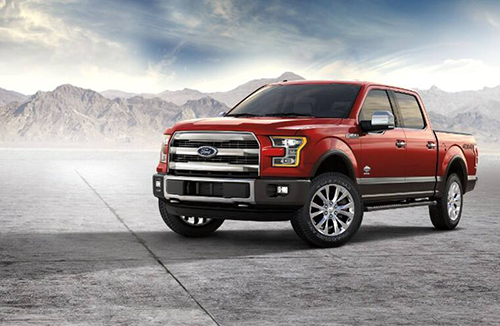 Ford F-150 King Ranch an awesome hauler
By Jim Bray
June 27, 2019
There are Ford F-150's and there are Ford F-150s. And one of the most lusted after among them is the King Ranch.
Well, that's according to my non-scientific poll of folks who met me while I had a 2019 King Ranch for a week, a truck that garnered ooh's and ahh's from a variety of ages and, it appeared, demographic and economic groups. Truck folks, it seems, like the King Ranch.
I'm not the target audience here, alas, and so you might have to take my comments with a mine of salt: I'm no truck guy and would never buy a pickup truck, though nor am I one of those "non-truck persons" who thinks that because I don't like 'em then nobody should be allowed to have one. Trucks are big (as in popular) and here in Alberta they're everywhere.
Click on the link to open a slideshow.
I think it should be Porsches that are everywhere, but that, apparently, is a minority opinion. Hey, who'd have thunk: white male me is a minority!
Anyway, the King Ranch – despite its lust-inducing manner – isn't much more than half way up the Ford F-150 line, with the awesome Raptor and the Platinum and Limited trim levels above it. I kind of figured the Raptor would be the lust inducer, with its aggressive good looks and even more aggressive performance, but as usual no one asked me. And to be fair, when I last had a Raptor it had a similar effect on passersby and hangers on. So maybe it's just Ford trucks that inspire this lust. Beats me.
The King Ranch starts at $64,529 Canadian, which seems not too outrageous considering that you can spend a LOT more: The Limited starts (according to Ford's Canadian website) at $79,629 CAD – and last Christmas season I drove a RAM 1500 Limited whose Monroney topped out at about $85K.
You can get a serious sports sedan for that! On the other hand, you can't haul a lot of stuff in the average serious sports sedan, so there's that.
On the other hand, there's a lot of sports sedan-like stuff in the King Ranch, as long as you don't count on-road driveability among it. The truck is comfortable, and luxurious, and equipped very well, offering just about everything one could want in a modern vehicle as far as technology and toys are concerned.
Comfort and convenience starts with King Ranch leather front bucket seats separated by a centre "flow through" console and a big and wide second row seat that should be suitable for three burly and/or tall folks (I have no way of testing this, short – no pun intended – of trying to stand up back there). The seats are very nice, comfortable and supportive and I daresay they're broad enough for the large butted (which is something I can test!).  The front seats offer 10-way power adjustment (with heating and cooling, and memory for the driver) and the rear seat splits and folds up out of the way for those times you really, really need to transport that new big screen TV home.
You also get special 18-inch wheels and King Ranch logos displayed prominently enough to draw crowds of admirers. Bigger wheels are optional.
Standard is 4x4 performance and power that comes from a five-litre V8 that gets its intoxicating power to the road via an electronic, 10-speed transmission that I happen to think offers too many gears for anything more than fuel saving: as with other "big number" autoboxes, the transmission goes up through the gears quickly, and if you want to downshift into the power band (which, since this vehicle offers lots of power, is pretty darn broad, fortunately) you have to go down at least a few gears.
Or you could just leave it in automatic mode (I really don't care for the F-150's manual mode anyway, which uses a rocker switch on the gear selector) and let that transmission do its job.
The V8 is rated at 395 horses and 400 lb.-ft. of torque, which should be enough for all but those who want to pull their houses off their foundations. I wanted to test that particular capability, but my dear wife drew the line there.
There's an optional 3.5 litre EcoBoost engine available as well, an engine I've tried in other F-150's over the years and like very much, and there's a three-litre diesel on offer as well.
Driving modes include Tow/Haul, Snow/Wet, EcoSelect and Sport.
The suspension up front is independent, but the rear end feels like it has a wheel on each end of a steel I beam, as opposed to an independent rear end, and this means it'll chitter over frost heaves and the like, wiggling its bum like a big, King Ranch version of Charo.
Despite that, the power rack and pinion steering offers decent feel and, while you'll never confuse this truck with a Cayman, it goes where you point it well. It probably doesn't hurt that the King Ranch comes with AdvanceTrac, with Roll Stability Control.
Ford pushes its extensive use of aluminum in the F-150 as a way to promote lightness with strength and it must work because I've seen competitors' commercials – for trucks that don't sell in the number of the F-150, dumping on the concept. All I know is that there's a move toward aluminum all over the automotive industry, so Ford isn't really doing anything really outrageous here – and if lightness means you can haul more (or spend less on fuel), that's probably a good thing.
As with most of the other Fords I've driven recently, the centre stack LCD screen is one of the best. It features the latest version of Ford's Sync and that means its virtual buttons are big and easy to hit while driving and the layout and interface are logical. Heck, I'd rather use Sync in an F-150 than a trackpad in a Lexus or one of those knob-based interfaces. Well done, Ford!
The cascading menus operated from the steering wheel controls aren't as intuitive, but it doesn't take long to get onto them. Or, as I chose most of the time, you can just find the displays you want to use and leave it at that.
There's lots of storage space inside, too, from a variety of bins and pockets, and if you like today's driving nannies you're in luck with the King Ranch: it can be configured with most of today's stuff, from blind spot and lane departure warning to adaptive cruise control, automated emergency braking, etc. You also get automatic high beams, four-wheel disc brakes (with ABS, etc., of course), tire pressure monitoring, etc.
A handy feature for the trailer backing-challenged is Ford's nifty trailer back-up system that lets you control the truck via a knob on the dashboard, using the rear-view camera to monitor what you're doing. I tried this a couple of years ago when it was first introduced and it was pretty cool.
King Ranches can be ordered in regular cab, Supercab and SuperCrew, and with bed sizes varying between 5.5, 6.5 and eight feet.
The Ford F-150 King Ranch is an awesome truck and I can see why people get off on it. I'd love to see a better rear suspension, such as the one on the RAM I drove a while back, but since I'm never going to buy a pickup truck anyway Ford is probably wise to continue paying little attention to my rants.
In the meantime, if you're a truckophile, you can probably find an F-150 King Ranch that turns your crank, as long as it fits your budget.
Copyright 2019 Jim Bray
TechnoFile.com
Jim Bray is a member of the Automobile Journalists Association of Canada. His columns are available through the TechnoFile Syndicate.