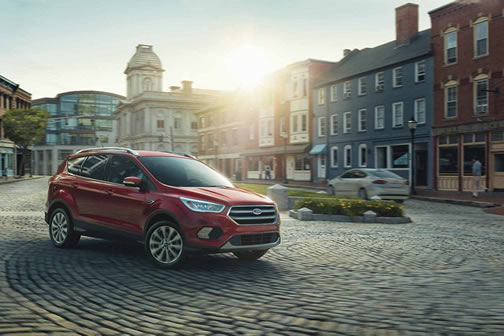 Ford's biggest and (until recently) littlest SUV's offer a lot to like
By Jim Bray
April 26, 2018
Ford continues to expand and update its line of SUV/Crossovers for 2018, with a minor refresh of the Escape but also with a brand new Expedition.
The two units bookend the Edge and Explorer, ensuring there's a model for every person's size preference, from small to absolutely humongous. And they're pretty nice vehicles as well. There's one smaller, the just-out Ecosport, but that isn't covered here.
Click on the image to open a slideshow.
I spent a week with each of these units, an Escape wearing the Titanium trim level and an Expedition Limited, both of which come with about as much tech and toys as one can want. Of the two, the Escape would be my personal choice because, as a small person, it's much more a size I'd find useful – but that doesn't mean that larger folk (or folk who need to carry more folks and/or stuff) won't find the Expedition worth a look.
Escape-ing reality…
The Escape starts at a reasonable $25,199 (the Titanium version starts at $36,299 CAD) and upgrading from the base model to the SE or Titanium gives you stuff like 19 inch Ebony Black premium-painted aluminum wheels, halogen projector headlights with black bezels, LED signature lighting (with "non-configurable" daytime running lights), black-tinted taillights, unique black front fender grilles, gloss black painted upper grille with chrome inserts and surround, gloss black front and rear lower fascia, black roof rails, leather-wrapped steering wheel and gear shift knob and partial leather-trimmed heated seats.
Okay, the leather trim is partial; you do get full seats!
Upgrading also gives you all wheel drive, which is nice even if you don't go off-road, and a more powerful engine than the 2.5 litre four cylinder unit in the base Escape: a twin scroll, two litre EcoBoost four cylinder engine that, other than a little bit of turbo lag, is a lot more interesting to drive. There's also a 1.5 litre EcoBoost engine available.
The "big" EcoBoost puts 245 horses @ 5,500 rpm and 275 ft.-lb. of torque @ 3,000 (using premium fuel) to the ground, as opposed to the 168 @ 6000/170 @ 4500 (hp/torque) for the base engine and the 179 @ 6,000/177 @ 2,500 (hp/torque) of the other EcoBoost.
Power for that titanic EcoBoost comes on well and moves the vehicle along quite nicely. Any of these engines would undoubtedly do the job, but I sure like that extra oomph!
Power gets to the front or all wheels via a six speed automatic transmission that works quite nicely. You can also get shift paddles, with the Sport Appearance Package, something I think all automatics should have.
The Escape handles well, though the steering could be a tad tighter (not a big deal, though). Handling is undoubtedly enhanced by the 18 inch wheels (or optional 19's), torque vectoring control and Curve Control, the latter of which will slow you down via the engine and brakes if you head into a curve faster than your skill warrants.
Naturally, there's also traction control, power steering and ABS for the four wheel disc brakes.
There isn't a lot that's new for the 2018 Escape other than some tweaks to trim levels, but the Titanium level now comes with Ford's self-parking technology and HID headlights as standard equipment.
Part of the reason for the relative dearth of new toys is that the Escape received a more robust update for 2017 that included a new front end, electronic parking brake, the much-improved Sync 3 "infotainment" system and a bunch of driving aids such as adaptive cruise control, collision warning with brake assist, and a lane-keeping system.
The Escape Titanium is definitely a comfy place to do the business of driving, thanks to a 10 way power-adjusted driver's seat. It also features Dual-Zone Electronic Automatic Temperature Control, a decent but not spectacular 10 speaker Sony audio system and voice control.
Other tweaks over the past year or so include a centre console redesigned to give more room and easier access to the stuff around it. Ford did this by moving the gear shifter (for easier access to the HVAC stuff) and there's also a new storage bin at the bottom of the centre stack. The cupholders have been redesigned and you can also get a heated steering wheel that also has more usable buttons and interfaces than with Ford's older interfaces.
You can also get a lane keeping system, which is very handily activated/deactivated (especially deactivated!) by a button on the end of the signal light stalk. Auto start-stop is now available, too, as well as a driver alert system that monitors your performance, looking for signs of driver fatigue. I don't think it monitors driver oafishness, though.
You can also get a lovely panoramic sunroof and the "safe and smart" package includes stuff like blind spot warning with a cross traffic alert. And if you want Ford's foot-waving tailgate opening system, it's also available – as is hill start assist and automatic high beams.
This is a particularly crowded niche in the SUV/Crossover market, so Ford has its work cut out for it. Judging from the number of Escapes I see on the roads around here, however, the company seems to be competing very well.
And why not? The Escape is a nice vehicle.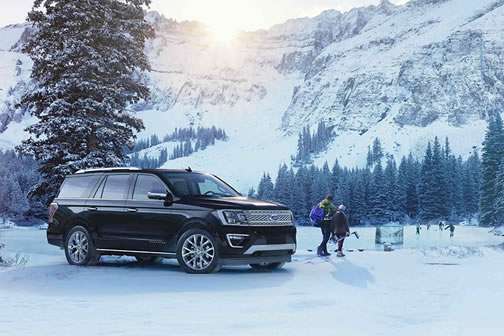 Supersize Me…
If you want or need something a LOT bigger – skipping right over the Edge and the Explorer - the Expedition is a heckuva vehicle. It's far larger than anything I'd consider (heck, I'm so small that if it weren't for the Limited's automatically extending/retracting running boards I'd have to either use a block and tackle or take a running jump to get into it) but if this is the niche in which you live, the Expedition has a lot going for it.
Starting at $60,149 for the base XLT unit, prices go up to $84,349 CAD for the Platinum Max trim level. Ford of Canada's sample was of the Limited persuasion (starting at $73,149). The line is filled out by the Limited Max and Platinum versions.
Click on the image to open a slideshow.
Besides being large enough to qualify for dock space at a naval harbour, the Expedition is a three row vehicle and that came in really handy when my kids and grandkids wanted to go on an, well, expedition. The car seats fit just fine in the second or third row (choosing which to use depends upon how much you love the kids…) and there was still reasonable access to the third row bench, which was actually far roomier and more comfortable than those in some other three row vehicles I've driven.
This may be partly because of the immense size of this vehicle (think of it almost as an enclosed F-150), but it sure was welcome.
The high driving position comes in handy in traffic – through which the Expedition definitely cuts a fine swath – and once you get used to obeying Newton's laws of motion (especially the one concerning inertia) the big beast actually drives quite well. It's also stuffed with today's tech, including the usual drivers aids.
Powering the Expedition is Ford's 3.5 litre EcoBoost twin turbo V6 which in this incarnation puts up to 400 hp and 480 lb.-ft of torque onto the road. Several driving modes are available, from "normal" (2wd) through a snow and mud setting, eco (all things being relative in a vehicle whose footprint is larger than a couple of houses I've owned), and there's even a sport mode. The latter does a pretty good job of tightening up the Expedition's responses, and it also puts the vehicle into all wheel drive mode at the same time.
Power comes on well, with little turbo lag, and it passes through a 10 speed transmission that loves to upshift (undoubtedly to save fuel) and is also happy to downshift when prodded. The transmission selector on the centre console is a knob, similar to how Jaguar does it (though not as cool, since it doesn't retract into the console), but instead of paddles you get a manual mode activated by a button in the centre of the selector knob, with plus and minus buttons behind it. I really missed paddles and found this way of offering a manual mode pretty pointless.
The suspension is about what you'd expect from a big truck-like beast such as this. It isn't particularly tight but nor is it as loose and wallowing as that in the similarly-sized Navigator (watch for my upcoming review of that marvelous beastie!). You'll never mistake driving this for driving a Cayenne, but you won't mistake it for the HMCS Bonaventure, either.
The seats – front and centre buckets and rear bench – are comfortable and supportive (and powered up front) and overhead is a wonderful panoramic sunroof that in this vehicle brings new meaning to the automotive term "greenhouse" because you could probably remove the seats and set up a hydroponic cannabis farm in this giant.
Standard equipment on the Limited model also includes 20 inch "Ultra Bright Machined Aluminum" Wheels with Tarnished Dark-Painted Pockets, those wonderful power-deployable running boards, a rockin', 12 speaker Bang & Olufsen  PLAY Premium Audio System by HARMAN, heated second row Seats, LED tail lights and plenty more.
The Expedition also comes with Ford's self parking system, which in a vehicle this size is extremely handy. And if you're going to use the thing to haul a trailer, it also includes Ford's Pro Trailer Backup Assist, which makes it easier for drivers "of all skill levels" (says Ford) to back up a trailer as if you know what you're doing.
I tried this system a couple of years ago at a demo, in an F-150. It works well and I managed to back up and park a trailer without looking too much like an idiot (I saved that for later!).
Ford says the Expedition has "best-in-class towing capability of 9,300 pounds (4219 kg)", which means you can haul a travel trailer and put the mother-in-law back there while you drive. Hey, it beats strapping her to the roof rails and losing the benefit of the big sunroof!
As far as connectivity and the other tech toys the recently-new millennium requires, the Expedition has pretty well the full meal deal. There's wireless charging (Ford says the Expedition is their first vehicle to feature it) and you can also fire up a Wi-Fi hotspot that supports up to 10 devices at once, up to 50 feet (15 m) away from the vehicle.
My four-year-old grandson really got off on the rear seat entertainment system, with its wireless headphones, which let me put on a disc to keep him from bouncing all over the spacious interior and possibly breaking something. Ford says it also provides "a next-generation video experience with Sling Media that allows passengers to view their home cable programming on either of two video screens or hand-held devices." I didn't try that aspect of it but, having experienced Sling previously, have no reason to think it doesn't work.
There are power outlets for each row, including four 12-volt power points, six USB chargers and a 110-volt power outlet. Heck, you could homestead in this thing!
You can order an FX4 Off-Road Package as well, which is designed to help you when the roads get really lousy – or non-existent. It includes off-road-tuned shocks, an all-new electronic limited-slip rear differential, skid plates, side steps and the all-important FX4 badging.
I didn't think I'd be as impressed with the Expedition as I was. It's definitely and legitimately humongous, but some people need – or just want – that and if you're one of them, the Expedition deserves a look when you start shopping.
Copyright 2018 Jim Bray
TechnoFile.com
Jim Bray is a member of the Automobile Journalists Association of Canada. His columns are available through the TechnoFile Syndicate.