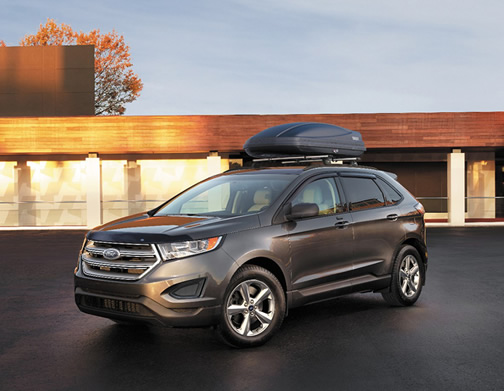 Ford SUV's offer good driving and plentiful technology for 2017
By Jim Bray
April 13, 2017
Ford offers a long list of SUV's for sale, from the entry size Escape to the humongous Expedition, all of which face stiff competition from a huge number of SUV/Crossover models available. So how do the three most popular models stack up for the 2017 model year?
Click on the image to open a slideshow.
Pretty well, I'd say, though I haven't driven all of the competition recently. But after a week with each of the Escape, Edge and Explorer (with a week off between to fall under the spell of the exquisite new Lincoln Continental), I came away impressed with how well the vehicles drive, how easy they are to operate, and how nice they are overall.
I slid my prodigious posterior into the Edge first, Ford of Canada's sample wearing the Sport trim level that immediately caused my ears to perk up. Sure, it's a bigger SUV than I like (which makes the Explorer even more so…), but - at least in the Sport trim - it drives  smaller than it looks, and that made a huge difference to my enjoyment.
Part of the reason for that, undoubtedly, is the adaptive steering feature Ford introduced to the Edge in 2016 and which is standard equipment on the Edge Sport (and optional on the Titanium). It's analogous to power steering, except that - according to the gentleman at a local Ford and Lincoln dealer - it's a system that's mounted right inside the steering wheel and uses an electric motor and gearing system to function.
Adaptive steering, according to Ford, "changes the ratio between the driver's actions at the steering wheel – the number of turns – and how much the front wheels turn. In vehicles without the technology, this is a fixed steering ratio. With adaptive steering, the ratio continually changes with vehicle speed, optimizing the steering response in all conditions."
What this means is that, at lower speeds (when parking, etc.), you don't need as many turns on the steering wheel to perform the manoeuvre, while at highway speeds it tightens up appreciably. And it works well.
Edges also get optional 20 inch wheels for 2017, though the sample had 19's with winter tires for which I was grateful considering the weather. There are also new colour choices, such as Canyon Ridge, Blue Jeans, White Gold and Burgundy Velvet Tinted Clearcoat.
The Edge, the Escape and the Explorer, like the rest of Ford's lineup, now get the SYNC 3 system, which is a wonderful step forward from the previous version. It's quicker, laid out better on the LCD screen, and it's much easier to figure out and to use than before.
Alas, the Edge still loads up the steering wheel with a plethora of buttons to control the various devices and systems, and they're laid out in a manner I found confusing - the buttons tend to look and feel the same, so you have to take your eyes off the road to use them anyway, which makes the centre stack's easy LCD more attractive than ever, though it also requires you to take your eyes off the road.
Ford's sample Edge Sport sported a starting MSRP of $46,499 CAD, then the company piled on about nine grand worth of options, including power tilt/telescope operation for the "adaptive" steering wheel (which is also part of that particular option package), and the usual suite of driver assist technologies (a.k.a nannies) such as enhanced active park assist with perpendicular parking, adaptive cruise control and collision warning with brake support, and a 180-degree front camera with lens washer. It also had lane departure warning blind spot monitoring, rear cross traffic alert, etc.
The Edge also came with rain sensing windshield wipers and heated seats fore and aft. There's a heated steering wheel, too, but - as with the Explorer - to get at it you have to poke around the central LCD screen. The Escape did this better, with a centre stack-mounted button. Hopefully this will trickle up to the larger SUV's.
Ford's sample Edge also had a wonderful panoramic sunroof it was too cold to open during my week "on Edge" (or, I guess "in Edge") as well as a navigation system.
Under the hood, the Edge Sport has Ford's 2.7L V6 twin turbo EcoBoost Engine, and its 315 horses @ 4,750 and 350 lb.-ft. of torque @ 2,750 helped give the impression that the Edge is smaller than it is - and it really moves, too! The engine is mated to a nicely shifting six speed automatic, with paddles, and the combination of power plant, transmission, a nice sport-tuned suspension, and all-wheel drive made for a very entertaining driving experience. The Edge emits a terrific noise, too, when pressed.
I only had a few quibbles with the Edge and they're pretty minor. The A pillars are huge (this is a common complaint in this day of abundant airbags) and the USB interface at the bottom of the centre stack is very hard to reach if you have fat hands and stubby fingers. Or so I've heard…
My only other quibble is price. As outfitted by Ford, the sample Edge Sport, with options, tipped the fiscal scale at  $55,549, which is getting to be serious coin. On the other hand, it's also a competitive price when you look at what else is out there. I just think it's too much.
Escape-ing reality…
The Escape was my favourite of the three Ford SUV's covered here, mostly because it's a little more up to date than the others and also because I prefer smaller vehicles. It's also a darn nice vehicle to drive.
Fortunately, the Escape doesn't drive "smaller" like the Edge does, because if it did it would probably feel like driving a big, four wheeled motorcycle…
The Escape has been updated significantly for the 2017 model year and now includes the latest driver-assist technologies (which, as with the Edge, Explorer and many other vehicles these days, you can actually shut off and they'll stop annoying you), as well as today's connectivity options and even a pair of EcoBoost engines over and above the base 2.5 litre four.
Ford's sample Titanium had the more interesting EcoBoost: a two litre unit Ford rates at 245/275 hp/torque using premium fuel. And it's plenty. There's very little turbo lag and the torque comes on with an exciting whoosh as the Escape zips ahead.
The Escape's other EcoBoost, a 1.5 litre unit, puts out 179/177 hp/torque (regular fuel) and the base 2.5 litre engine oozes a less fun but undoubtedly perfectly adequate 168/170 hp/torque. If I were buying, I'd go straight to the "big" EcoBoost of Ford's sample, for its more interesting output.
The new Escape can also be had with SYNC Connect mobile access, which lets you exploit the FordPass smartphone platform to start, lock, unlock and locate your vehicle. My phone is too old to try this, but I have no reason to think it won't work.
Escapes can also be had with adaptive cruise control, collision warning with brake support, a lane-keeping system and enhanced active park assist, etc.. You can also order Auto Start-Stop technology (it's standard with the two EcoBoosts, however); it's the first Ford to offer the feature, which shuts off the engine at stop lights, etc. This is a common feature on many higher end vehicles, but not as common in more mainstream vehicles, yet.
Ford has reworked the Escape extensively for 2017, mostly inside, including a new push-button electronic parking brake that clears space on the centre console. They've also moved the gear shifter back a bit, which makes it easier to get at the climate control controls, and they've added a "media bin" to the bottom of the stack, and this is where you'll find the USB port and power outlet.
The redesign also adds two new storage bins and a larger center armrest, an all-new steering wheel with the abovementioned easier to figure out and operate redundant buttons that I hope will find their way onto the Edge and Explorer.
All three Ford SUV's came with the hands-free tailgate system, which lets you open the tailgate by waving your foot under the rear bumper. This is great when your arms are full of stuff - though it also requires some balance on your part. Ford's was the first such system I tried and it works fine, but I prefer the South Koreans' system that doesn't require a sense of balance (let alone decorum!).
The Escape starts at $21,599 CAD and by the time you get up to the loaded Titanium version of Ford's sample the bill reaches $41,999 CAD as tested. That's also getting up there, but it's also competitive.
I have two neighbours who drive older Escapes (but still this generation) and they've both told me they're very happy with their choice. It's also my favourite of Ford's SUV's, and the newest iteration impressed me enough that I'd put it on my list were I shopping in this niche. Competitors include the VW Tiguan, Mazda CX-5, Kia Sportage, Hyundai Tucson, Toyota Rav4, etc..
Those are all fine vehicles, too, so Ford has its work cut out for it. Fortunately, the Escape can run with any of them.
Exploring a BIG Ford SUV…
The Explorer is very comfortable and, depending on the trim level, is chock full of features.
Ford says it has been the best-selling SUV in the U.S. for 25 years, and for 2017 the company has added smart tech and more creature comforts. It's too big a vehicle for me, but I can see why people like it: it drives very well - though I didn't experience the "smaller than it looks" sensation I did in the Edge Sport. I also thought the (Limited 4wd) sample's 2.3 litre EcoBoost a tad lacking in oomph, but I have a lead foot.
Fortunately, the sample's EcoBoost is only one of the engine choices available. The base engine is a 3.5 litre V6 with 290/255 hp/torque, which should be plenty under most circumstances. You can also choose the 2.3 litre V6 EcoBoost (280/310 hp/torque) of Ford Canada's sample, but to me the motivation of choice would be the heady 365/350 hp/torque you get from 3.5 litre EcoBoost V6.  
All of the engines come with the six-speed SelectShift automatic transmission. There were paddles on Ford's sample, too, which come in really handy in inclement weather or when going down hills.
One thing I really hated about the Explorer - and though it's a really small thing I might just consider it a deal breaker - was the lack of a real "dead pedal" footrest for the driver's left foot. Not having it there made for a strange driving position for me, and that raised it from nitpicky to "geez, what were they thinking?"
It's a great vehicle to "passenge" in, however. The first two rows of seats are very comfortable while the third row is typical of the species - small but useable if you need to - and Ford has ensured that getting in and out of Steerage is pretty easy.
The Explorer Limited starts at $48,899, but Ford's sample tipped the fiscal scale at $57,364 CAD because it also came with a nice, twin panel moon roof, the driver assist nannies (active park assist, lane departure, etc.), auto high beams, etc. And the EcoBoost engine added a grand to the base price as well.
It was interesting driving all three differently-sized SUV's nearly back to back. And while they all offer similar features and packages, each - undoubtedly because of its size - offers a very different driving experience.
As mentioned, I liked the size of the Escape the best, though the Edge Sport was the most fun to drive - even with the Escape's heady turbocharged propulsion system (though it was close).
Any of them would undoubtedly serve their owners well.
Copyright 2017 Jim Bray
TechnoFile.com