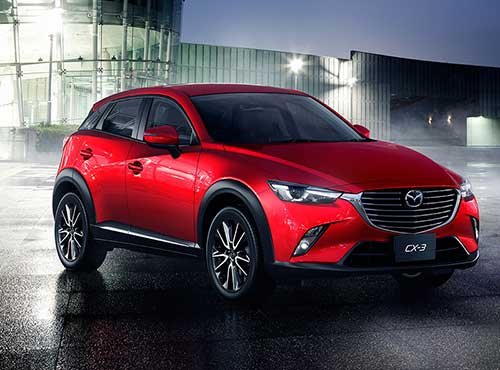 Mazda's smallest ute wins Canadian Utility Vehicle of the Year
By Jim Bray
February 18, 2016
Hot on the heels of Honda's Civic being named the 2016 Canadian Car of the Year comes the news that Mazda has copped the crossover cup, beating out utility vehicles costing more than twice as much.
That's a pretty neat trick, and I agree completely with my fellow members of the Automobile Journalists Association of Canada in their assessment. In fact, I called this one right after last fall's TestFest, which must be a record since I'm usually proven wrong in such prognostications.
Click on the image to open a slideshow.
But the Mazda really stood out - though I must admit that had I driven the Kia Sorento at TestFest (there wasn't time to drive absolutely every vehicle on hand in what's basically an automotive salad bar for car nuts) I might have put it on top. But the Mazda is still a deserving winner and the fact that it's available for 30 grand or less makes a powerful argument in favour of it.
The announcement of Mazda's big win came at the Canadian International Auto Show in Toronto, which of course followed the little ute's win of its "Best New SUV/CUV under $35,000) at TestFest last fall. Not surprisingly, the folks at Mazda are smiling. "We are absolutely delighted that AJAC members have voted for the Mazda CX-3 as the Canadian Utility Vehicle of the Year," said Vincent Reboul, Director of Marketing, Mazda Canada, in the press release trumpeting the triumph. "Being chosen over the very worthy competition we faced is a strong endorsement of everything the CX-3 brings to the table: show-stopping KODO design, excellent real-world fuel efficiency thanks to SKYACTIV Technology, and all-weather capability with Mazda's predictive i-ACTIV AWD system."
There were three SUV/CUV categories up for grabs at TestFest, covering the price categories of Mazda's lower end unit (priced under $35K) as well as for units priced between $35K and $60K and one priced over 60 grand. The other categories were won by the Kia Sorento (my review, written subsequently to TestFest, is here) and Volvo XC90, both of which were worthy winners, though I'd have liked to see the new Lincoln MKZ do better.
The category winners were named after scores of "Canada's best-known automotive journalists" (and me) ran them through their paces during the four-day "TestFest," which is open to vehicles that are either completely new or changed substantially from the previous year's model. This year's TestFest was hosted by Canadian Tire Motorsport Park (formerly Mosport - a fantastic and historic facility), with Shell Canada as the official fuel supplier.
The program at TestFest includes the journalists' real-world driving on public roads, much to the chagrin of the local folk, I'd warrant, so our opinions are relevant to potential buyers of the products. No single voter can skew the results, though - otherwise all my choices would win, always, as they should - and we each have to drive all of the vehicles in an assigned category back to back to ensure "apples to apples" comparisons 
Besides the public roads, we also take the vehicles onto a handling course (depending on the vehicle it could be laid out via cones on a large parking lot or a trip around the host facility's Driver Development Track - a tight road course that's fun and challenging) and in the case of the utility vehicles there was a nice (and very muddy, when I was on it) off road course that offers a more challenging scenario than most consumers would ever encounter in their real world driving.
It ends up being a very tiring week, but it's also a lot of fun and even though you get at most a first impression of each vehicle (if you haven't driven it already for review - which in the case of the CX-3 I had) it's a decent first impression and there's usually a recording from the manufacturer on board that outlines the vehicles' features and benefits as you drive. Bottom line: you get a quick but reasonably thorough look at each vehicle.
Not only that, but a gaggle of gurus also put the vehicles through instrumented tests, the results of which are used to season the subject results from the journalists to add objective scientific credibility to the process.
Going in, since I'd driven the CX-3 already, I was curious to see what the competition would muster, and it was a decent slate. The Mazda went head to head with Honda's new HR-V (watch for my full review of this small SUV in the next few weeks), the Fiat 500x (you can read my full review of it here), the Jeep Renegade and Mitsubishi Outlander 2.4 (I reviewed the V6 version of the Mits here).  
The Mitsubishi was the best off road (the Mazda and the Honda were the worst, bottoming out repeatedly on the rutty off road course), followed - surprisingly to me - by the little Fiat. The Jeep is basically the Fiat with a new suit of clothes, one whose designer had dropped LSD recently, so its off road performance was good as well.
Obviously, the Mazda has a lot more going for it than off road prowess - and that's a good thing because it shouldn't really be considered an off road vehicle. But it is a Mazda, so when I reviewed it last fall I wrote "it's a fun little beastie that, like most Mazdas, is a relative blast to drive." And it is. It doesn't have a lot of Zoom-Zoom, but there's enough to keep a smile on your face regardless. This fun-to-drive factor is one of the reasons Mazda is consistently among my favourite Japanese carmakers.
And while I've criticized the smallest of the Skyactiv engines for its lack of oomph in such vehicles as the CX-5, it's a good match for this smaller ute. Its 146 horses @ 6,000 rpm, and 146 lb.-ft. of torque @ at (a nice and low) 2,800 revs is more than adequate for this vehicle, though as I said in my review, "of course I'd love it if they'd drop the larger, 2.5 litre Skyactiv engine into it (184/185 hp/torque) into it anyway." I doubt that'll happen, but it might up its "Zoom-Zoom" ante to somewhere closer to real "Zoom-Zoom."
CX-3's are available as either front or all-wheel drive and the power gets to the wheels via a nice six speed automatic tranny (as opposed to, for example, the HR-V's damn CVT).  It also features a classy and surprisingly rich-looking interior with interfaces that are models of simplicity.  
Congratulations to Mazda for copping yet another Canadian Car (well, Utility) of the Year award. It's a deserving winner and I hope Mazda sells truckloads of them.
Copyright 2016 Jim Bray
TechnoFile.com