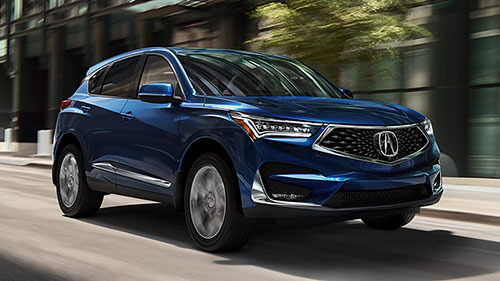 Acura's 2019 RDX an interesting and fun compact luxury SUV
By Jim Bray
July 12, 2018
It's being touted as Acura's new direction and, as such, it's an interesting case study in how a company responds to the ever-evolving competition.
I was on Acura's junket to San Francisco when the original RDX came out. It was Acura's first turbo four, and it was a wonderful SUV that featured what at the time was probably the best audio system I'd experienced in a vehicle.
Click on the image to open a slideshow.
That ELS audio system is still around, kind of, but it has also marched along with the marketplace – which to me is a double-edged sword.
But overall, this 2019 Acura RDX is a terrific premium SUV, though as with many Honda/Acuras of the past few years I came away with less hair than when I went into the review because some fuzzy design or execution had me tearing at it.
Your mileage may vary, of course, which is why it's so wonderful having so many great choices in the automotive marketplace.
Acura Canada says this third-generation RDX represents "the most extensive Acura redesign in more than a decade" and is "the first in a new generation of Acura products inspired by 'Precision Crafted Performance' (signalling) the beginning of a new era for the luxury automaker.
Good. I've always liked Acura products but, like its more mainstream brand, Honda, I think it has kind of lost its way in recent years. Oh, the vehicles are very good, but they got bogged down in difficult-to-use technology and obtrusive driving aids. Both arms of Honda seem to be correcting this, fortunately, as demonstrated by such vehicles as the new Accord.
Such is the case with the new RDX, too, though in this case most of the "return to sanity" seems to revolve around performance (including driving feel) and luxury (including a very, very nice cabin). And while there are still enough things that annoy me, I surely enjoyed my week with the new RDX and recommend you give it a look if you're shopping in this niche.
Acura Canada's sample was of the top end Platinum Elite persuasion and carried a price of approximately $54,990 CAD. That's not chicken feed, but it's in line in this niche. The RDX' base price is $43,900, whereas the Audi Q5 starts at $44,950, the BMW X3 begins at $48,000 and the Lexus NX starts at $44,050. These aren't complete apples-to-apples comparisons and you can option any of them up substantially but suffice it to say the RDX's pricing is right in the ball park.
As mentioned, the RDX began life as a turbo four but the second generation eschewed the blown engine in favour of a conventional V6. For gen 3, however, Acura has gone back to its roots, kind of. Acura says the move is due to the new model's focus being more on performance than ever before, so it's been given a new direct‐injected and turbocharged 2.0 litre turbo four that puts out a peak horsepower of 272 with 280 lb.‐ft. of torque. Peak torque (the force that pushes you back into the seat when you tromp the gas pedal) is up 28 lb.‐ft. and comes on at a very low 1,600 rpm. Acura claims a 40 percent increase in low end torque compared to the outgoing 3.5‐litre V6.
Power goes to the road via a 10-speed transmission that's a real peach. It shifts quickly and seems to know what gear you want before you do. And it has real paddles that work quite well. Thank goodness Acura didn't put a CVT on the RDX and thereby destroy its fun to drive factor!
Outside, the new RDX is a handsome beast (though I miss the older grille), and features "next‐generation Acura Jewel Eye LED headlights" as well as a functional, wing‐shaped lower air curtain opening the company says is inspired by the NSX. It's quite an athletic look overall, but also very fetching.
Inside, the new interior offers more room, more luxury, and more technology. The interior materials are very nice, including hand‐wrapped, stitched leather surfaces, brushed aluminum and (optional) open‐pore Olive Ash wood accents.
There's also an ultra‐wide power tilt and slide panoramic moonroof that comes standard on all RDX trims, and it's a beaut.
The new tech stuff includes the thing I liked the least about the new RDX: the Acura True Touchpad Interface, which features an all‐new Android‐based operating system. The trackpad sits on the centre console, just back of the weird Honda/Acura shift thingy that eschews a lever in favour of an array of buttons and things that takes up at least as much room.
The trackpad is meant to let you operate the high‐mounted, 10.2-inch LCD atop the centre stack. Acura says it's the "first‐ever application of absolute positioning in a driving environment" and explains that by saying "absolute positioning departs traditional touchpad interfaces, using one‐to‐one mapping to deliver a more intuitive and driver‐oriented user experience."
Standard on all trim levels (alas), I hated the touchpad - though a friend and associate of mine (and some other car writers whose reviews I checked out) found it quite good. I have a chip on my shoulder for trackpads anyway; I hate them on computers and I hate the one Lexus inflicts on some of its cars, too. And I might have made peace with this one were I to crack the manual, but my policy – right or wrong – is that if I, a pretty tech-savvy dude, need to look up something basic like this in the book then the design leaves something to be desired.
And this trackpad drove me nuts! I had the dickens of a time getting it to let me choose the USB input as an audio source because it required scrolling from the home screen and scrolling was the last thing it wanted to do. I may be a voice in the wilderness here but give me a good touch screen and I'll be happier.
Of course, then the screen has to be located within reach, which could raise other issues – such as making you take your eyes off the road to use it.
You can get around this issue to a certain extend via steering wheel-mounted controls and voice recognition, but the RDX' voice operation is very slow – though the recognition was pretty good.
The ELS audio system disappointed me, too, though I doubt many others will care. Unfortunately (and this isn't limited to Acura), there's no slot for a disc player and I really missed that. The ELS system used to let me play my high-resolution DVD-Audio discs (and it sounded fantastic doing it!), but now you're out of luck if you want to play any disc-based media (you do get Bluetooth or USB inputs, though).
Fortunately, I have a couple of USB drives on which I keep high quality music files (not high resolution, though) I can use for apples-to-apples audio comparison. And the ELS system still sounds great!
Yet even here, the ELS system let me down. It would play the files beautifully, sometimes, but other times it would claim it couldn't find the USB drive even though it was right where it was the last time it played it.
Really annoying.
Back on the upside, there's a customizable head's up display that worked well with my polarized sunglasses, and the rear seats can be folded down automatically via handles on the inside of the rear storage compartment.
Other features include adaptive cruise control, a multiple view backup camera, and the AcuraWatch package of safety and assistance features. This includes an overly obtrusive forward-collision/automated emergency braking feature that flashes BRAKE! on the instrument panel if it thinks you're being a layabout when it comes to braking, even if you aren't. Fortunately, you can turn down its sensitivity, though I'd rather be able to turn it off. The suite also includes, lane-and-road-departure warnings and lane-keeping assist.
As with other Honda products, the RDX freaks out if you undo your seat belt before the vehicle is stopped completely, something my wife does all the time (I think she does it just to make the vehicle react).
All that said, and despite all that angst expressed, I loved driving the RDX. Power is just fine, the thing handles wonderfully and it's a relative blast to drive! It even has a nice Sport + mode (besides the Sport, Comfort and Snow modes) and the vehicle seems very happy to please. It also sounds terrific, with a (undoubtedly simulated) neat V8-like growl when pressed.
If this is Acura's new direction, I hope they keep it up (with a couple of exceptions noted above).
Nicely done!
Copyright 2018 Jim Bray
TechnoFile.com  
Jim Bray is a member of the Automobile Journalists Association of Canada. His columns are available through the TechnoFile Syndicate.