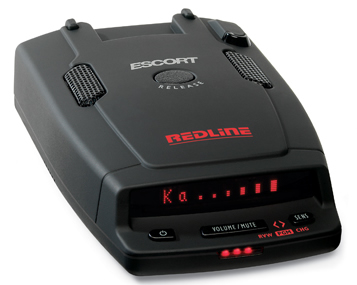 Escort's Redline helps you fight back against Big Brother's cash grabs
By Jim Bray
April 12, 2012
There's a new weapon in consumers' battle to keep more of their hard-earned after tax income from cash-grabbing governments.
It's the $499 Redline,  a new entry into Escort's line of radar detectors, and it's also available with a nifty-sounding new wrinkle called Escort Live!
One big thing the Redline has going for it is excellent range, which can translate into early warning – kind of a DEW line for drivers. It's easily better in that regard that the last detector I tried, the Passport 9500ix (which is no slouch itself). According to Radartest.com, a preproduction Redline they played with was good for more than 10 miles of range on the highway. Heck, that's so much warning that the cops might have moved on by the time you get there!
To be fair, the Radartest.com folks admitted that production models of the Redline they tried weren't quite as "rangeworthy" as the early unit, but that they were still the best they'd tested. And for what it's worth, Popular Mechanics also honored the Redline, giving it an Editor's Choice Awards.
The Redline comes with two radar antennae, both of which face forward. There's also a  rear antenna to detect radar from behind, which can be very handy, indeed, if you tend to forget to check your rear view mirror.  Escort says the thing also includes their propriety Traffic Sensor Rejection (TSR) software to eliminate false alerts.
The Redline uses what Escort calls its  Patented Digital Signal Processing, an AutoMode logic that analyzes all incoming signals continuously and automatically rejects unwanted false alarms. The result, they say, is the best long-range protection without unnecessary alerts.
Perhaps, but we got plenty of false alarms, mostly X band-type warnings that we learned to pretty well ignore. It wasn't only false X band warnings that we got, but that was definitely the lion's share. False alarms can get pretty annoying, but I'd rather the thing cried "Wolf!" a few times than get a ticket and points any day!
A lot of the false alarms come from consistent locations, so after a while in your daily driving you get used to where they're being generated and can usually ignore them.  Murphy's Law being what it is, however, how long will it be before the cops set up their speed traps in those locations?
Fortunately, the warning signal (which differs for different types of speed trap) not only drops off in volume by itself as it continues to bleat the signal, but there's also a mute button on the part of the power cord that plugs into your cigarette lighter – er, power supply. Between the two the annoyance factor backs off to acceptable limits.
There's more to avoiding cop cash grabs these days than just avoiding radar traps, of course. To that end, the Redline also comes with multiple laser sensors placed strategically, Escort says, to detect the smallest amount of laser light, including signals coming from off axis. The warning it bleats is different from the radar warnings, too, and that helps grab your attention when it goes off.
Laser can be touchy 'cause usually you don't get as much notice as with radar. The Redline did a very good job in my neck of the woods, though, saving me on more than one occasion. You just need to be paying attention – which you should be doing anyway.
Escort says its "Totalshield" technology  makes the Redline invisible to radar detector detectors, for those looking for a little extra stealth (perhaps you're using it where Big Brother has decided to outlaw them?).
The detector mounts onto your windshield easily via a couple of little clear suction cups (an extra pair of which are included in the box), and there's enough cord to reach the power outlets in nearly all of vehicles I've tried it with so far, including full size pickup trucks. It depends where the vehicle's power outlets are, of course, but car makers seem to be getting their act together here, placing them where they're most useful for devices such as this, GPS units, media players or satellite radio receivers.
The Redline is very easy to use. The settings are pre-programmed at the factory – optimized for North America, according to the company, and you can customize up to eight separate features to match your particular needs. I chose to have every feature turned on, paranoid that I am, and it's a simple operation to change the various settings if you so choose.
You can select from three levels on sensitivity: Highway (the full meal deal), Auto (which filters some of the capabilities) and Auto NoX, which also cuts out its reception to X band signals. Considering the number of false X band signals I got I should probably have used the Auto NoX setting but, as mentioned, I'd rather live with the false alarms than get a ticket.
Besides the beeps, buzzes and the like the unit emits as warnings, you also get a voice telling you what type of weapon you're defending yourself against (it appears to be the same woman who lives in the 9500ix), as well as a visual display on the unit's LED screen.
A nice touch is that the unit's matte black finish doesn't reflect in the windshield.
The Redline doesn't have a specific photo radar setting, but it has given nice early notice of these revenue generating schemes – better, in fact, than the warning I got from the 9500ix. This is undoubtedly due to its increased range.
Another nice touch is the Redline's ability to display SWS – Safety Warning Systems – which means if a municipality broadcasts such traffic warnings (using a modified K-Band signal), the Redline will display them. I'll have to take Escort's word on that, since my home town doesn't use these warnings yet.
Going Live…
Escort has also introduced "Escort Live," which they say is "the ultimate real-time ticket protection system." It combines a "SmartCord Live" power supply with a smart phone app and "the Escort Live Cloud" to build a community in which you can supposedly get real time alerts for radar, laser, speed cameras and the like.  
The special power cord interfaces with your iPhone or Android smart phone via Bluetooth, connecting you to a potentially global community of other drivers who want to avoid points and fines. How many of them are actually close enough to do you any good is an question worth asking, though.
Escort says Live expands the functionality of the Redline (and other detectors), letting you share alerts from your detector with the world. You can also take advantage of Escort's database of all the fixed photo and speed cameras in North America – one of the features that makes the Passport 9500ix so great.
And the service apparently doesn't disconnect your phone from your car's Bluetooth connection, so it shouldn't affect its hands free calling capabilities. This undoubtedly depends on the phone and perhaps the vehicle, too.
It sounds like a great idea, but it may take time for there to be enough people plugged in to make it really worthwhile. If and when that happens, however,  look out!
I haven't tried the Live service, but as far as the regular Redline's performance is concerned, so far, so good. We've been through plenty of speed traps, but the little Escort has saved our bacon every time.
Watch, now that I've written that I'll get a ticket on my next drive!
UPDATE, May 12, 2012 - well, wouldn't you know it. I got a ticket, from a red light camera. It was about 10:30 on a Saturday night, there was no traffic around and, perhaps because I'm used to the Passport 9500ix warning me of red light cameras, I blew through this one blissfully unaware until Mazda sent me a copy of the ticket, understandably wanting me to pay it. I did. It was $160 and change.
Maybe that premium Live service - $99 a year according to the company's web site - may not be a bad investment, assuming it works as advertised - and it probably does.
Copyright 2012 Jim Bray
TechnoFile.com
Jim Bray is a member of the Automobile Journalists Association of Canada. His columns are available through the TechnoFile Syndicate.