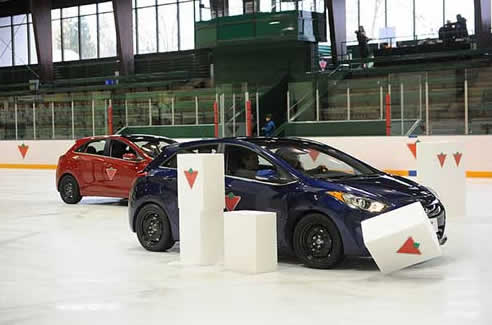 Canadian Tire offers tips for safe winter driving 
By Jim Bray
November 23, 2012
Are all-season tires good enough to get you through winter or should you spring for fully fledged winter rubber?
That's one of the questions a travelling group from Canadian Tire tried to answer as they rolled through Calgary on November 20th. And to help answer it, they took over an indoor hockey rink and turned it into a virtual skid pad – or, perhaps, "slide pad" – to illustrate their point.
The point was that, while all season tires can offer reasonable performance in mud and snow, when things get really cold and slick, you can't beat a real set of winters.
What a surprise, coming from a company with "Tire" in its name and which just happens to sell winter driving products. Well, okay, perhaps their motives weren't entirely altruistic but let's give them the benefit of the doubt because the advice was good and the demonstration – in which I got to drive a pair of Ford Focuses (Foci?) around the rink, nearly fulfilling my fantasy of someday driving a Zamboni – was very convincing.
According to Graham Jeffery, Category Business Manager, Tires, Wheels & Accessories – who was on hand to mentor me through the demonstration – it's as much about the compound of the tire as it is about tread design and the like, because  winter tires are made with a compound that retains elasticity better at low temperatures than what they use in all seasons.
This gives you better control and traction, not only on ice and snow but on cold, dry pavement as well. Canadian Tire's information sheet claimed that modern winter tire rubber compounds keep their elasticity even at temperatures of minus 30 Celsius and lower, whereas at temperatures below seven degrees Celsius, all-season tires begin to get hard and lose their grip (like some drivers I know, regardless of temperature!).
Canadian Tire says that modern winter tires offer up to at least 50 per cent more winter traction than all seasons. According to their numbers, the redesigned Goodyear Nordic winter tire they used at the demo (and which they say were designed specifically for life in Canada) stops an average of 45 feet shorter than the company's best-selling all-season tire.
Yet to look at the tires, you'd almost think the all season tires (a.k.a. "mud and snow") would be as good, thanks to their deep and efficient tread design. But the winter tires we were shown performed appreciably better on the ice than the Motomaster SE2 all seasons on the other Focus. I didn't keep track of the exact distances involved, but the difference in performance on the rink was obvious.
We kept the speeds very slow – there wasn't a lot of room to get any speed up on the rink anyway, and the organizers undoubtedly didn't look forward to replacing broken boards, fenders and the like – but I still managed to get the Foci over 20 km/h on the frustratingly short straight sections.
The stopping tests involved driving straight toward a stop sign, then hitting the binders fully when you reached it, at which time the ABS would make its presence known (as well as its lack of capability under such conditions). We did the tests about three times in each car, at different speeds up to 20-plus km/h, which also illustrated how speed affects braking performance.
And naturally, the faster the speed the longer the stopping distance and the worse the handling, the latter point being brought particularly home when they tossed a virtual pedestrian into the mix and I had to turn sharp right to miss the dummy. Story of my life…
No, I never ran down the pedestrian, but if it had been a real person I would definitely have freaked him out. Perhaps we have the makings of a new sport, here!
At higher speeds, the sharp right turn also meant that I'd be plowing into the curb, parked car, or whatever happened to be there next to the pedestrian as the car slid crazily.
The most frustrating part of the demo was that I bought a new (to us, anyway) car about a month ago, one that came with brand new, state-of-the-art Bridgestone Potenza all seasons. Now I have to either spring for new winters (for a car I don't drive much at any time of year) or rationalize putting my family's safety into the hands of inferior rubber.
Of course there are other factors, too, and their importance shouldn't be minimized – such as the driver's skill, whether the vehicle has all wheel drive, manual transmission, etc. Our car has all of those, and its drivers have driven through snow and ice for years comfortably, aren't intimidated by it and know how to handle it. But, drat! That extra grip would still be a nice insurance policy.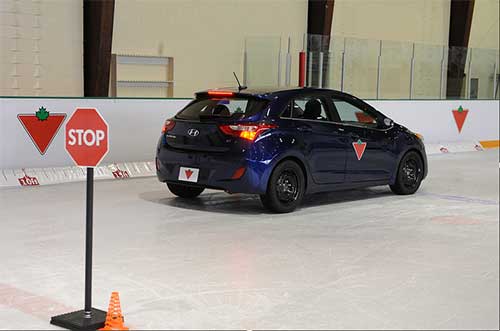 Part of the drill in handling slick situations is to minimize your inputs on the gas, brake and steering wheel. This means, basically, that you should drive like a wuss. And don't rely on the ABS and traction control nannies to do the job you should be doing as a competent driver because they're not particularly handy on ice. Instead, leave plenty of room between yourself and other vehicles, ease on the gas slowly so your wheels don't spin, get up to a driving gear quickly, and barely touch the brakes so the wheels don't lock up (I prefer letting the transmission help slow me down as much as possible when things are iffy), and generally drive as if your life depends on it. What a concept!
None of this will turn an all-season tire into a winter one, of course, but it can help you cope with the situation better. But the best of all worlds is to put on good winter rubber.
The Canadian Tire folks also had some other common sense advice for winter drivers, including the importance of being able to see the road (well, duh, you may say!) and of ensuring your equipment is up to snuff.
First up is to inspect your windshield wipers at least twice a year and to make sure the blades aren't worn. They used the demo to showcase their Reflex Ice Winter Wiper Blades, which they say can withstand temperatures down to minus 40. Good blades are really important, but so is cleaning the snow off of the entire vehicle before you head out.
And don't just sweep the windows clean or your visibility will be gone again as soon as the snow blows from the hood onto the windshield and the roof to the rear window, making your half-butted attempt pointless. And use a good scraper to get the windows clean so you can see out – in all directions. It takes a few minutes, is a royal pain, and it can be really miserable outside when you do it, but you'll be glad to get into the habit of doing this.
Remember to use good, winter-rated washer fluid, too. Canadian Tire was recommending Rain-X All Season Windshield Washer Fluid at the event.
And your lights! Not just the bulbs, which do dim over time (Canadian Tire offers GE Nighthawk Platinum halogen bulbs, which they claim can provide up to 90% more light on the road than standard halogen headlamps) but your car's headlight covers can also show signs of age, getting yellowish, cloudy and/or dull – like automotive cataracts – all of which can reduce your night time vision. Fortunately, there are headlight restoration kits you can use to help out here. And guess where you can get them!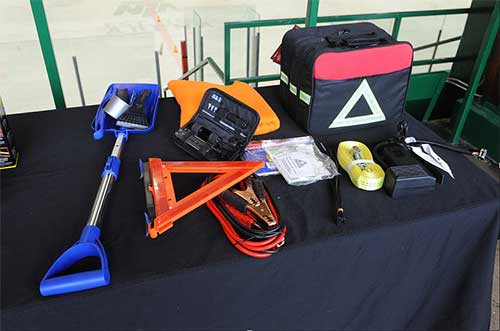 The Canadian Tire folks, who also happen to sell batteries, also recommend that you make sure your car's battery is in good condition. They say the average life of a car battery is just under five years, and recommend that if your battery is older than three years you should have it tested each year and replace it if necessary.
You might also want to consider carrying a roadside kit with you, in case you do get stuck in a snow bank somewhere, despite your great tires, lights, wipers and driving skill. It happens. Fortunately, there's a wide variety of such roadside kits available from such places as auto parts and accessory shops – did I mention Canadian Tire yet? – and they can include everything from jumper cables, flashlight, snowbrush/scraper, telescopic shovel, to a first-aid kit. Think about adding a spare cell phone (charged, with any luck!), blankets and the like, too –and perhaps consider joining a plan that offers roadside assistance, if your car doesn't already have it.
Another piece of advice: make sure you're using all your exterior lights. Here in Canada, we've had front daytime running lights mandated for years but, in their zeal to pass yet another law, the federal government didn't think about the rear end of a vehicle. That has led to drivers heading out blissfully unaware that, while the road ahead of them is illuminated somewhat, their vehicles' butts are darker than a black hole. This is a recipe for getting rear ended.
If you have automatic headlights, which in my never humble opinion every new car should have, you can avoid this situation by keeping your lights on "auto." If you don't, always remember to turn the headlights on so your taillights will come on as well. This is good advice for driving any time of year (well, except on sunny days, perhaps), of course.
The bottom line, really, is that regardless of where and when you're driving, make sure your vehicle has the proper tools for the job and that you're the proper tool for yours, as a driver. Maybe consider taking a winter driving – or any advanced driving – course if there's one in your area as well. Not only can such courses make you a much better driver, with better understanding of your vehicle and its environment, but they're an absolute blast.
Sure, they can be expensive, but they can also save your life.
Happy driving!
Copyright 2012 Jim Bray
TechnoFile.com
Jim Bray is a member of the Automobile Journalists Association of Canada. His columns are available through the TechnoFile Syndicate.