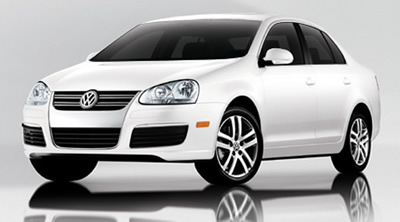 VW Jetta Diesel – TDI, not TD-ous
By Jim Bray
November 29, 2008
In a time of unstable gasoline prices, one might think a hybrid is the best way to go. But there's a proven alternative that offers the gas mileage you want without requiring a hybrid's premium price.
It's the diesel, an engine that has been around forever but which has also been dumped upon nearly forever for such things as emissions and noise. But today's diesel can be different from days gone by, if Volkswagen's "clean diesel" technology is any indication.
I must confess to not having driven a diesel since I drove city transit buses more years ago than I care to admit, but I remember that you could drive the things forever and, while you weren't going to set the world on fire with brute acceleration, they were plenty torquey.
Today, VW says its Clean Diesel runs on "ultra low sulfur" fuel that contains 97 per cent less of the smelly stuff than old style diesel, leading to significantly lower emissions, and its "common rail" direct fuel injection helps lead to a reduction in emissions of 95 per cent.
It also gets terrific gas mileage. Volkswagen claims the Jetta TDI delivers 49 miles per gallon (4.8 L/100 km) on the highway, which ain't chopped liver. I only used half a tank during my week with the car, as opposed to nearly a tank (and maybe more) with most vehicles. And that's taking into account a lead foot that works against me when trying to squeeze mileage out of anything, including hybrids.
How about that diesel stink and smoke? Volkswagen says the new TDI Clean Diesel is an "ultra low emissions engine with DPF (Diesel Particulate Filter) and nitrous oxide catalyst to considerably decrease Nitrogen Oxide emissions" and meets U.S. anti-pollution standards in all 50 states. VW also says the Jetta TDI can use B5 bio-diesel fuel to lower Carbon Dioxide emissions another five per cent.
Heck, the next thing you know, cars'll actually scrub the air of pollutants – and wouldn't the thought of a big SUV that's beneficial to Mother Earth give the "green" crowd something to ponder…
Okay, so it's clean and efficient. Is it gutless?
Heck, no. There's a short hesitation from the Jetta when you first tromp on the fun pedal, but after that little hiccough the torque comes on like gangbusters. It's quite a fast car, all told, and a lot more fun to drive than I had expected.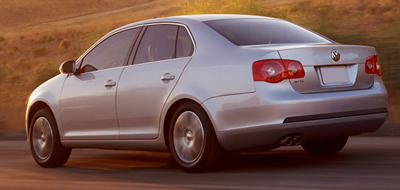 Anyway, besides its cleanliness and its delicious get up and go, the Jetta is also a very nice car, both to drive and in which to "passenge".
Jetta's TDI features a new, turbocharged two liter inline four cylinder common rail engine, with 16-valves, 140 HP and a maximum torque of 235 lb-ft at 1750 rpm. It comes standard with a six speed manual transmission.
My test unit came the optional 6-speed DSG automatic transmission with Tiptronic manual mode, and it's a good one. I enjoyed particularly the manual mode, which shifted well and was more at my beck and call than some – nearly as much fun as a real stick, and undoubtedly faster to shift. 
As a driver's car, it features excellent pedal position and the electro-mechanical power steering with variable assistance feels just right (Goldilocks would love it!).
Slinging the Jetta through corners is an independent McPherson suspension up front with a four link rear and stabilizers front and back. It balances sportiness with practicality well. The four wheel disc brakes have ABS, naturally, and to further keep you on the road there's Anti-Slip Regulation (ASR) traction control and Engine Braking Assist.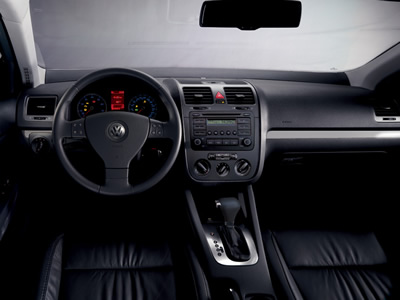 The dash layout is straightforward: analog dials surrounding a digital display that looks like it came from an Audi. Controls are located logically and at hand, with duplicate audio buttons on the steering wheel.
The instrument lighting is a pretty shade of blue, but I found it a bit hard to read at night. Ditto for problems reading the audio system's LCD, which also glows blue at night (I had problems with it in daylight, too, when I was wearing my polarized sunglasses).
The seats are comfortable, though as with the GTI I could never find a perfect driving position (the Jetta came closer than the GTI, though). I wouldn't want to sit in the middle of the rear seat for long, but the 60/40 split/fold bench is fine for two.
One thing I noticed from the driver's seat is a strip of trim along the inside bottom of the windshield that gives the interior a slightly claustrophobic feeling, but it's hardly a big deal.
A welcome, and unexpected, touch is the auto up and down feature for all four windows.
And the eight speaker in dash Radio/MP3/CD stereo has an auxiliary input for your portable tune player and the audio quality's pretty good. The system has real knobs, too, so you can twist them quickly instead of holding down a button or pressing it repeatedly until the system does your bidding.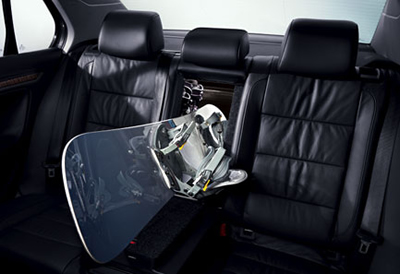 Safety equipment includes driver and front passenger front airbags, driver and front passenger side thorax airbags, side curtain protection, rear passenger side thorax airbags and the usual bevy of belts and anchors.
I liked the Jetta TDI a lot more than I had expected to. Despite having done research into the model before picking up the keys, I went into the test with some preconceptions that may be quite common, such as that a diesel wouldn't be any fun to drive, that it would clatter like a row of saucepans on a clothes line being sandblasted by the wind.
And there is a bit of that clatter, but it's very restrained and will hardly get you accused of waking the neighbors. It isn't the slightest bit annoying, either.
And as I mentioned, the Jetta TDI was a lot of fun to drive, so much so that it's the kind of vehicle I would consider for my own. Not bad for an economical car that starts at $21,990 U.S./$24,275 Canadian.
Copyright 2008 Jim Bray
TechnoFile.com