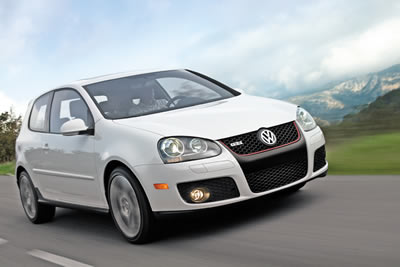 Volkswagen GTI – Upgrades Your "Zip" Code
By Jim Bray
August 13, 2008
Volkswagen's zippy little GTI is back, a sporty hatchback that's fun to drive yet practical as well.
Believe it or not, I had never driven a Volkswagen before, either as an automotive writer or in the rest of my equally-ill-spent life. For whatever reason, I had just plain missed the brand until I parked my bum in the GTI's deep bucket seats. And now that I've spent some quality time in a VW, I can see why there are so many on the road.
The GTI, which could perhaps be called the fairest haired boy in the Golf/Rabbit family, traces its roots back to 1976, when Volkswagen introduced its "compact, wild, young racer" to the Autobahn. According to the company, the GTI was planned as a limited series of 5,000 units, but the market spoke and VW listened – and the rest, apparently, is history.
 Available in three and five door versions, which are really two and four door versions with a hatch (since few people other than drunks – or college students trying to stuff the car – will ever enter or leave it via the hatch), the GTI is basically a Golf on steroids – a higher performance version of VW's entry level car. I drove the three door model.
Three door cars (oops, two door cars with a hatch) generally rub me the wrong way because I like the ease of access to the rear seat offered by a sedan. But if you aren't worried about tossing people or stuff back there on a regular basis, the configuration works just fine. In fact, VW has done a nice job of offering access to the rear seat as well, with a top-of-the-seat-back-mounted handle that tilts the seat back and pulls the entire chair forward to create a reasonable opening for climbing in and out.
But more about the interior amenities, not all of which had me singing their praises, later.
The GTI looks like it means business, from a "non-Golf-like" honeycomb schnoz that's kind of reminiscent of big brother Audi to its rear spoiler and dual exhausts. Even its 18 inch wheels are non-standard in appearance, in this case looking like they'd be at home shredding cheese in a gigantic food processor.
And the car, which Car and Driver magazine named one of its 10 Best, is a little rocket, with a lot of its fun-to-drive quotient coming from its turbocharged two liter four cylinder engine with direct fuel injection and four valves per cylinder. Volkswagen rates it at 200 horsepower @ 5100 rpm and 207 lb-ft of torque at a nice and low 1800 revs. This is plenty of poop, and it's accompanied by a lovely growl when the gas pedal is pressed (and press it you undoubtedly will).
I drove the GTI a week after I was in Chevy's 260/260 horsepower/torque HHR SS and the GTI didn't feel appreciably slower despite the apparent "oomph gap". Of course it's a lighter vehicle than Chevy's little van, which doesn't hurt.
The bottom line is that this car has plenty of get up and go.
Getting the get up and go to the front wheels is either a lovely six speed manual or a six-speed automatic Direct Shift Gearbox with paddle shifters. My test car had the stick, and it's a lovely transmission, shifting slickly with short throws and a terrific feel to it. Going up and down the gears with this thing is a pleasure and it reminded me why I still love manuals despite a growing affection for auto/manuals such as the GTI's other choice.
The car handles well, too, though of course there's a certain amount of torque steer when you tromp the gas pedal. It isn't by any means the worst I've experienced in such a vehicle, though.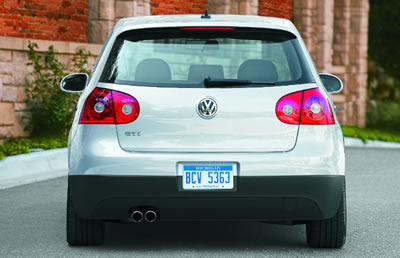 All four of the car's rubber-rimmed round things are slung independently, with a McPherson strut and stabilizer bar setup up front and a four-link tush with coil springs, telescopic shock absorbers and stabilizer bar. The word "nimble" comes to mind, the GTI displaying a nice balance between sportiness and bowel clearing capability.
The "electro-mechanical variable assisted power rack-and-pinion" steering feels great, and you get a thick and lovely-in-the-hands, square bottomed tilt/telescope wheel with ancillary audio and computer controls. The setup ensures you'll enjoy the twisty bits.
Brakes are power-assisted discs all around, with the usual electronic aides to help ensure stops are short and true. Pedal feel is just right.
One minor aspect of the exterior threw me for a loop: I couldn't find the hatch latch! Fortunately, my wife figured it out immediately (it's the VW logo itself, which is pretty cool), giving her a "Men and machines!" exclamation moment she's savoring still.
I blame Volkswagen for that.
They've even put two grab handles on the inside of the hatch, for ease of closing whether you're a leftie or a rightie; there's a 12 volt outlet back there as well.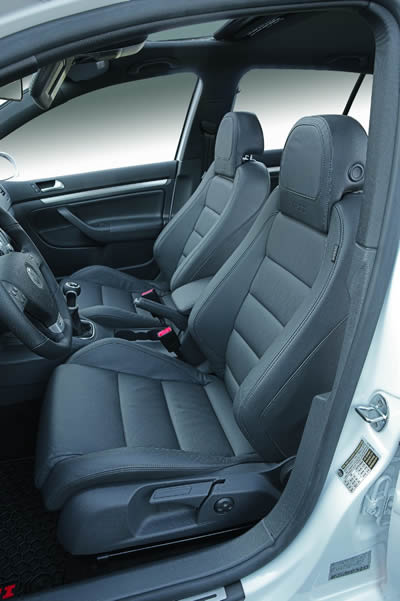 Things are pretty good in the brushed aluminum-trimmed, GTI-specifically tweaked cabin. It's well thought out and executed, with everything in reach and controlled logically. Alas, I could never find a perfect driving position in the front seat, which is bolstered well on the sides and, surprisingly, to the sides of your buttocks as well. And it may have been the novelty of the bottom seat cushion, but it also felt as if I were sitting in a beanbag chair, my butt planted deeply in the fabric almost as if it were wedged into a large pail – bringing new meaning to the term "bucket seat." It wasn't by any means the most comfortable sport seat I've planted my butt into.
Oh yeah, my knee kept hitting the steering column when I operated the clutch, too.
On the upside, the receptacle where you click in the seat/shoulder belt is mounted nicely, up high comparatively compared to some others, which makes it easy to reach even if you have to stretch the belt around something like a paunch.
The seats are fabric, but with bun warmers controlled by thingies on the dash.
Controls are straightforward and clear – and VW even gives you real tone controls for the audio system: bass, midrange, treble and the like, mounted under the display. This is more interesting than innovative, since the usual "up/down" buttons or multifunction knobs work well, though audiophiles might be pleased. They'll also be pleased by the sound quality, which isn't top line but which is pretty good for this segment.
Climate control is of the automatic variety and works well.
I missed having an automatic setting for the headlights, which I think should be standard equipment on every vehicle to prevent the clueless from driving at night solely by the light of daytime running lights up front, with the tail lights off.   
The power window controls are located just about perfectly on the arm rests.
The rear seats are reasonably comfortable and split/fold 60/40 for extra storage. They also feature a center armrest and a pass-through for when you're hauling long stuff and passengers at the same time. The seats don't fold all the way flat, but it's close enough for the lion's share of the hauling one would do in a GTI.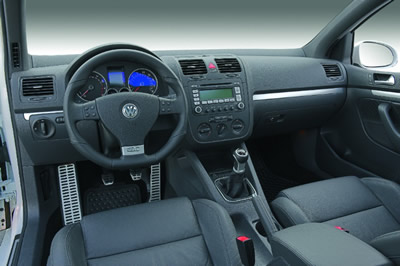 Volkswagen says the GTI is rated with five stars in EuroNCAP crash tests and the new model is stiffer than the last GTI.  Safety equipment includes stability and traction control, active head restraints, and a complement of bags and belts.
Volkswagen recommends you use premium gas with the GTI, though they admit regular will work fine as long as you're content with a "slight reduction in performance." I bit the bullet burned the best grade.
I enjoyed throwing the GTI through the curves, where it acquitted itself very well. I'm not sure I could live with the driver's seat, but other than that I liked the car a lot. It was a great introduction to the world of VW.
The Volkswagen GTI starts at $22,800 U.S./$27,975 Canadian, which sounds like a pretty good deal considering the fun, features and performance you get.
Copyright 2008 Jim Bray