Volvo Flagship Offers Luxury, Performance, Safety
By Jim Bray
March 16, 2007
Attractive, classy, safe, yet still rewarding to drive. That's Volvo's new S80, the company's flagship sedan.
Volvo has come a long way, earning a reputation for safety, durability and environmental consciousness – and, fortunately, the days of Volvos looking like bricks on wheels are longone, since recent Volvos have included a welcome dash of élan to their exterior styling. Both the S40 and C70 I drove in the past couple of years are very nice cars, interesting, safe and pleasant to drive. What I had expected to be boring turned out to be quite engrossing.
The 2007 S80 is even better. Volvo describes the car as being a "reimagining" of the luxury sedan, and maybe it is. Volvo's take includes the advanced safety features you'd expect, including pre-emptive stuff meant to help you avoid accidents. Add "the serenity and intuitive operation of Scandinavian luxury," and you have a darn nice car.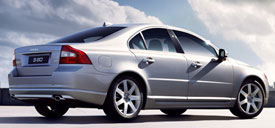 My tester was of the higher end variety and included Volvo's 4.4 liter V8 engine first seen on the XC90 SUV. It sounds really great when you fire it up, and it propels the S80 with, well, élan. It pulls very nicely, effortlessly, its 6 speed automatic transmission operating very smoothly – though it could perhaps have downshifted a tad more attentively when spurred. It makes the car feel more "luxury" than "sport," and that's okay, since that's exactly what Volvo promises.
The base S80 comes with a 3.2 liter inline six cylinder engine rated at 235 horsepower @ 6200/ 236 lb. - ft. @ 3,200 rpm. It's probably fine, but the V8's 311 hp @ 5,950/325 lb. - ft. @ 3,950 rpm definitely is FINE. Volvo has described it as "Grunt without the guilt," for its light weight and efficiency, and that seems fitting.
The S80 also features electronically controlled AWD with "Instant Traction" and it came in really handy during my snowy week with it. We took it on a jaunt through the Rocky Mountains, on a snow-and-ice-covered secondary highway, and it was sticky and stable in everything we threw it across.
The S80 is very nice to drive. It's a modern luxury sedan that drives like one should. It's tight in corners and steps over civically ignored road irregularities as if born to it, with sophisticated aplomb.
It should. S80 features a MacPherson front suspension and a multi-link rear, four wheel power discs with electronic brake distribution (EBD) and other high tech stuff like fading brake support (FBS) and (of course) ABS. You can choose from three driving settings: Comfort, Sport, and Advanced. I liked Sport and Advanced, which tighten things up appreciably, but even Comfort in this case doesn't mean "wallow."
The sleek and attractive exterior is recognizably Volvo, and as mentioned that is now a pleasant fact to contemplate. Active Bi-Xenon headlights that turn with the car and headlight washers that take turns highlight the front end. On its flanks are door openings that are large enough for reasonable access, and the S80's bum features legible lighting and a trunk that could swallow a coffin.
The interior is very comfortable. The front seats (heated and leather, of course) are first rate, though perhaps a smidgen too narrow for the sedentary North American buttock, as least as displayed by the author. But they're supportive and comfortable, with plenty of power adjustments. The rear seats are quite nice; their sculpted back is very comfy on the ol' spine, and the pull down center console and outer armrests are placed perfectly for comfort. Legroom is good, as is visibility outward.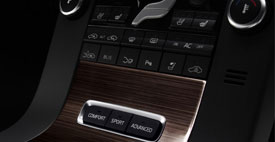 The center stack is laid out nicely, with the kind of flying buttress center stack Volvo has been using. It's pretty nifty, giving you a useable center stack where you need it while opening up a semi-private little storage space behind it. And while there are buttons a-plenty on that center stack, including lots of radio presets, dual zone HVAC and a menu system, its straightforward design is a wonderful breath of fresh air.
A button on the dashboard flips the rear seat headrests forward, for better driving visibility. It's also good for harassing the people in the back seat by remote control, and could be an excellent weapon to use when you want to shut up the kids or mother-in-law. I tried it on my son and his fiancée, dropping the headrest on them while they were minding their own business back there, and the result was just what I had expected.
Okay, so maturity may not be the strong suit around here….
S80 has auto up and down all for all windows (though for some reason the right rear didn't go back up with one touch), and vents in the B pillar that'll waft warming or cooling air to the faces of back seat passengers (a nice touch). And the B pillars themselves are mounted so that they didn't get in the way of my shoulder checking from the driver's seat.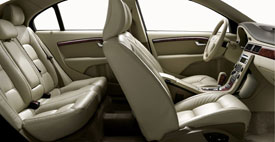 Which brings us to S80 Technotrick #1. S80 features blind spot monitoring to help you know where other vehicles are in relation to yours. Little sensors below the outside mirrors point back and to the sides and if another vehicle comes within what its robotic judgment deems a potential threat area, a "BLIS" light on the inside of the A pillar fires up. In reality, I found it distracting – and even unhelpful since there's no way I'm going to risk lives and hardware on a robot's judgment and experience. Not when my email program still crashes….
Fortunately, you can choose to shut off the BLIS advice and, to be fair, I suppose it does stick with Volvo's safety orientation. I just wonder sometimes how much of this safety technology and its added costs would be necessary if people simply learned to drive better. But that's another column.
TechnoTrick #2 is a nifty radar cruise control that works really well. You can set it to follow at a respectful distance or to induce panic in the vehicle ahead (well, maybe it isn't quite that close) and it'll speed up or slow down, braking where necessary, to remain that set distance behind the target vehicle. I tried it on a multi lane freeway and it worked flawlessly, even when I would change lanes to pass.
If only they could get the car to steer itself we could let the droids loose on our highways and use the quality time for some reading, surfing the 'Net, sleeping.
My S80 also came with a "collision warning." I didn't test this feature, for obvious reasons, and there's no reason to believe it's just a voice from the stereo screaming "We'll all be killed!" And of course you get all kinds of stability controls, air bags, curtains and even whiplash protection (perhaps since it has the torque of a V8!).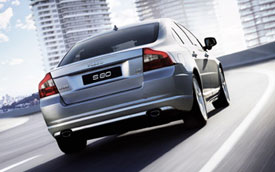 The audio system is good, but you have to crank it up to get it going and there isn't enough crank to do it justice. This may only offend head bangers, though. On the other hand, the system in my test car was an extra cost option; I shudder to think of the garden variety stereo.
An audible parking sensor is a great help in crowded parking lots. There's no on screen display, but that's fine; the audible warning is plenty.
My tester, which was optioned up very nicely, rode on 18" ZUBRA alloy wheels and also featured rain sensing wipers that struck an appropriate balance between too little and too much cleaning. It even came with Volvo's Personal Car Communicator (PCC), that'll keep an eye on your car and let you check if someone has broken in and is waiting there for you. This may be the perfect sedan for victims of stalking.
All in all, a very nice, flexible luxury sedan.
The Volvo S80 starts at $38,705 U.S./$54,995 Cdn. The V8 starts at $47,350.00 U.S./$64,995 Cdn.