Volvo's 2008 C30 – Pretty Looks, Pretty Sloppy Driving
By Jim Bray (exterior photos by the author)
June 5, 2007
It's the prettiest Volvo I've seen in many a year, a seductively sexy coupe/wagon that looks like a million dollars.
Alas, it drives like substantially less than that, and that's where this car with sporty pretensions falls down.
It's too bad. I love the way this car looks, from its handsome, low slug and recognizably Volvo front end to its outrageously grand glass tailgate that hearkens back to sporty Volvo wagons of my youth. This car will undoubtedly sell on its looks alone; it personifies that old cliché that it looks like it's speeding even when it's standing still.
But it could have been so much more….
Let's deal with the good things first, of which there are many. Besides its gorgeous exterior, the new for 2008 model year C30 also has an attractive and functional interior that's very comfortable. Visibility from the driver's seat is great, thanks to good mirrors inside and out, plenty of glass and narrow pillars. Even rear seat passengers get a nice view outside.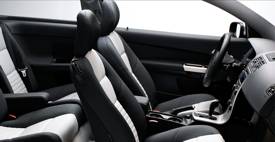 And all four seats (don't even think about putting three in the rear of this 2+2) are comfortable for all day driving. The driver's seat of my tester was power adjustable (with memory), holds the buttocks nicely, and there's plenty of leg and head room front and rear, at least for the average of height. My tester also featured a fold down arm rest in the middle of the rear seat; it was a tad low, but comfortable.
There are no handles on the ceiling for rear seat passengers to grab during cornering, though there's a little ridge-like thing in the armrest storage bin you can use and it works okay.
The rear seats also fold down to create a largish, flat storage space, but even with them up the hatch is reasonably roomy for a small car; we loaded up piles of picnic paraphernalia for a day trip into the Rocky Mountains of Banff, Alberta, and there was plenty of space for all four of us plus our junk.
And the C30 continues Volvo's recent tradition of offering clean and clear instrumentation, with a unique, "flying buttress-like" center stack behind which you can hide your cell phone, MP3 player or whatever. The center stack contains audio and HVAC controls, as well as the menu controls for customizing the car. It's well laid out and attractive, and the customization is easy without forcing some kind of iDrive-like knobby gadget on you. It doesn't offer as many adjustments as those other annoying controllers, but that isn't a bad thing.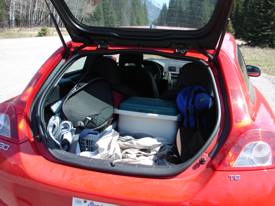 The two front side windows open and close with one touch of the button, though the rear windows don't even pop open. The sunroof is a decent size and it also opens and closes with a single touch.
The AM/FM/CD audio system is very good, with nice power, good sound reproduction and straightforward controls that are repeated via icon-labeled buttons on the steering wheel. It also offers a simulated surround mode.
All in all, the C30 is a great place to "passenge." But it isn't a driver's car.
The U.S. spec C30 is available only with the 2.5 liter turbocharged five cylinder engine my tester had (Canadians can also get a 2.4 liter non-turbocharged five), and it's plenty for this application. Volvo's U.S. website rates it at 227 horsepower @ 5,000 rpm and 236 lb-.ft. of torque from 1,500 – 4,800 rpm. That doesn't sound like a lot of latent lunge these days, but in reality power isn't this car's problem.
Nope. It's handling, and torque steer. The front drive C30 likes to lunge, but like it as not it'll try to lunge sideways when you tromp the gas pedal as the torque steer rears its ugly head. This is a common problem with front wheel drive cars and while it isn't a deal breaker it's something you should be aware of lest you find yourself in the ditch after attempting to peel out.
The car also under steers, though not outrageously.
A four wheel drive option here would undoubtedly help, but it isn't offered at this time.
My tester also featured a six speed manual transmission, which is nice to see, but in this application it's a tad rubbery and sometimes I had trouble finding the right gear when downshifting.
A five speed "Geartronic" automatic is also available; a five speed manual is standard on the Canadian spec 2.4 non-T (168 hp @ 6,000 rpm/ 170 lb. - ft. @ 4,400 rpm) version.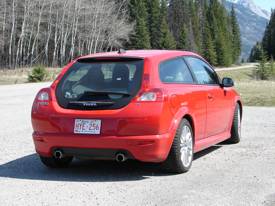 The C30 features a MacPherson Front Suspension and a multi-link rear, which sounds better than it really is because it's tuned too softly for sporty performance. It's quite bouncy, and rear seat passengers complained consistently that they felt as if they were on a trampoline. A Sport Chassis option may help, though.
The steering is "Electro-Hydraulic, Speed-Sensitive, Power-Assisted Rack-and-Pinion" and it's okay, though a bit numb for a sports wagon.
I'd love to see Volvo make the C30 a real driver's car; it could be wonderful.
On the other hand, even if this were a boy racer's dream, Volvo has also managed to build in enough niggling little things to make one think twice about plunking down one's after tax income.
For example, the shoulder belts would nearly always catch me at a really annoying place on my neck and they aren't adjustable up and down. It felt like I was being garroted, which isn't exactly the kind of safety feature for which Volvo would like to be known.
And when you move the front seats back and forward to allow for people to enter or leave the rear seats, the front seat belt gets caught on a little rail mounted near the floor that looks like it's supposed to facilitate wearing the belt up front, but which actually works against passengers access to and from the rear.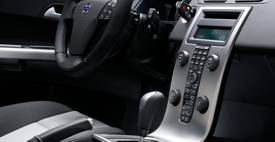 Rear seat passengers are also advised to bring a flask, because there are no cup holders back there.
These are all minor criticisms, but they're a bunch of silly little things that add up. Combine them with the car's "sport-lite" performance and you have a very nice, very pleasant car that manages to miss the mark as a true sports coupe. It's too bad; I really wanted to love it.
The Volvo C30 starts at $22,700 U.S./$27,500 Cdn.