Toyota Yaris an Unpretentious Yet Rewarding Little Car
By Jim Bray
Toyota's new entry level car is more refined and fun to drive than you'd think would be possible from a vehicle poised happily at the low end of the market.
Available in three or five door liftback (which means "two door or four door hatchback") and four door sedan versions, the Yaris is a nifty little car that's also practical and economical, and even kind of cute. The coupe is a little roly poly, in a manner reminiscent of the Echo it replaces (though nicer), while the sedan is a fairly attractive and straightforward little critter in its own right.
I got to test two Yarises (Yari?), the five door "liftback" and the four door sedan, and was amazed at just how roomy both versions are inside – though the hatch space of the liftback version (when the rear seat isn't folded down) doesn't come close to the roomy trunk of the sedan.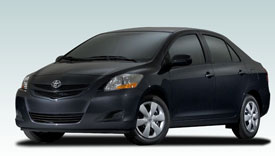 The Yaris was unleashed from Toyota's European design studio using Toyota's "Vibrant Clarity design principles." This is Toyotaspeak for the Yaris' "energy and innovative character" and its "rationality."
The coupe's lines flow athletically, and even a bit gracefully for something that looks overall like a jelly bean tweaked in a wind tunnel. The sedan looks kind of like they took the coupe and pulled out the rear end while slapping on a new front end, but despite how that may sound, the result is quite pleasing.
Toyota has mounted the Yaris' wheels close to the corners, which helps maximize the room inside for passengers and stuff, as well as enhancing its handling.
Either version gives you plenty of room inside, the hatchback's prime advantage being a higher storage area since you can put stuff inside from deck to ceiling, as opposed to the lower ceiling of the sedan's traditional trunk.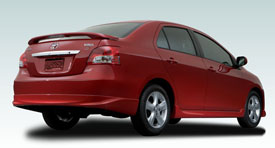 Light Power for a Light Car...
Both versions are powered by a 1.5 litre, 4-cylinder, aluminium alloy block, DOHC, 16-Valve, Variable Valve Timing with Intelligence ( VVT-i), sequential multiport electronic fuel injection Ultra Low Emissions (ULEV2) engine. Horsepower is rated at 106 @ 6000 rpm and torque is 103 lb. ft @ 4200 rpm – not tire scorching specs, indeed, but surprisingly adequate considering the Yaris' small size and light weight. You won't blow the doors off of any Porsches, which is entirely appropriate, but you'll probably have a smile on your face as you lose to them.
Transmission choices are a 5 speed manual or a four speed automatic. Alas, both of my test Yari were saddled with the slushbox, but I was surprised to find that it shifts well and still allows for some entertainment in the driving experience. I would imagine the five speed manual would be a lot of fun to zip around town with.
The front suspension includes Macpherson gas struts, coil springs, and a stabilizer bar. Out back, Toyota uses a torsion beam-type suspension with coil springs. Road feel is good, not too bumpy and not too smooth. It definitely feels like an economy car, but a pleasant one.
Brakes are power assisted discs up front, with drums on the rear wheels. ABS and Electronic Brake Force Distribution are available.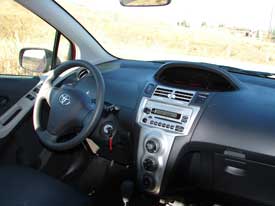 Out of Sight Instrumentation….
The interior is clean and uncluttered, with easy to read instruments and displays (as long as you aren't wearing polarized sun glasses), though as with the Echo the instrument cluster is mounted in an annoying location in the center of the dashboard, forcing you to swing your eyes over to the middle of the car if you care about such things as speed and rpms.
During my two sessions in Yari, I never got used to that.
Below that pod and the audio system are, depending on the version of the Yaris, HVAC controls mounted in an interesting vertical layout (either one above the other or an interesting two over one configuration). Both are clean and simple and easy to use, as it should be.
The interior is comfortable and drivers will find it easy to maximize their driving position. The steering console-mounted controls (signal lights, wipers, etc.) are easy to reach and use, and the stereo cranks out decent sound quality and volume, surprisingly so for an economy car.
There's also a surprising amount of storage space inside, via a bunch of bins Toyota has stuck all over the place.
Base Yari are equipped with 14 inch wheels wearing P175/65R14 all seasons; the "high end" models sport 15 inchers equipped with P185/60R15 all season tires. The spare is compact, for temporary use.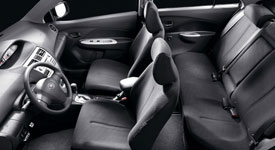 Toyota's fuel economy claims for the Yaris are that it gets 41/51 miles per gallon with the manual transmission and 40/49 with the automatic.
Most of my time in the hatchback was spent in urban confines, but I managed to take the sedan onto some of my favorite back roads and that stretched the already decent mileage even more. I used about half a tank during my week with the hatchback and a whole tank while putting on plenty of miles zipping about in the sedan (the "feed me now, dammit!" warning light was on as I headed to the pumps before returning it).
I've given up trying to approach the "official" figures manufacturers and governments publish, thanks to the lead foot with which I was born, but I would classify my "real world" mileage from both Yari as more than acceptable.
Toyota says the Yaris is aimed at "style-conscious, younger urban buyers," which probably focused tested well. Despite that, I can think if many good reasons for a crusty middle aged fart (like me) to choose a Yaris if you're looking for a good commuter vehicle, second car, or something to drag along behind your RV. And I'm sure Toyota would be more than happy to take your auto buying dollars even if you aren't a style-conscious younger urban buyer.
In many of the Yaris ads I've seen, the main pitch is the car's roominess and this is indeed a good selling point. It also makes me wonder about the car's name. Is it a veiled pun? Do they mean to send the message that, if you're looking for a place to haul stuff, you can just shove it up Yaris?
Hmm. Probably not. But never let it be said that I wouldn't go out of my way to make a cheap joke!
Toyota lists its MSRP for the 3-door Yaris with manual transmission at $10,950 U.S./ $13,725 Canadian. The Yaris sedan starts at $11,825 U.S./ $14,530 Cdn. These prices seem quite reasonable considering what you get.
I was surprised how much I enjoyed driving the Toyota Yaris – especially the little hatchback. Neither version pretends to be more than the low end vehicle they are, but the Yari are more rewarding to drive than they have any right to be – and because they're Toyotas they'll probably run forever and be affordable to own.
Sounds like a winning combination.