Two Toyota Trucks Try Defining "Racy"
By Jim Bray
What makes a vehicle racy?
If you're Toyota, it appears you may not be sure how to answer that question. On one hand, the Japanese car making giant brings to market the outrageously racy Tacoma XRunner then, when it comes to its soon-to-be-replaced Tundra, it slaps a mostly cosmetic TRD moniker onto what's basically a very nice but decidedly unracy pickup.
What gives?
Tacoma X-Runner V6
If the "garden variety" Tacoma isn't butch enough for you, you can go upmarket to a couple of TRD versions that, depending upon which one you choose, add extra off road or sport capabilities. Or you may be intrigued by the Tacoma X-Runner V6, a mucho macho machine that's as much of an eye and ear grabber as it is a practical hauler. It sports no TRD labels, but it sure "sports".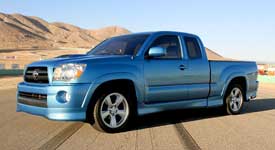 And as a practical hauler it hauls more than just your stuff! The X-Runner also hauls butt!
The Tacoma X-Runner V6 includes a bunch of very un-truck like things such as a 6-speed manual transmission, aero stuff, a chrome tail pipe, a hood scoop (well, it looks like a hood scoop), sport seats up front and 18-inch alloy wheels. It's a handsome package, though to these middle aged eyes it appears aimed at the twenty or thirty somethings.
And that's fine, though it makes me feel decidedly old.
The rear wheel drive X-Runner's engine is a 4.0 liter DOHC, 24 valve 6 cylinder monster with intelligent variable valve timing. Toyota says it puts out 236 horses @ 5200 rpm and 266 lb. ft of torque @ 4000 rpm. It seems like more than that, though, because this truck goes like heck! It still feels like you're driving a truck, but this is as close to sports car performance as I've experienced in a truck – though, I've undoubtedly missed driving a few worthy competitors.
The X-Runner is low, with low profile tires you also wouldn't expect to see on a truck, and that gutsy V6 emits a wonderful growl when spurred, a seductive sound that makes you want to keep the gas pedal floored.
I was floored. Driving the X-Runner is a gas! It's a lot more fun than it has any right to be! Driving the Toyota Tacoma X-Runner exceeds all expectations.
The truck's suspension is independent double wishbone up front, with leaf springs in the rear. The shock absorbers are Bilsteins. The beast also gets a limited slip differential.
Brakes are power assisted vented discs up front and drums in the rear, with ABS all around and Electronic Brake Force Distribution. They stop the truck straight and true; you may not be able to stand this beast on its nose, but you can stop capably and experience good pedal feel.
My tester had 235/50R 18 inch mud and snow tires installed. Standard equipment (summer) tires are P255/45R18, Performance Summer Radials. You also get a full size spare.
Steering is variable assist power rack and pinion, with good road feel. The steering wheel also tilts and telescopes.
If you own an X-Runner no one will be able to accuse you of being shiftless, because that 6 speed manual transmission is a fine gearbox that shifts very well. Okay, its throws aren't sports car short, but they're short enough to make running up through the gears very entertaining.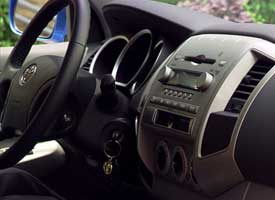 Inside Job...
The interior is very truck-like, which will undoubtedly surprise few people. The HVAC controls work fine but have a decidedly old tech look and feel and offer no automatic setting. But overall it's a very comfortable compartment for the two people up front. Both seats are very sporty buckets that are comfy and supportive and which hold you in nicely in the twisty bits. It's a seat the likes of which you'd expect in a sporty car, not a pickup truck.
The news isn't nearly as good for anyone cursed with being a passenger in the rear compartment. Getting in and out is pretty good, thanks to a pair of rear-hinged suicide doors (oops, we aren't supposed to call them that, are we?), openings that remind me of those on the Mazda RX-8. But the bench seat itself reminds me of the cheap bleachers at the local stadium, and once your butt's there, the back support catches the spine at precisely the wrong place. Clearly, this is a seat for emergency use only.
On the upside, there's quite a bit of room to haul stuff back there, as long as what you're hauling doesn't have nerve endings.
The audio system is okay. It's an AM/FM CD changer with 6 speakers and steering wheel-mounted controls but, as is unfortunately typical of many Toyotas, its weakest parameter is its sound quality. I had to lower the bass and crank the treble to make it passable. It played plenty loud enough, though.
Power door locks and windows are standard on the X-Runner, as is keyless entry. There's plenty of storage space, dual vanity mirrors (for the really, really vain!) and a sliding rear window that, alas, doesn't offer a defogger. You also get variable intermittent wipers, which is optional on most other Tacomas.
Trucks are generally about carrying stuff, of course, and the X-Runner's six foot double walled bed comes already lined and there's a nifty 400 watt (125V) power outlet that would undoubtedly come in darn handy at a tailgate party. There are also tie downs mounted along the bed's edge.
Safety equipment includes dual stage airbags and three point lap and shoulder belts.
I never thought I'd spend a week with a pickup truck and be sorry to give it back. But this Tacoma X-Runner is a blast! I can see it fitting well into the lifestyle of a young couple who want sporty performance and the ability to haul stuff quite often – even if only to the stadium.
Who'd have thunk?
The Toyota Tacoma X-Runner sells for $23,745.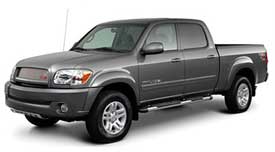 Toyota Tundra TRD Yamaha Edition
Then there's Toyota's 800 pound gorilla of a pickup, the Tundra.
The Tundra was the sequel to the T100, Toyota's first attempt at tackling the full size truck market. It's bigger, better and brawnier than the T100, but apparently that wasn't enough because a new Tundra is coming for 2007 that's supposed to up the ante even more. So what we have with the 2006 Tundra is the last hurrah for a very nice truck that will probably be even nicer shortly.
My 4x4, SR-5, double cab Tundra wore the trim level of Toyota's TRD division, and was also billed as the Yamaha Edition. I have no idea what Yamaha Edition means other than a couple of decals on the outside of the bed down near the tailgate, but Toyota Racing Development, in theory, should indicate a high performance, sporty version of whatever model the moniker is affixed to.
But as with the Matrix TRD, which was mostly badging and other superficialities, the Tundra TRD is mostly Tundra (not that there's anything wrong with that), with some aggressive additions such as a mean looking grille and twin TRD labeled tail pipes. At least such was my tester; Toyota's U.S. website indicates the base cab TRD version (available as off-road or sport configurations) also gets a tuned suspension, upgraded shocks and nicer wheels.
The company's Canadian website says the $3610 TRD package gives you all its goodies for a thousand dollars less than if you ordered them separately, which I suppose is a nice thing, and they apparently throw in a TRD/Yamaha jacket to sweeten the deal.
My tester was a big black Double Cab, which offers four door access to the interior and, for a short person, makes one grateful for the "running boards" that are part of the TRD package: they let you get into the truck without having to attach a block and tackle to the roof.
Here's a list of what else the TRD/Yamaha treatment gets you:
• TRD Dual Exhaust System
• P265/65R17 Tires on 17" Aluminum Alloy Wheels
• Lock package
• Front Captain Seats
• Cushion Height Driver Seat Adjustments
• Driver's Seat Foldable Armrest
• Passenger's Seat Foldable Armrest
• Digital Compass
• Outside Temperature Gauge
• Color Keyed Mirrors and Body Side Moldings
• Front Skid Plate (okay, this is handy, but is it racy?)
• Side Step Bars (those handy "running boards")
• Fender Flares
• Special Edition Badging and Grille
• Metallic Accents
• Fog Lamps
• Seat Back Pockets
• Front Centre Console Box
• Monotone Exterior Paint
Now, those are nice things to have, and they do add to the truck's value and appeal, but how is this stuff "racing development?"
Not that the Tundra isn't a fine truck. My 4x4 tester included four full doors and plenty of interior room and storage space. And its iForce V8 is a dandy: it's a 4.7 liter, double overhead cam power plant with 32-valves, Toyota's VVT-I variable valve timing and sequential multiport electronic fuel injection. Horsepower and torque are rated at 271 @ 5400 rpm and 313 lb.ft. @ 3400 rpm respectively – plenty for anything I can think of doing in a truck, not that I'm a truck expert by any means.
The power is delivered smoothly and quietly, with no fuss, to a 5 speed super electronically controlled overdrive transmission and from there to either the rear or all four wheels. The Tundra features an automatically disconnecting differential and one touch 4WD accessed by a button on the dash board that, due to the truck's size, is a tad hard to reach for the relatively diminutive.
Suspension is independent double wishbone with gas shock absorbers, coil springs and a stabilizer bar up front, and heavy duty multi-leaf springs with bias mounted gas shock in the rear. Brakes are power assisted vented discs up front and drums out back, with ABS and Brake Assist. Steering is power assisted rack and pinion.
The Tundra obviously rides like a truck, and cuts a certain swath through traffic if you're used to smaller vehicles, but it's actually quite nice to drive, all things considered.
Inside is a cavernous office that could be a tad more refined in such ways as offering a more modern set of HVAC controls, steering wheel-mounted audio buttons and the like, but which is perfectly serviceable.

The Comfy Chair...
And it's comfortable; the front captain's chairs are more supportive than some so-called friends I've known; the rear bench folds down to facilitate hauling stuff.
The AM/FM CD audio system is lacking everything except bass and overall volume (including tactile feel for the knobs) though, to be fair, an upgraded JBL system is optional.
Creature comforts include power windows and door locks and keyless entry, a big central storage compartment between the front seats that includes a flip forward clipboard-like device that would be great for attaching papers and like stuff to (for those who like taking notes while driving).
We had the biggest snowfall of the year while I was driving the Tundra and the truck handled it beautifully. My neighborhood never gets any snow removal, so when approaching Chez Moi I'd flip the Tundra into four wheel drive and be able to carry on almost as if nothing were wrong with the roads. I imagine that, with the vehicle's height and off road accoutrements, it would do a great job out in the boonies as well.
So while I'm a tad ambivalent about the TRD stuff (and never did figure out what Yamaha Edition meant), I'm quite impressed overall by the Tundra as a large 4x4 pickup truck. It's big and powerful and comfortable and flexible, just like such a vehicle should be.
Makes me curious to see what the all-new one will be like later this year.
The Tundra TRD Yamaha Edition sells for approximately $34,000.