Toyota Tundra – Civilized Brute Force
By Jim Bray
July 12, 2007

If the third time's the charm, Toyota's new Tundra full sized pickup is definitely a charming vehicle. If you think big trucks are charming.
I'm not a truck guy, except for the occasional time I need to haul something (I prefer hauling butt in a fast car), but if I had to buy a big pickup, it just might be this new Tundra – though I thought the last generation was a pretty skookum truck as well. But the marketplace and punditry decided that the last Tundra still wasn't enough for Toyota to play with the big boys in the full sized truck market.
And that was the company's second kick at the can. Their first "big truck", the T100, was met generally with yawns.

This "third time's the charm" model may have been Toyota's last chance to earn credibility in the last automotive market niche where North American (the so-called "Big Three") products still rule.
Have they done it? Not being a truck guy, I'd rather punt that question to the real truck guys, but it sure seems as if this is the real thing.
I got to try two models from Tundra's vast selection of configurations, the Double Cab Limited and the CrewMax SR5. Both came with the big 5.7 liter V8 and four wheel drive capability, but had different trim levels. I preferred the Double Cab Limited, but only because it stroked me with creature comforts, not because I thought it would do a better or more heavy duty job.
Either version (and probably the rest of the Tundra stable as well) is a fine vehicle that, in 4x4 livery like my testers', would probably climb Mount Everest during the day and take you to the opera in reasonable style in the evening (though some of the other patrons may look down their noses at you for showing up in a pickup truck – but to heck with them!).
The heart of the Tundra is its IForce 5.7 liter V8 (a 4.7 liter V8 is also available on most models), that cranks out 381 horsepower @ 5,600 rpm and 401 lb. ft. of torque @ 3,600 rpm. This high tech engine moves the big and heavy Tundra forward effortlessly – step on the gas and the power is there instantly.
The 5.7 is mated to a six speed automatic transmission with overdrive, lock up torque converter, transmission cooler, and automatic transmission fluid warmer. Shifts are very smooth and crisp, and my testers had a pretend manual mode that seemed superfluous but which worked well.
The smaller engine has to go through life with a five speed automatic.
Tundra's suspension is a double wishbone-type up front, with gas shock absorbers, coil springs and a stabilizer bar. The rear is reined in by heavy duty multi leaf springs, with bias mounted gas shock absorbers. Those front specs sound like sports car stuff and, while the laws of physics (especially inertia) indicate this is no sports car, the handling is surprisingly spry for a vehicle you could probably camp out in if push came to shove.
Oh, you never forget you're in a big pickup truck, not only from the high seating position but from the truck like feel to the driving experience. But that said, I've been bounced around and jarred a lot more in other pickups, even some smaller ones.  
Brakes are ventilated discs all around , with ABS, Electronic Brake Force Distribution (EBD), and Brake Assist (BA). Pedal feel is perfect, and the stopping power is awesome.
The most difficult thing I encountered was the very high step up: I pined for an escalator, though a grip handle inside the door opening helped a lot. And backing up could have been problematic, since it's hard to see immediately behind you, except that the Limited came with a rear view camera. The SR5 version, which was in "TRD Off-Road" trim, didn't have the camera, but it had sensors that holler a warning when you get close to an obstruction.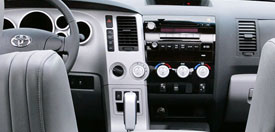 I usually prefer the sensors to the camera, which becomes useless in bright sunlight, but (perhaps because we had no sunlight during my week with the Limited!), I appreciated being able to see 'way back there in this instance.
The cabin is as comfortable as you'd expect from a modern SUV. The Limited came with leather buckets up front (the driver's is power adjustable), with bun warmers, and the Tundra's big rear bench folds down and reclines, is plenty big for two and probably more than adequate for three.
The seats are very comfortable and the driving position offers excellent visibility, with everything as close to hand as possible in a vehicle the size of a small town.  Steering feel from the power-assisted rack and pinion system, as felt through a nicely sized and positioned steering wheel, is also very good.
The steering wheel covers a couple of the least used gauges, but I didn't find this a problem. My Limited tester also had duplicate radio and cruise controls on the wheel, though the CrewMax didn't.
The Limited also features automatic, dual zone climate control and my tester's power-operated outside mirrors fold flat against the doors via a button on the dashboard. This was marvelous when parking, because it gives people more room to get around the huge beastie.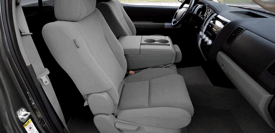 A digital display accompanies the Tundra's clean and straightforward analog gauges, giving info such as how far you can go on your existing fuel.
The center console is large enough, if not flat enough, to eat off of and features a huge storage bin you could probably smuggle people across the border in. Other storage areas crop up all over the place, including a couple of cute little ones in the arm rests on the front doors that can be used to hide your iPod or cell phone (depending on their size) when you're in the field. The passenger side features two glove compartments, one above the other.
The Limited also came with Bluetooth capability, voice recognition and a navigation system. The stereo is crankable to reasonable levels, but as the volume goes up it can get a bit shrill.
The TRD CrewMax had a huge sunroof and a wind blocker that raises and lowers depending on vehicle speed.
I took a quick trip in the back seat of the CrewMax and found it very roomy and comfortable except for one fly in the ointment: the shoulder belt would tighten up at the drop of a hat, trapping me so I couldn't move.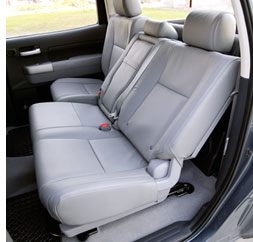 My CrewMax came with the extra wide outside mirrors meant for when you're towing a trailer. They stick out like Ross Perot's ears and don't fold flat. But they'd be perfect for slapping pedestrians as you pass, if you're prone to such activities.
I have no idea if this U.S.-built Tundra is going to make Toyota's reputation for big trucks as good as it is with small trucks and cars; only time will tell. But it certainly is a well thought out and built heavy duty beast, and that's undoubtedly what the company was trying to achieve.
The basic Tundra 4x2 Regular Cab with the 4.7 liter ending starts at about $22,900 U.S.  ($25,200 Canadian). The 4X4 Double Cab LTD  with the big 5.7 engine starts at about $39,600  U.S. ($47,700 Canadian) and the 4X4 CrewMax LTD 5.7 starts at about $44,700 U.S.     ($51,900 Canadian). You can option them up from there in a variety of ways.