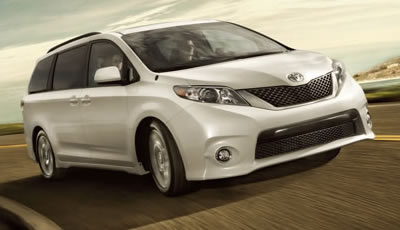 Toyota Sienna a New Standard in Minivans
By Jim Bray
May 5, 2010
Minivans may not be particularly sexy, but they can be pleasant and convenient if your automotive needs require space to haul people and their stuff.
So it is with the 2011 Sienna, a minivan Toyota is daring to call "Comfortable, Convenient and above all, Cool."
Cool isn't something I've ever though would apply to minivans, and I don't think it does here, either, but that doesn't prevent the new Sienna from being a heckuva minivan, with plenty of room for hauling most of the stuff a family could want. And it is truly comfortable and convenient as well. It's even pretty good to drive.
Sounds like a winner, if you're looking for a minivan.
The new generation Sienna is available with reclining ottoman seats like you'd get on a La-Z-Boy, a split screen entertainment system, and a choice of powertrain and drivetrain options. My test unit didn't have the ottoman, er, "ottoperson" seats or entertainment system, much to my chagrin, but it was equipped pretty well nonetheless, with a rear view backup camera, run flat tires (that eliminate needing to have a spare tire taking up valuable storage space), USB audio, satellite radio, three zone climate control and power sliding doors on the sides.
It's pretty good to drive, too.
The 2011 Sienna features a new exterior starting up front with a kind of Corolla-like grille with projector-beam halogen headlamps and a rump that looks adapted from the Venza. This family resemblance is fine, also reminding one of the classic, dependable nature of the little Corolla and the much newer Venza's excellent carrying capacity in its own right.
The base engine for the new Sienna is a 2.7 liter DOHC 16-valve dual VVT-i 4-cylinder thingy Toyota rates at 187 hp @ 5800 rpm and 186 lb.-ft. @ 4100 rpm. These figures are more than adequate in a car, but I'm not sure how rewarding they'd be if you have to shuttle a bunch of kids and equipment around, especially in hilly areas. On the other hand, other reviewers (not that they'd know anything!) have said the four banger is actually pretty good as long as you don't need to stuff the Sienna to the gunwales all the time.
Fortunately, my test unit featured Toyota's ubiquitous 3.5 liter DOHC 24-valve dual VVT-i V6, whose motivation in this incarnation (or should I say "In-van-nation"?) is rated at 266 hp @ 6200 rpm and 245 lb.-ft. @ 4700 rpm. Now that's more like it! This is a very good engine and a very nice match when coupled as it is to something the size and general shape of a garden shed.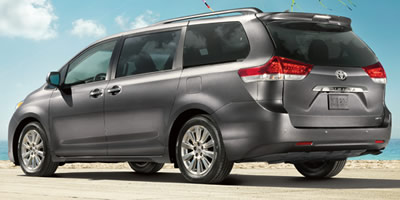 Siennas also come with a six speed Electronically Controlled automatic overdrive transmission with intelligence (ECT-i), and it even has manual shifting capability. Shifts are smooth and, though it may seem a little strange to have manual setting on a minivan, it came in very handy when going down hills; it would probably be great when the roads are less than clean and dry, too, though I had good weather during my test period.
You can also choose between front wheel drive and all wheel drive; my test vehicle had the latter and the system worked as well as necessary on dry roads. It would undoubtedly be a bonus in winter driving.
The Sienna dances the MacPherson Strut, up front at least, with gas-filled shock absorbers. Its fanny features a twist-beam suspension with coil springs (which magically become sport-tuned on the SE model) and gas-filled shock absorbers. There are stabilizer bars front and rear.
The electric power steering offers a good feel, and the power-assisted ventilated four wheel disc brakes with Anti-lock Brake System (ABS), Electronic Brake-force Distribution (EBD), and Brake Assist stop the vehicle well, with good pedal feel. The aluminum alloy wheels are 18 inches in diameter.
All of this contributes to a vehicle I would still hesitate to call sporty, but which is darn nice for a minivan. It's also very quiet.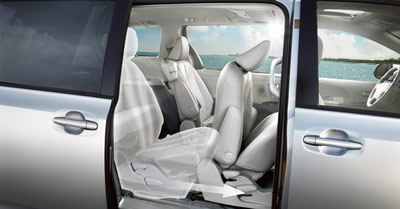 One of the coolest things – if there can be cool things about a minivan – is the way the second row of seats moves out of the way for those times you want to stuff the interior with stuff. They don't fold into the floor or come out (the latter of which would be a real pain in the butt anyway), but instead they slide forward and backward – backward so far you have room for an ottoman on which to rest your feet (if so equipped – with the ottoman, not feet!) and forward until they tuck right up against the rear of the front seats, virtually out of the way so you can load, carry and unload your valuables easily.
The 60/40 splitting rear bench flips down into the floor, and it's a process that's so easy even I could do it. And once they're stowed, you have a huge expanse of flat floor, enough that you could probably use the Sienna as a delivery van if you wanted to. Heck, you could probably hang sides of beef in it.
The interior design reminds me of the Venza, and is attractive and interesting, with good quality of materials. There's plenty of storage space, not surprisingly, including a couple of glove compartments, big pockets in the doors, about a thousand cup holders and a storage box between the front seats.
The driving position is good, thanks to a comfortable and, in my tester, powered driver's seat coupled with a tilt/telescoping steering wheel. Controls are legible and well laid out.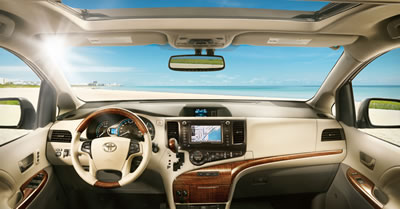 The center stack is topped by a 3.5-inch LCD Multi-Information Display you can customize to show a clock, outside temperature gauge, Eco Driving Indicator Zone display (so you can feel guilty every time you floor the gas pedal), open door indicator and more. There's also a backup camera.
My tester had an upgraded audio system, but it wasn't upgraded enough for my liking. Sound quality is pretty good, but it really needs a better amp with more oomph, though that may also require better speakers, too. That said, it's equipped well, with USB and auxiliary inputs for your MP3 player, and satellite radio was up and running in my test van, which is always a bonus.  
Another nice touch is Bluetooth compatibility, not only for your cell phone but for your music player, too, if it's so equipped. Mine isn't, so I'll have to assume it works as advertised. The Bluetooth works fine for the phone, though I find Toyota's voice interface a tad clunky. They aren't the only ones, though; voice recognition and command is still very much a work in progress.
You can upgrade to a JBL audio system as well as add touch screen navigation and a rear seat entertainment system. The latter comes with a pretty big screen, the image on which can be split into two so one of the ankle biters can watch a movie while the other plays a game.
Or you could just tranquilize them.
You also get power windows (which auto up and down, and the middle passenger windows have manually deployed sunshades), cruise control, air conditioning and the like.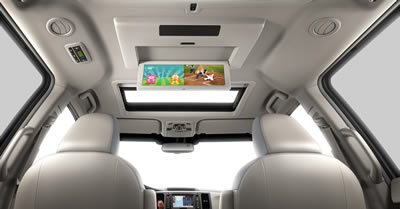 Safety equipment includes stability control, traction control, a bounteous selection of airbags, etc. You can order front and rear sonar parking aids.
The 2011 Toyota Sienna is still a minivan, and therefore not the stuff of which a car enthusiast's dreams are made. But it's a darn nice minivan and there are compelling reasons why someone would want such a vehicle. If that includes you, check out this new one; it's one of, if not, the best available right now.
The Sienna starts at $24,260 U.S./$27,900 Canadian for the base four cylinder model. The V6 with all wheel drive starts at $31,130 U.S./$35,350 Canadian. That's a lot of vehicle for the money.
Copyright 2010 Jim Bray