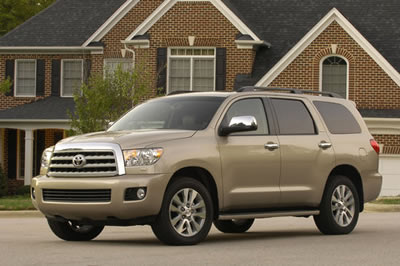 Toyota Sequoia - Surprisingly Capable and Civilized Brute
By Jim Bray
June 29, 2008
Talk about a vehicle with an appropriate name!
Toyota's Sequoia is an immense motor vehicle, a "full sized SUV" that seems about the mass of an Airbus A380, it's large enough to haul a family of eight and a lot of their stuff. It also makes a heckuva statement on the road.  
I must disclose right up front that I have a bit of a bias against such vehicular behemoths. It isn't that I don't think people should be allowed them. Gosh, no! If it serves your purpose and you can afford it (and the gas!) then it's none of my business. But, as someone who's 5'7" on a good day, I've always felt that if I need to take a running jump or bring along a block and tackle just to get inside a particular vehicle, then it's too big for me. Sequoia fits that bill.
Fortunately, my test Sequoia  had running board-type things that made getting in and out possible without assistance.
And you know what? Despite its "treemendous" girth, the Sequoia is a heckuva fine ride that will undoubtedly serve those at whom it's aimed extremely well. I ended up liking it a lot.
The big SUV shares much with Toyota's current generation Tundra pickup truck, including the available 5.7 liter V8 and six speed automatic transmissions my test unit sported. You can equip it with the less robust 4.7 liter V8 and five speed auto but the bigger iForce V8 is a beautiful match. Its "up to" 381 horsepower @ 5,600 rpm and 401 lb-ft of torque @ 3,600 rpm offer effortless pickup that, combined with its independent double-wishbone suspension and accompanying accoutrements like gas shock absorbers, coil springs and, on the Limited trim level of my test unit, a load leveling air suspension, makes the Sequoia feel like a smaller vehicle to drive.
Okay, that's a bit of an exaggeration. Thanks to such pesky realities as Newton's First Law of Motion, the Sequoia never feels small (especially when you park it!) but its road manners are truly impressive for something the size of a cruise liner. It drives really nicely.
I liked the Sequoia's steering feel; the wheel turns effortlessly and the vehicle goes where you point it with no fuss. The turning circle is impressive, too, tight enough to make a 90 degree turn onto a crossing street without having to stray into the second lane. Toyota says the rack and pinion power steering adjusts for driving conditions, and delivers "optimal steering force and feel". Sounds about right.
The six speed automatic transmission even features a manual mode that comes in handy on off ramps and when you're going down hills. I'd hesitate to call it a "sport mode", but it was surprisingly capable and enjoyable.
All Sequoias come with one-touch four-wheel drive (4WD), Vehicle Stability Control and Active Traction Control. A free-wheel Automatic Disconnecting Differential mechanism contributes to better fuel efficiency when you're in 2WD mode. I only tried the 4WD mode briefly during my week of mostly urban driving, but have no reason to think the Sequoia won't offer the same prodigious off-road capabilities for which Toyota 's 4x4's are known.
Stopping the Sequoia are power-assisted four wheel disc brakes with ABS, Electronic Brake Force Distribution and Brake Assist technologies. Pedal feel is just right and I got the impression that if I'd really hammered it the vehicle would have stood on its nose.
That would have been quite a sight!
Once you haul yourself inside the Sequoia, you're in a very comfortable and well-equipped cabin. My Sequoia Limited (I wonder if that's a reference to its trim level or its general appeal in a time of high gas prices) featured a JBL Synthesis Premium Audio system with Bluetooth capability, four-channel amplifier, 14 speakers and steering wheel-mounted audio controls and I was surprised to find that it's a very good audio system, with much better sound than I expected. It's a tad bassy, but that's easy to adjust out.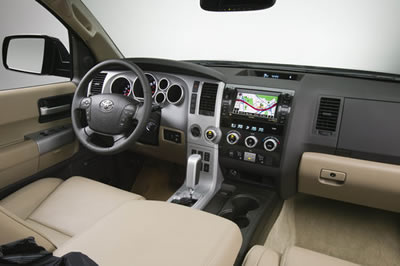 The driver's seat offers 10 way power adjustments, though my legs are just too darn short for me to have found the perfect driving position, despite the tilt/telescoping steering wheel. The middle row is comfortable and supportive, and even the rear seats (which feature power up/down control from either inside the rear doors or inside the power-operated tailgate) are surprisingly capable.  
Fold down the second and/or third rows and you open up plenty of cargo space. It swallowed up a 4x8 foot garden lattice we stuffed into it, though it couldn't lie flat.
The A pillars are quite large and that can lead to some blind spots up front/side. I had a problem seeing a big pickup truck 90 degrees to my right at a four way intersection, which was kind of freaky. The big outside mirrors are placed well, though, and have duplicate turn signals built in.
Toyota has mounted big grab handles on the A and B pillars and they came in really handy when I was hauling myself into the Sequoia - and for holding on for dear life once you're in.
The automatic HVAC features three zones (two up front and one for the rear), all of which have their own controls - including redundant controls on the steering wheel.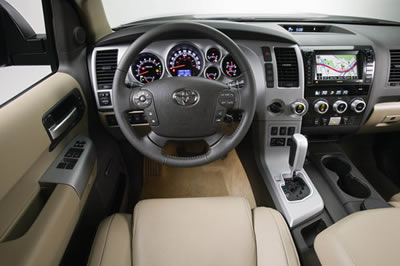 If that isn't enough to keep you comfortable, there are manually-deployed sun shades on all four middle/rear windows.  You can also open and close the rear window from up front, which could come in handy if you've eaten chili recently.
My test unit also had a pretty generous sunroof, though the controls (one for slide and one for tilt) are a little hard to find; they're mounted pretty well flat into and colored the same as the headliner.
Both front windows feature one touch up/down control.
Storage areas abound, from cup holders to little bins all over the place.
All Sequoias come with clearance and back-up sensors (which is handy when your vehicle's butt seems about a mile and half behind you!); the Platinum trim level adds a standard back-up camera.
Safety equipment features six air bags, including dual-stage air bags for the driver and front passenger, front seat side-mounted air bags, and roll-sensing front and rear side curtain air bags. All seating positions are treated to three point lap and shoulder belts; the front ones also get pre-tensioners and force limiters and adjustable B-pillar anchors.
Thanks to my aversion to vehicles that approach the size of my house, I wasn't really looking forward to reviewing the Sequoia.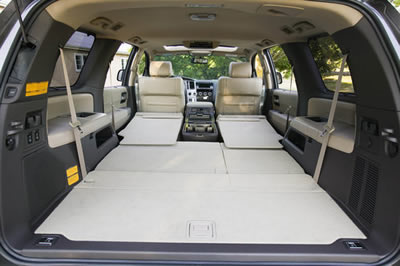 Despite that, I came away with a healthy respect for the vehicle. Sure it's big, and some may consider that a bad thing. But it's very capable and surprisingly nice to drive, which means that people who need - or who simply want - a vehicle such as this will undoubtedly find the Sequoia an excellent choice.
The Toyota Sequoia starts at $34,150 U.S./ $44,675 Canadian. The "Limited" trim level I drove starts at $45,225 U.S./ $54,200 Canadian, and the top line Platinum version starts at $52,375 U.S/ $59,900 Canadian.
Copyright 2008 Jim Bray