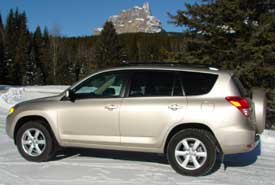 Reborn RAV Reaps Raves
By Jim Bray
One of the cutest of the cute utes has been reborn, not quite as cute, and a little more of a brute, but still all "ute".
The new version of Toyota's popular RAV4 looks as if it has been on a work out regimen that has left it larger and more muscular than before. And the bulk up hasn't only been on the outside; the not-so-little SUV is now available with V6 power that cranks out a healthy 269 horsepower.
Alas, my RAV4 Limited tester was the four banger, but that isn't much of an "alas." In fact, I've driven V6's that didn't have the oomph of this four cylinder. It's the nature of technological advancement that what was healthy V6 power a few years ago is now well ensconced in four banger territory – and V6's now put out what a V8 did a few years back. And isn't that great?
So it is with the RAV. Though I'd love to try the V6, during my week with the four cylinder power plant I never found it lacking in get up and go.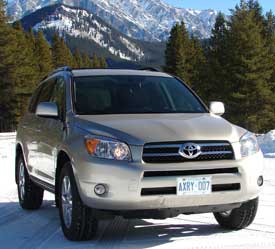 Toyota's web site describes the vehicle this way: "Power. Handling. Utility. Flexibility. Fuel economy. Whatever. No matter how you define performance the 2006 RAV4 will re-define it."
Well, there may be just a tad of hype here, which is understandable, but the bottom line for this SUV is that it's a terrific vehicle that's roomy and efficient and offers good value in a package you can live with easily day by day.
Models Galore
Available in base, Sport and Limited versions, the 2006 RAV4 looks a little like a tall Matrix, though to these eyes it's more attractive than the Matrix. It's more practical and flexible, too.
The double overhead cam four cylinder engine is rated at 166 horsepower @ 6000 rpm and 165 lb.-ft. of torque @ 4000 rpm. While I'd never snub the V6's 269/246 horsepower and torque combination, the four cylinder will serve owners well, while undoubtedly saving them a little gas money.
Two automatic transmissions are available: a four speed and a five speed. No manual is offered, unfortunately. My tester had the four speed and it worked fine, with smooth shifts for the most part – though sometimes when going from reverse to drive I notice a bit of a clunk. Not a big deal, though. And while it did hunt and peck a tad driving up hills while in cruise control, it never got close to the point of being annoying.
The new platform crams a bunch of new technology, including electronic power steering (which transmits good road feel despite the vehicle's tendency toward understeer), traction control, vehicle stability control, and Active Torque Control 4-Wheel Drive.
Regarding the latter, Toyota says an electronically controlled coupling at both differentials controls the torque split between front and rear wheels, allowing the vehicle to switch from FWD to 4WD at will, depending on driving conditions. The stability control integrates the functions of ABS, traction control system, and power steering resulting, according to Toyota, in "smoother, crisper running, turning and stopping performance."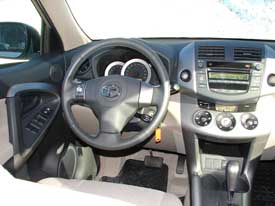 No arguments here. I took the RAV on a mountain jaunt that included bare and dry freeway and some very snowy parkways and the car was steady, stable and serene the whole time, a pleasure to drive even on the much-less-than-perfect roadways.
The suspension up front uses Macpherson struts, and the vehicle's buttocks are slung via a newly developed trailing type double wishbone-type configuration.
Brakes are vented discs up front, with non-vented discs out back. Naturally, there's ABS, power assisted electronic brake force distribution and brake assist. Brake feel is very good – not grabby and not spongy and the ABS stays in the background until it's really needed.
Inside Story...
Inside, the driver and passengers are treated to a comfortable and roomy ride. The front buckets are comfortable and supportive and the driver's seat didn't make me feel as if I were going to be spilled against the door when cornering, which some SUV's or trucks do.
Overall ride comfort is very good, quite carlike even though you sit quite high. It's well balanced, and the suspension is soft without being too cushy. And as mentioned, the RAV4 is great in the snow!
The view outside is excellent, with plenty of greenhouse and outside mirrors that are large enough to use but placed so they don't block your view forward. Controls are straightforward and have a good, solid feel of quality. My tester included the eight way power driver's seat, though it was finished in cloth and offered no bun warmers.
The rear seats (a.k.a. the middle seats if you get the optional third row my tester didn't have) are surprisingly comfortable, with a tilting back; they also slide to create more legroom. And the seat splits and folds flat to help create a generous amount of hauling space.
Standard interior features that are new to this generation of RAV4 include easy to read Optitron gauges, cruise control, remote keyless entry; 10 cup holders (for the heavy drinkers in your life), power windows and door locks, and three 12-volt auxiliary power outlets.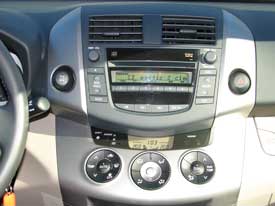 The Limited ups the already-well-equipped RAV4 ante by adding such touches as an eight way powered driver's seat, and upgraded audio system with six speakers. It also includes dual zone automatic climate control with an interesting and easy to fathom circular control motif and, if you opt for the V6 version, you can get that third row seat and heated leather front seats as well as front seat side and curtain airbags.
If my tester had the upgraded audio system, which it supposedly did, I'd hate to see the garden variety one. The ergonomics of the 6 disc CD changer/AM/FM stereo are fine, and I was pleased to see that if offers MP3 and Windows Media file playback, but as is so typical of many Toyota stereos I've tried it's comparatively muddy when it comes to the actual sound quality.
Storage spaces abound, including a nifty double glove box. The hand grip/door handle design is kind of weird looking, but it works fine. Ingress and egress is very good.
Another place besides the stereo in which the RAV4, like some other vehicles, falls down is in its LCD displays. In this case, the HVAC display washes out in sunlight and is very hard to read when you're wearing sunglasses.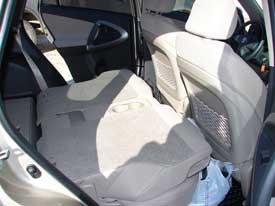 On the upside, the windshield wipers/washers do a good job and the spray pattern coverage is very good.
The rear hatch opens to the side, as opposed to upward. This is okay, but I imagine it could be rather a pain if you're parallel parked on the right hand side of the road and want to load something into the rear; the hatch opens toward the curb, blocking your way.
Safety equipment includes dual stage driver and passenger airbags. All seating positions get three point lap and shoulder belts; the fronts also have seatbelt pretensioners (for pretentious passengers) and force limiters. Toyota says the V6 Limited can be ordered with driver and front passenger front seat-mounted airbags, a driver's knee airbag and second row roll-sensing side curtain airbags.
RAV4 Limited starts at $32,595 Canadian/ $22,555 US. Base model starts at $28,700 Canadian/$20,300 US.