Hybrid Highlander Flings Gas Pumps Away
By Jim Bray
January 25, 2008
Toyota's revamped 2008 Highlander is a nice "crossover," kind of like a stretched RAV4. It's comfortable, well-built and with plenty of features. But it's also quite big, with three rows of seating available and plenty of room for hauling your stuff.
Having a comparatively large size usually affects a vehicle's gas mileage adversely, though. But as with the last Highlander generation, Toyota has introduced a hybrid version designed to let you exploit the best of both "functional and efficiency" worlds.
I spent about a week with the 2008 Highlander Hybrid and, unlike my usual hybrid routine where I drive normally and hope for the best gas mileage (never expecting it and never achieving it), I entered this test in the spirit of the vehicle and drove it as gently as I could, trying to squeeze out that last gasp of gas mileage.
I thought it would kill me, especially when I got my doors blown off by bicyclists.
That's one of the drawbacks to a hybrid: if you want the gas mileage, you have to change your driving habits (unless you already drive like you're asleep), pulling away from stop lights and intersections slowly and pressing the gas pedal so gently it's almost as if you're trying not to break an egg placed between it and the floor. In short, you have to be smooth, smooth, smooth and gentle, gentle, gentle. It's boring, boring, boring! But it does save you some gas.
You don't have to drive that way, of course. Most of the hybrids I've driven recently can haul buttock quite nicely, thank you - at least when compared to their gas engine-equipped counterparts. This means that a Honda Civic hybrid will keep up with a gas Civic pretty well, but neither will blow the doors off a Mazdaspeed 3. And the Lexus GS hybrid can accelerate as if it's been shot from an aircraft carrier's catapult. Think of the hybrid as being like a benign little turbocharger and you get the idea.
But you aren't going to save much at the gas pump if you drive that way.
So I drove the Highlander hybrid as if I were a little old lady of my acquaintance, except that I didn't hunch over the steering wheel with my eyes about four inches from the windshield.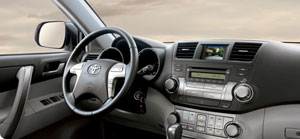 I survived, and at the end of the test I had achieved pretty good mileage for a largish SUV, er, crossover.
The best mileage will be achieved if you use the vehicle's "Economy" setting, which seems to turn the 3.3 liter V6 into a eunuch. I guess that's the point.
One thing that immediately indicates you're driving a hybrid is the lack of a tachometer on the instrument panel, replaced in this instance by what appears to be a "smugometer" whose function isn't exactly clear but which makes you feel really good about it. Toyota says it's a kilowatt power meter.
Hybrids are usually very quiet, especially when you first fire them up or are stopped at an intersection. The Highlander was no different; in fact, it was whisper quiet all the time, with very little wind and road noise adding to the minimal engine and mechanical noise. About the only sound came from the heating fan, and of course the stereo.
The Highlander hybrid's 3.3-litre V6 engine is coupled to front and rear high output electric motors that, together, produce up to 270 horsepower and 212 lb-ft of torque. This is plenty - though you'll never use all those ponies if you're of the gas saving mindset.
The power gets to all four wheels via an electronically controlled continuously variable transmission that's ultra smooth.  Upgraded front and rear suspensions feature Macpherson gas struts and the speed-sensitive, rack and pinion electric power steering is said to be cleaner while still delivering improved cornering performance and a flatter ride for more sedan-like control.
Perhaps, but this is no sedan. You'll never forget you're in a, er, crossover, if only because of the high seating position. And there's nothing wrong with that.
Highlander hybrids feature Toyota's Vehicle Dynamics Integrated Management (VDIM) system and Traction Control (TRAC) to help the vehicle handle in a less barge-like manner (and it works). You get disc brakes all around, with an Integrated Regenerative Braking System that captures energy and uses it to recharge the battery pack. And of course there's ABS, Electronic Brake Force Distribution (EBD) and Brake Assist (BA).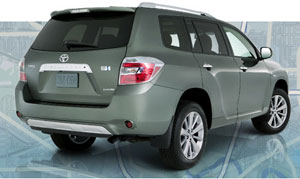 You don't give up a lot to live with the hybrid (other than some driving joie de vivre). My test unit seated five adults reasonably comfortably once the second row captain's chairs were converted into a bench (thanks to the cool little insert that stores under the center console up front), though the center seat is best suited for people with three buttocks.
Standard equipment includes cruise control, an AM/FM/CD MP3/WMA audio system that's reasonable (and has an audio auxiliary input jack), air conditioning, power windows with driver and front passenger auto up/down, Push Button Start and power door locks with Toyota's Smart Key System.
Toyota's smart key system needs a brain boost, though. I found it quite frustrating at times because sometimes I'd walk up to the vehicle and it wouldn't unlock, so I'd have to walk away again and the come back again to make it work (since I was far too stubborn to take out the key fob and press its button). I love these systems, but this isn't the best example of the species.
  A nice touch is the multi-information display (with outside temperature gauge) and back-up camera with 3.5" LCD display that doesn't force you to buy a navigation system to get it.
There's also power remote heated exterior mirrors, 17 inch aluminum alloy wheels, a full size spare tire, accessory power outlets and retained accessory power, cargo tie-down rings and shopping bag hooks.
Safety equipment includes seven airbags (including dual-stage airbags up front) and roll-sensing curtain shield airbags.
Naturally, the hybrid has the other benefits of the regular Highlander, including a terrific greenhouse, comfortable interior and plenty of hauling space.
So how was my mileage? Over the week and a bit of my test, I averaged 23.1 MPG (10.2  liter/100 km) in city driving - often with five people on board. My best mileage was 30.2 (7.8 l/100 km) in one solo session on rural roads.  Toyota's U.S. website claims mileage of 27/25/26 (city/highway/combined) and its Canadian site claims 7.4 and 8.0 l/100 km, so I fell short of the "official" figures, even though I did my best.
Just goes to show how much you should trust the official ratings.
The Toyota Highlander hybrid starts at $33,700 U.S./$42,825.00 Canadian. The Limited trim level starts at $39,950 U.S./$55,975.00 Canadian.
Copyright 2008 Jim Bray