Toyota Corolla CE, a Boffo Basic Bus
By Jim Bray
It may be long in the tooth for its model cycle, but Toyota's venerable Corolla is still a great little car that'll probably run forever.
I haven't driven a new Corolla in ages, but I'm very familiar with Toyota's little classic. My family has owned Corollas since 1984, and my wife and I have had two during that time, a 1985 (the first front wheel drive generation) and a 1992 LSX model we still own and drive today.
So I was very interested to see how the car has evolved, especially since I had recently spent time in the Mazda 3, a wonderful little sedan that goes head to head with the Corolla. Could Toyota's ageless sedan match up against Mazda's "zoom zoom" reputation?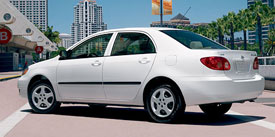 Well, no. But there's more to it than "zoom zoom." First of all, my test Corolla was a low end CE trim model shackled with an automatic transmission, whereas my test 3 sedan featured a five speed stick and was about as loaded as it could get. And the cars feel completely different. Mazda really does add zip to the task of day to day driving, while Toyota seems happy to concentrate on providing a more basic ride that may not be as much fun, but which is bulletproof and will probably run until the sun goes nova.
It's kind of like the difference between a pair of fancy runners and a pair of comfy slippers: both have legitimate appeal, just in different ways.
The Corolla has matured over the years, growing up in a market that has grown with it. So where our '92 Corolla was near the top of the line for that generation, the near bottom 2007 CE I tested comes with everything that car had except variable intermittent windshield wipers (they're "merely" intermittent).
And it adds such niceties as power windows, an AM/FM/CD stereo and all the other evolutionary changes that cars have seen over the past decade and a half, from more refinement and increased horsepower and gas mileage to all the safety stuff to which we've become accustomed.
Though it's due for replacement soon, possibly next year, this is still a Corolla that would be easy to live with for the long term. It's built solidly, with doors that close with a nice "thunk" (though the trunk lid feels a tad thin), is comfortable and roomy, with a terrific greenhouse that lets you see all around you, and it doesn't guzzle a lot of gas.
Motivating the current Corolla is a 1.8 liter, double overhead cam four cylinder engine with intelligent variable valve timing. Toyota says it produces 126 horsepower @ 6,000 rpm and 122 lb. ft of torque @ 4,200. This doesn't sound like a lot, and it isn't when you look at some of the competition (my recent Mazda 3 tester sported 156/150 horses/torque) – but even saddled with the four speed slushbox this Corolla would run rings around our '92 with its five speed stick. So everything's relative.
And the engine is quiet and fuss-free – which is a good way to describe the entire driving experience. The new Corolla isolates you from the road much better than before, whether it's just less road noise or a smoother suspension that doesn't rattle you as much as its great-grandfather model did. Such is to be expected, of course, from a car company that wishes to remain profitable.
Two transmissions are available: a 5 speed stick and the four speed automatic of my tester. The slushbox shifts well, but (perhaps not surprisingly) there's no "sport" mode so if you're looking for any kind of driving enjoyment you'd best opt for the manual.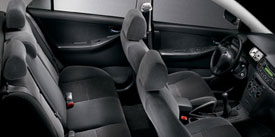 Handling is very good for this type of car. Our old Corolla has always felt really loose; turn its steering wheel hard and it'll deign to activate its rudder eventually and reluctantly. But the '07 is entirely different. The power-assisted rack and pinion steering is tight and efficient and the car goes where you point it, within the parameters of an economy sedan.
The suspension features MacPherson Struts and an anti-roll bar up front with a twist-beam and anti-roll bar buttock; the ride is comfortable without being flaccid, but also without sporting pretensions.
Brakes on the CE are discs up front with rear drums. My tester had no ABS, but the stopping power is adequate for a light car such as this. Higher models can be had with four discs, ABS and electronic brake force distribution.
Inside, the seats are comfortable and supportive and the driving position is good. You don't get a lot of side bolstering in the CE trim level, but you probably aren't going to want to wind it out on the twisty bits anyway. Toyota hints that there's a "timeless quality" to the interior, and that's probably not too far off the mark – though they do include a clock (so it can't be completely timeless!). It's "generic car" through and through, but everything is where it should be and the quality of the materials is such that it makes our old Corolla look like it came off a Model T assembly line.
The instrumentation is analog and clear, and the tilt steering wheel helps the driver find a comfy position. The AM/FM/CD stereo features text capability and four speakers; it's mounted a tad high on the center stack, making for a bit of a long reach (and my tester had no steering wheel-mounted audio controls) and there's no tactile feel for the knobs whatsoever. But it's easy to use.
Alas, its weak point is its audio quality. You can get an upgraded stereo with other trim levels, so if sound is important to you the CE may not be your ear bleedin' special.
Like what you see here? Shop at TechnoFile's TechnoMart!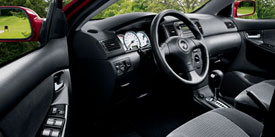 Convenience items include cup holders front and rear, accessory power outlets and map pockets in the doors. The trunk lid offers a decent opening to a generous storage area that can be enhanced by the 60/40 split/folding rear seats.
My tester also came with the optional, manually-controlled air conditioning, door locks that lock automatically when you shift the transmission out of "Park," keyless entry and cruise control.
Safety equipment includes dual stage airbags up front, front seat-mounted side impact airbags and front and rear side curtain airbags. Safety equipment in my '92 included roll down windows through which you could, hopefully, escape.
Corolla has earned its reputation as a dependable family sedan and this generation is only cementing that in people's minds. It should be interesting to see what the next generation brings, but if you can't wait until then, you can't go too far wrong with this current Corolla. It may not stir the driving senses, but it's definitely that comfy pair of slippers it's so easy to love.
If the CE's a tad too bland for you, there's also the LE, which adds such stuff as fog lamps, upgraded stereo, standard power door locks, aluminium alloy wheels, keyless entry, variable intermittent wipers, cruise control, ABS brakes with electronic brake force distribution (EBD). If that isn't enough yet, the Sport adds a spoiler and skirts, aluminium alloy wheels, fog lamps and more. Notice there's no mention of upgraded engines or suspensions, however, which means that Sport in this case actually means "sport."
The 2007 Toyota Corolla CE starts at $14,205 U.S./$15,785 Canadian. The top line trim levels start at about $15,415 U.S./$21,900 Canadian.