Toyota Camry LE - Vanilla is Back in Fashion
By Jim Bray
May 7, 2007
It has a spiffy new look inside and out, and will probably run forever. For what more could anyone ask?
More excitement, perhaps?
The 2007 Toyota Camry LE, the four cylinder version of which I got to live with for a week, is a fine car, well built and unpretentious. And very vanilla.
I called the last generation Camry "vanilla" when I drove it, meaning that the "world's most generic flavor" is unthreatening and ubiquitous, a fixture in kitchens where it fits in beautifully in any number of applications. Alas, I'm a butterscotch kind of guy and that put me at odds with the Camry, even in its new, nicely tailored suit of clothes.
It isn't that I didn't like the car. It's a great car, very attractive this time around and extremely well built. And being a Toyota, it's undoubtedly as dependable and comfortable as an old pair of blue jeans. But it's "personality challenged".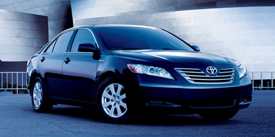 On the other hand, so far as the new Camry's appearance goes it's a home run, with an attractive new exterior and an interior that's comfortable, well laid out and reasonably well-equipped. If it doesn't stir the car nut's juices that's because it isn't designed to: it's meant to give pleasant, reliable and efficient transportation for many years, a task at which it will undoubtedly excel.
And that's exactly what I got during my week with an eye-catching "Barcelona Red Metallic" Camry LE. I chuckled at its ride, which (to quote a phrase some car magazine directed at a big North American luxury car many years ago,) "nodded agreeably" when encountering frost heaves and tilted like the S.S. Poseidon in tight curves. And while I pined for the optional V6, at the same time I was impressed with just how competent the standard four banger really was for driving in the real world of my big city home.
And while doing all that whining and expressing all that angst, I was seated comfortably in a roomy and unpretentious cabin in which everything was close at hand and easy to figure out. Oh, sure, the stereo is weak when compared with many others, but it's surely good enough for all but audio snobs like, well, the writer of this piece – who whines when a car doesn't play the DVD-Audio discs that, when push comes to shove, are about as common as logic at a green rally.
So while purists, audio snobs, and those with lead feet aren't going to be taken to heights of auto-eroticism with the Camry, Toyota and the legions of Camry fans aren't going to care a whit. What has always been a credible, mainstream front wheel drive vehicle is, in its new incarnation, a very good car that should more than satisfy anyone whose expectation from a car is that it deliver dependable performance and reasonable economy over the long term. And, being a Toyota, that long term will probably be loooooong.
My test Camry LE came with the basic 2.4 liter, fuel injected, 16 valve, DOHC four cylinder engine with intelligent variable valve timing that oozes 158 hp @ 6000 rpm and 161 lb.-ft. of torque @ 4000 rpm. While not earth shattering, it's competitive.
It's also very smooth and economical; I was quite satisfied with the Camry's comparative lack of thirst in my week of mostly urban driving. Fuel economy depends upon how you drive, of course and I never come close to the published figures, thanks to having been born with a lead foot. But I thought my test car's fuel consumption for the week was more than acceptable. If miles per gallon is your Holy Grail, you can also opt for the Camry hybrid, which is also a very nice vehicle.
My tester also came with a 5-speed electronically controlled automatic overdrive transmission with intelligence (ECT-i), which shifted fine.
The 2007 Camry features a Macpherson gas strut suspension, with coil springs and a stabilizer bar up front and an independent suspension featuring dual links, coil springs and a stabilizer bar at the rear. Those are pretty good parts, but from the soft manner in which it's tuned you'd never know it. Still, it's enough that you aren't likely to flip it over on the first off ramp.
Brakes are discs all around, which was a pleasant surprise, with ABS, electronic brake force distribution and brake assist. Brake feel is good, not too mushy or grabby. Steering is variable assist powered rack and pinion and it's about as tight and rewarding as the suspension.
The 16 inch wheels come with all season tires and "wheel covers" (similar to what your grandfather called hub caps) that show you didn't spend any extra for a nice set of alloys. On the other hand, since my wife makes fun of me every time I remark about a nice set of rims on a car, it appears that, once again, Toyota is catering to an audience other than yours truly.
Damn them!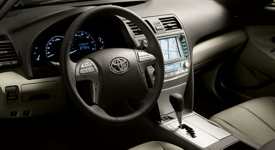 The Inside Story
Inside, the Camry is a very nice place to be. The tilt/telescoping steering wheel (with audio and climate controls mounted on it) and manual driver's seat adjustments let you achieve a good driving position, and the analog dials are easy to read. The cloth seats are comfortable – and more supportive than some bosses I've worked for. The rear seat is roomy and splits/folds down so you can toss the kids into the trunk if they're getting on your nerves during a long trip.
The instrument panel is analog where it counts (speedo, tacho, etc.), and is clear and attractive. The center stack holds an easy to use AM/FM CD player with MP3/WMA playback capability. It sounds okay.
My tester also included cruise control, power windows (with driver's side auto down) and door locks, and the usual stuff one comes to expect today, like cup holders and storage bins.

Safety equipment includes an abundance of the bags and belts that one also can expect on a modern car.
The four cylinder Camry LE starts at $19,925 U.S./$25,900 Canadian. You can option up the Camry quite a bit, from adding the 268 hp V6, a 6 speed automatic tranny and an abundance of other equipment and trim upgrades that can take the price north of $31,380 U.S./ $37,525 Canadian.