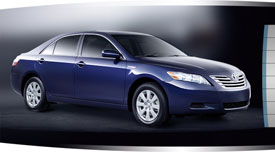 Toyota Camry Hybrid
By Jim Bray
What a difference a new version can make!
When I drove the last Toyota Camry, I referred to it as "vanilla," in that vanilla is extremely popular and a fixture in kitchens worldwide, where it performs beautifully in any number of applications. "But if someone asked you what flavor made you swoon," I said then, "Chances are it would be chocolate, peppermint or, my personal fave, butterscotch. So what we have with the Camry is analogous to that: it's a fine car, well designed and crafted and extremely well built. It's dependable and as comfortable as an old pair of shoes. But it doesn't stir the automotive taste buds."
Then along comes Toyota and unleashes this new version, with what's to these eyes a far more attractive exterior and a snazzy new interior that's comfortable, roomy and well-appointed. It still may not stir the automotive taste buds like a BMW sedan – or even its upmarket brothers from Lexus – but that isn't the Camry's mission.
And I'm delighted to see that the Camry has become an interesting car instead of just an excellent one.
Meet the new bus….
My test unit was the Camry hybrid, a gas/electric version featuring Toyota's "hybrid synergy drive" and powered by a SULEV (Super Ultra Low Emissions Vehicle) 2.4 liter, 16 valve DOHC four cylinder engine with intelligent variable valve timing that's mated to a permanent magnet synchronous electric motor. The whole shebang then sends its output to the front wheels via a continuously variable transmission that can make even the busiest person shiftless.
The result is a very nice car and while it still won't set the world on fire with its performance, should more than satisfy people who expect a car to deliver dependable performance and reasonable economy over the long term.
Fuel economy depends upon how you drive the car, not surprisingly. In this respect, hybrids are no different than gas-only cars except that, all other things being equal, a hybrid will generally return better mileage than a gas-only vehicle.
Toyota says the Camry hybrid's gas engine cranks, well, oozes out, 147 horsepower that, when combined with the electric motor, creates the equivalent to 187 horses. Compare this with the gas-only four-bangers of the Hyundai Sonata (162 horsepower) and Honda Accord (166) – and even the gas Camry's 158 – and you get the idea.
The new Camry features Macpherson gas strut suspension with coil springs and a stabilizer bar up front and a rump slung by an independent suspension featuring dual links, Macpherson struts, coil springs and a stabilizer bar.
Thankfully, the Camry sports an attractive new body that, while still exhibiting a bit of roly-polyness on the sides, is a quantum leap over the dumpy-looking previous generation. It's a very attractive sedan, kind of like a small and more athletic-looking Avalon.
The grille, with its metallic drooping schnoz pulling the hood down onto the front end, looks a little reminiscent of the Mercedes-Benz SLK's, except that the Camry's is far less "in your face" that that little sports car's. These are all subjective opinions, of course; yours may well be quite different than mine and that's fine; you're allowed to be wrong!
The 16 inch alloy wheels sport P215/60 all season tires and four wheel, power-assisted ventilated disc brakes with ABS, Electronic Brake Force Distribution and Brake Assist. Pedal feel is good, as is stopping performance – and when you ease off the gas and/or hit the binders, the hybrid captures some of the energy and sends it back to the car to recharge the battery pack.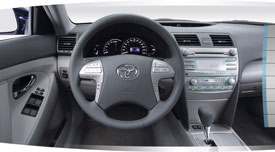 Interior Design…
Inside, the Camry is a very nice place to be. The hybrid's driver's seat offers eight way power adjustment (my tester also had leather and a four way power adjustable front passenger seat, and both front seats have bun warmers) and offers good comfort and support.
The instrument panel is clear and attractive and features a nifty, almost 3D-like display on which you can show the energy flow or instantaneous fuel economy. You also get a sound-dampening windshield, electric power steering (with a pretty good feel for a family car) connected to a tilting and telescoping steering wheel. There's also a dual zone electric air conditioner that continues to operate when the engine is turned off.
An interesting touch is the inclusion of Sharp Electronics' Plasmacluster technology, which gives both passive air filtration and active air treatment to clean the air inside the vehicle of pollen and other stuff you don't want taking up residence in your lungs.
The audio system is better than I've grown to expect from most Toyotas. It's a JBL Synthesis system featuring AM/FM and 6 disc CD changer with WMA and MP3 capability, an auxiliary audio device input and eight speakers. The knobs have as little tactile feel as I'm used to from Toyota (which means there's none), but the main controls are repeated on the steering wheel anyway, so the driver won't have to use them much.
My tester also included a power moon roof and lighted vanity mirrors up front, as well as rear seat reading lamps.
You also get most of the other creature comforts to which we're becoming accustomed, such as power windows (with driver's side auto down) and, to my pleasant surprise, that push button-operated engine start/stop, keyless entry system that lets you leave the key fob in your pocket or purse – a delightful feature.
Also surprising for a hybrid: the rear seat splits 60/40 and folds down, though the pass through is small – as is the trunk itself, thanks to the need for somewhere to put the battery pack.
But that's the only place where space is at a premium. Other than that, the five passenger interior is plenty roomy.
Driving the Camry may not be the most rewarding experience for a car nut, but its reasonable power makes it easy to keep up with traffic, including those dreaded acceleration ramps heading onto freeways, and the handling and steering feel is fine for what could be described as the quintessential "garden variety family sedan".
Safety equipment includes the expected plethora of bags and belts, and Toyota also throws in (well, their robots undoubtedly install carefully) front seat-mounted side-impact bags, front and rear side curtain airbags, and a driver's knee bag.
Toyota has even managed to hold down the price of the Camry hybrid. While the base gas Camry starts at $18,270 U.S./$25,800 Canadian, the hybrid kicks off at $25,900 U.S./$31,900 Canuck, though my tester included about $3,000 U.S. worth of options. This isn't a fair comparison, considering the high standard trim level of the hybrid, so if you use the "upmarket" four cylinder XLE ($24,425 U.S.) as a closer comparison, you can see that the famous hybrid premium is starting to go away.
Which is further evidence that hybrids have, indeed, arrived.