Suzuki Crafts a Nimble little Number
By Jim Bray
It may not be particularly Swift, but Suzuki's new SX4 is a cute little box that's cheap on gas, offers four wheel drive and is a pleasant, well decked out little car that would undoubtedly be easy to live with.
Supposedly designed to replace the roly-poly Aerio five door hatchback, the SX4 is (not surprisingly) a five door hatchback. It competes with such vehicles as the Honda Fit, Toyota Yaris, Dodge Caliber and the Nissan Versa, to name just a few.
Suzuki describes the SX4 as featuring a "bold attitude with performance." Perhaps, though that strikes me as a more apt description of a BMW 3 series or Lexus IS than what is for all intents and purposes an econobox. But the SX4 does feature sleek lines and smooth curves that are easy on the eyes if not exactly exuding boldness, and when I finished my week behind the wheel I was impressed with almost everything about it.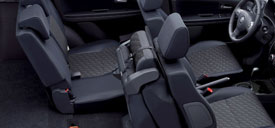 The first thing I noticed when I strapped myself into the driver's seat was its unbelievable headroom, at least for someone who's 5 feet 7 inches tall on a good day. The roof curves up, up and away, offering a roomy feel that made me feel as if I could wear a ten gallon hat inside the car, were I prone to such haberdashery.
And it isn't just headroom that's generous. The entire car looks and feels bigger than it is, perhaps partly because of a terrific greenhouse that includes a decently-sized "A pillar" windows between the windshield and the front side windows. They give you a nice view ahead of the side-mounted rear view mirrors, which will undoubtedly please pedestrians crossing in front of you. They also come in handy when you're cornering.
The interior looks richer than you might expect, with good quality materials and comfortable, supportive seats (even the back seats are quite comfortable, at least for two). The front seats are well bolstered to the sides for cornering and the reclining rear seat splits, folds and/or tumbles forward to reveal a big storage area inside the hatch.
Up front, the driver is faced by clean and attractive analog gauges and a tilt steering wheel with optional audio and cruise control buttons. Power windows with driver's side auto down are standard, as are power door locks.
The center stack holds the HVAC controls, an information display and the AM/FM/CD/MP3/WAV audio system that's also XM Satellite-ready. Audio quality is pretty good.
SX4 is motivated by a two liter, 16-valve, DOHC four cylinder engine Suzuki says cranks out (though perhaps "oozes" is more descriptive) 143 horses @ 5800 rpm and 136 lbs-ft of torque @ 3500 rpm.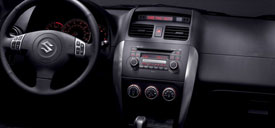 These specs surprised me, because its oomph felt less. In fact, my only real complaint about the SX4 is that it propels itself forward in quite a leisurely manner. It's adequate for an econobox, and it does get up to usable speed without a lot of fuss, but there's little joy in the way the SX4 ambles away from a red light.
Maybe it was because my tester was saddled with a four speed automatic transmission that offered as much fun as a root canal, with no "pretend manual" mode to add even a tad of enjoyment to what's your basic slushbox. I wouldn't be surprised if the standard five speed manual transmission would add some joy to the driving experience; such is often the case.
The base model in Canadian trim features front wheel drive and rear drum brakes (though ABS is standard), but you can move up to such extras as all wheel drive, discs all around (standard on the AWD versions), heated and power-operated outside mirrors, keyless entry, auto climate control and much more. U.S. models are only available with all wheel drive as of this writing.
The intelligent all wheel drive (i-AWD) system, which my tester also had, is a "three mode" type controlled by a switch on the center console, with "2wd", "AWD auto" and "lock", the latter of which is meant for the crummiest conditions and apparently shuts itself off automatically (returning to "auto" mode) when you reach about 35 mph.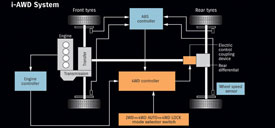 Add to the mix an independent MacPherson suspension up front with rear torsion beams and you have a nimble little critter that's comfortable in city driving or off roading. I'm not sure you'd want to drive it up the side of the Empire State building, but for normal conditions such as snow or mud, as well as moderate off roading, it should work well.
Steering is power-assisted rack and pinion and it connects the driver with the road well, not feeling sloppy or overboosted. Brake feel is also good.
Safety equipment includes six standard air bags including front passenger seat-mounted side sacs and side curtain bags for all outboard passengers. An electronic stability program is optional.
While disappointed in the lack of oomph through the SX4's automatic transmission, I liked the vehicle quite a lot other than that– and I was very impressed by its gas mileage. Suzuki says the SX4 is rated at 23/28 mpg city/highway according to the U.S. EPA, regardless of which model or transmission you choose.
That seems low, especially when you consider its Canadian rating of 32/44 miles per imperial gallon for the slushbox (which translates to 26.6/36 U.S. mpg). I rarely, if ever, achieve a vehicle's EPA estimate, thanks to being afflicted with "lead foot syndrome," yet my mileage in the SX4 was more representative of the Canuck rating. This leads me to think that even the Canadian rating may be low once you get into the real world.
The SX4 starts at just under $15,000 U.S./$16,000 Canadian and goes up to $19,000 U.S./$23,000 Canadian for a well-loaded AWD model, depending on the options you choose.
Seems like a pretty good deal for what you get.