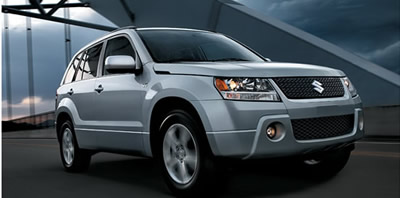 Suzuki Vitara a Grand SUV
By Jim Bray
December 13, 2008
Suzuki's new Grand Vitara could be the perfect SUV for many consumers looking for a vehicle in the "cute ute" class.
In fact, after spending about a week with it, I could find very little not to like about it, my chief beef being that the hatch opens to the passenger's side, which makes it difficult to access the hauling area if you're parallel parked or on a road side. That's annoyance for sure, but in the grand scheme of things it's pretty minor and, since it's also a flaw in such competitors as the Toyota Rav4, you can't blame Suzuki solely for this oversight.
Outside, the Grand Vitara is a modern design, attractive and aerodynamic-looking instead of just being a box on wheels. I like the exterior even better than the previous Grand Vitara I drove, a 2006 model I also thought acquitted itself more than adequately.
The vehicle features fog lamps that are integrated into the front bumpers, a solid cover for the spare tire that hangs off the tailgate, body-colored bumpers, mirrors and door handles and multi-reflector projector halogen head lamps (with that handy automatic feature that helps prevent you from driving along at night with only your front running lights on).
The exterior mirrors are heated (and powered, of course), and the GV comes standard with roof rails (except for the base model), variable intermittent windshield wipers up front (the rear wiper/washer system has a fixed intermittent time, which is still a lot better than nothing) and 17 or 18 inch aluminum alloy wheels, depending on the model (my test unit had wore 18 inchers). Suzuki also gives you a smart key system that lets you keep the fob in your pocket.
Motivating the base Grand Vitara is a 16 valve fuel injected four cylinder engine rated at 166 horses @ 6000 rpm and 162 lb. ft. of torque at 4200 rpm. My test unit featured the optional 3.2 liter V6 that cranks out a more than adequate 230 nags @ 6200 rpm and 213 lb. ft. @ 3500 revs. Power from this unit comes on strongly and is easily all you need from a vehicle in this class (not that I'd ever turn down more power!).
The V6 gets the power to the wheels thanks to a five speed automatic tranny that, while not the smoothest-shifting I've experienced, works well.
My test unit's all wheel drive system lets you choose from four modes, including high and low ranges, the latter for those times you just have to get out of that mud hole. It also also offered hill descent and hill hold control, for extra security when the landscape gets vertical.
Fortunately, I didn't go near any mud holes, spending my time with the Grand Vitara on bare and dry urban and rural roads, and I enjoyed the driving experience very much. This is no sports car, of course, but as a reasonably entry level SUV it's fine.
Handling is enhanced by a fully independent suspension with McPherson struts up front and multiple links out back. Steering is power-assisted rack and pinion, and it's direct and efficient, with a leather-wrapped steering wheel that feels good in the hands and which features cruise control and redundant audio buttons.
Stopping is accomplished by four wheel ventilated disc brakes with ABS. Pedal feel is good; you don't have to mash it to the floor, nor does the Grand Vitara stand on its nose at the first application of pressure onto the brake.
In all, the vehicle drives very well; it's nimble enough for most uses short of a race track, transmits just the right amount of road feel to the driver, and it has enough going power when you pull out to pass and stopping power when you need it, to inspire confidence.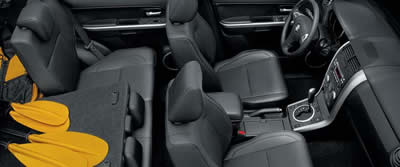 Inside, the cabin is a tad plain, but everything you need is there, and at hand readily. It's efficient, well laid out and easy to use – and isn't that just how it should be?
The seats up front are comfortable and heated and offer enough side support not to make you feel as if you're going to be thrown out of them when the cornering gets interesting. The driving position is fine, though it would have been better if the tilt steering wheel telescoped as well. Cup holders and assorted storage bins abound and the rear seat reclines and splits/folds 60/40 to enhance carrying capacity.
Instrumentation is analog and clear, with digital enhancement for stuff like the time, outside temperature, fuel consumption, etc. 
The stereo system is surprisingly good. My tester's featured an AM/FM six disc (CD/MP3/WMA) system with seven speakers including a subwoofer. It also has speed sensitive volume. One thing it didn't have is an MP3 player jack, so I had to play tunes from my portable SIRIUS satellite radio unit via its internal FM transmitter, which is a shame. Suzuki isn't unique in this, however.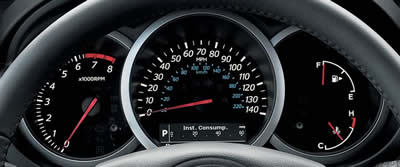 The audio system's display tended to disappear when I wore my polarized sunglasses, though the HVAC's still shone through. That HVAC system includes automatic climate control with a micron air filter.
Power amenities abound as well, including door locks and windows. Only the driver's window features one touch down, and none come back up that way, which is too bad. My test unit also had a power tilt/open sunroof.
Safety stuff includes three point belts for all five seating positions, dual front and front seat-mounted side airbags, and side curtain airbags.
I went into this review assuming that I'd like the Suzuki Grand Vitara, since I had enjoyed driving the previous version. But this one is better that the last one; it comes off as more refined, better thought out, and superior all around. If you're looking for a small SUV in this class, the Grand Vitara deserves a test drive.
The Suzuki Grand Vitara V6 starts at about $23,000 U.S./$31,700 Canadian.
Copyright 2008 Jim Bray
TechnoFile.com