2008 Subaru Tribeca Gets Rhinoplasty, Refinement
By Jim Bray
I guess maybe the original Tribeca wasn't as "B9" as Subaru had hoped.
That's because for 2008, Subaru's nifty Tribeca is no longer called the "B9 Tribeca", at least according to its badging and the company's U.S. website. But that's okay. That double name was confusing to start with, and it just so happens that the welcome move to simplicity is also reflected in more than the vehicle's moniker: the Tribeca's formerly strange front end has been simplified as well.
The new schnoz is the first thing you'll notice about the 2008 Tribeca (assuming you approach it from the front!). Gone is the weird, supposedly aviation-inspired triple grille, replaced by one that looks decidedly Chrysler Pacifia-ish. It's a little bland compared to the older grille (proving that you just can't please some people), but it works.
There are new headlamps, taillights, rear spoiler and liftgate this year, too, as well as a redesigned rear quarter and rear quarter windows. The taillights look a tad larger than the more B9 ones from last year's model, and the headlamps are more horizontal than the previous triangular-ish ones. Other than the grille and maybe the more squarish rear quarter windows, the differences are subtle but effective and make the Tribeca a little nicer on the eyes. Not that it was an ogre before….
The interior retains Tribeca's "dual cockpit" design, which is cozy, high tech and efficient at the same time – though I did find the centrally mounted touch screen LCD a long reach away and that's annoying if only because of the damn "lawyer's screen" you have to click through before you can use the thing as more than a monitor for the backup camera.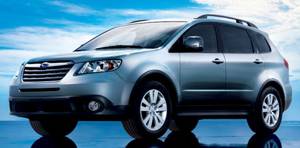 My tester was about as loaded as I'd want (other than offering an onboard wet bar for passengers) and came in a gorgeous metallic blue color. It also had creature comforts galore, including automatic, dual zone HVAC (with third row vents controlled, bizarrely, from the second row), heated leather seats up front (with power and memory for the driver) and a ceiling-mounted DVD screen that's one of the best I've seen.
Tribeca's oomph has been upgraded for '08 as well. Power comes from a 3.6 liter boxer engine rated at 256 horses @ 6000 rpm and 247 lb.-ft. of torque @ 4400 rpm. The power is smooth and more than adequate. It's routed to all four wheels via a five speed automatic transmission that's also smooth and has a manual mode that came in really handy on twisty and hilly mountain roads.
Tribeca features an independent suspension, speed sensitive steering and four wheel disc brakes with ABS, EBD and brake assist (a little guy comes out of the center console and helps you push the pedal harder). The beast handles well, though when loaded with a complement of adults it exhibited tendencies that were, well, a tad boat-like in some tight mountain twisties. Nothing serious, though, and in general the Tribeca felt downright sporty – surprisingly so.
Get behind the wheel or in the front passenger seat and it almost feels as if you're being embraced in a set of loving arms, such is the curvy design of the dash and center console. The seats are comfortable and supportive (my tester had a nice grade of leather, too), controls are just where they should be (except for the aforementioned LCD screen) and they're very intuitive.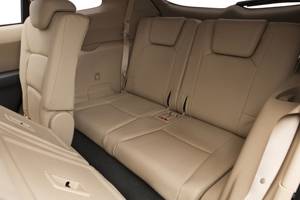 The Tribeca has a terrific greenhouse, offering excellent visibility. The larger rear side windows don't hurt, but Subaru has also beefed up the rear view mirrors to enhance rearward rubbernecking. The sunroof works well, but for some reason it takes two pushes to close (a single push of the button opens it, but it stops halfway closed with a single prod of the button). It was strange, and a little annoying, but hardly a deal breaker.
The instrumentation is fully, mostly analog, attractive and also straightforward. The fuel and temperatures gauges are interesting digital bar graphs, one on each side of the cluster. The inevitable warning lights sit between the speedo and the tach; I know this because a red "air bag" light was on whenever the Tribeca was running, making me paranoid that if someone ran into our front end my passenger would be saved and I'd be toast.
Alas, driving from the passenger seat didn't work very well….
The audio system, with 6 disc changer, seems better than the previous model's, which I thought ran out of steam too quickly. I didn't have a chance to really crank it, thanks to passengers with sensitive ears (you should see how they react when I insult them!), but I thought the overall sound quality was more than adequate. And my tester featured XM Satellite radio, which is a nice selling point.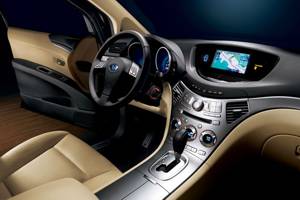 Another nice touch is height adjustable shoulder belts in both the front and middle rows of my three row tester. And even the rear seat is basically adequate for small adults; I'm about 5'7" on a good day, and I sat back there for nearly two hours. In truth, that was about an hour too long, but for that first hour my bum hardly complained at all – and I never found the legroom to be too restrictive.
Getting into the third row is easy, though getting out isn't quite as pleasant. The third row also features a combination arm rest/cup holder that's placed very well for comfort and efficiency. There's a set of audio/video input jacks back there, too.
Second row passengers lose some legroom when you're bringing the rear seats online, but if you leave the third row flat when not required you'll find there's plenty of room in the front two rows – and you'll have decent storage space out back (no Subaru model name pun intended).
The 2008 Subaru Tribeca is more of a mid-life freshening than an entirely new model, but they've done a nice job with it. Pricing isn't available as of this writing, but it should come in at about the same as the 2007's, which means the base model should start at around $30,000 U.S. ($42,000 Canadian), and the most hedonistic trim level should start at around $33,500 ($52,500 Canadian), not including options and other charges.