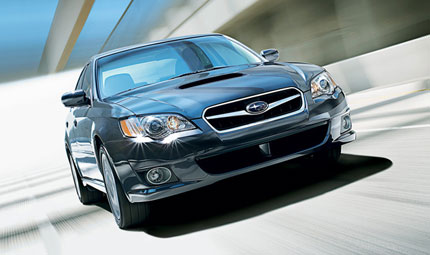 Subaru's Enduring Legacy a Strong Statement
By Jim Bray
October 7, 2008
Webster's Unabridged Dictionary describes Legacy as, among other things, "anything handed down from the past, as from an ancestor or predecessor".
Considering that, Legacy might seem an odd name for a car Subaru undoubtedly wants to be thought of as up to date, especially since the test unit I drove for a week and a bit included the company's PZEV technology, an eco-friendly move that's decidedly modern in its "greenness".
PZEV stands for "Partial Zero Emissions Vehicle," an unusual way of saying it's a very clean-burning car. After all, any engine could be argued as "partial zero emissions" as long as it doesn't actually achieve zero emissions. Heck, the old 1965 Chevy we used to drive was partial zero emissions, just not nearly as close to zero as the Legacy. Not nearly!
But marketing mavels aside, PZEV is a hat tip to the environment. Subaru explains it this way:
"The catalytic converter features a finer honeycomb mesh to more effectively convert exhaust gases by neutralizing them through a chemical reaction. A charcoal filter in line with the engine air filter absorbs fuel and oil vapors that normally escape into the atmosphere when a typical engine is turned off. Special fuel injectors also reduce evaporative emissions when the car is at rest. And the ignition timing is adjusted automatically on start-up to heat the catalytic converter more quickly and ensure the emissions controls are working at peak efficiency at all times."
The latter point may explain why the Legacy seemed a tad noisy when fired up, though the clatter appeared to abate before long.
Anyway, Subaru says the PZEV is the cleanest-running gasoline-powered vehicle sold, emitting zero evaporative emissions and meeting California's Super Ultra Low Emissions Vehicle (SULEV) tailpipe standard (they say it's 90% cleaner than the average new automobile).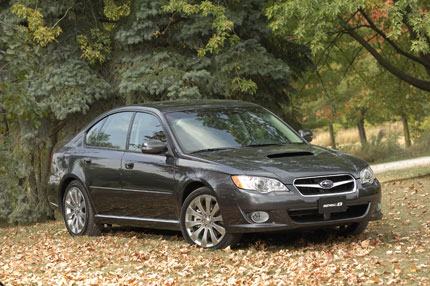 The Legacy PZEV has also achieved "SmartWayT" certification by the U.S. Environmental Protection Agency for achieving "strict, predetermined levels for fuel economy and tailpipe emissions".
The icing on the technological cake is, perhaps, that  regular maintenance of the Legacy PZEV (according to Subaru) doesn't cost any more than it does for "normal" vehicles.
The PZEV comes with Subaru's famous 2.5 liter, single overhead cam, horizontally-opposed "Boxer" 4-cylinder engine rated at 170 horsepower at 6,000 rpm, with identical torque at 4,400 rpm.  The boxer configuration, which is also used by Porsche, means the engine's cylinders move toward each other (like boxers punching it out) as opposed to an inline or V configuration. It claims a lower center of gravity that can translate into better handling.
Power from this base Boxer is adequate, though I'm sure I'd have enjoyed the turbocharged 2.5 liter four banger (243 horses) or the 3.0 liter six (245 hp) even more.
My test unit was a fairly basic version of the Legacy PZEV, though it did have the optional four speed "SPORTSHIFT" automatic transmission. It won't go down in history as my favorite automatic, mostly since four speed trannies seem so old tech these days, but the pretend manual mode came in handy on a mountain trek we took, making the car a lot more pleasant to drive over hills and around curves.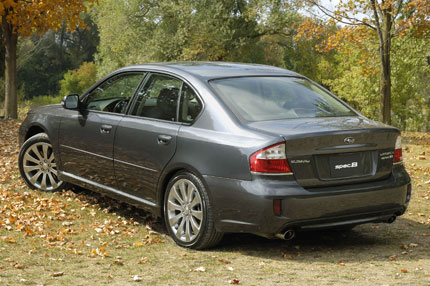 The Legacy sports a new body style since the last one I drove and it's more attractive and less boxy. Subaru refers to it as "European styling, Japanese quality, international appeal"; it looks to me as if they've also thrown in a healthy dose of Chevy Impala in the Legacy's profile, but that's only my opinion, for what it's worth.
Legacy has a generous greenhouse, with few blind spots, so visibility is terrific.
Naturally, the Legacy also features Subaru's famous symmetrical all wheel drive system and its independent, sport tuned suspension balances comfort and driving joy quite well. Our journeys included a variety of roads, from divided freeway to crummy and potholed dirt and the Legacy performed nicely over all of them, feeling about as sporty as the base engine can make it, but always safe and secure.
Initially, I was disappointed in the Legacy's power, handling and performance, but I realized that I wasn't being fair since I stepped into the Legacy immediately after a week in a Porsche Boxster S and that and that's like comparing apples with three piece suits. By the time my time with the Legacy was over, however, I was quite happy with the car. Even though I longed for additional oomph, it had adequate power for passing on the highway – as long as you planned accordingly – and was even up to the task of cruising over a high mountain pass.
Inside, the Legacy seems a little low rent compared to some of the competition, but not seriously so – and you can option it up nicely. The driving position is enhanced by a tilt/telescoping steering wheel which also has cruise control buttons mounted on it, though the lack of duplicate audio controls means the driver has to make a long reach over to the passenger side of the center stack.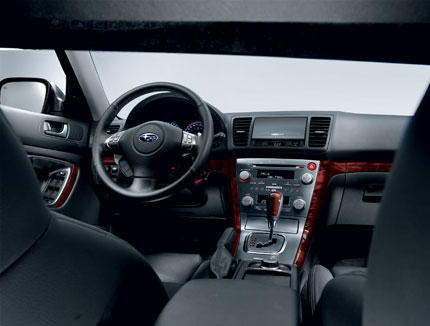 The driver's seat is comfortable and supportive – it's also power operated and comes with four position heating (from "keep warm" to "deep fry"). All seats are comfortable, though I wouldn't want to spend a lot of time in the middle of the 40/20/40-split (flat-folding and lockable) rear seat – a complaint that isn't limited to the Legacy or Subaru by any means.
Instrumentation is analog and clear and the manually-controlled HVAC worked well during some particularly blistering days, though since my wife and I never agree on the proper temperature, the dual zone version available on other Legacy trim levels would have been nice.
The front doors have pockets molded into them, but they don't really hold anything - I tried putting my little carrying bag into it (my wife says it's a purse) and it didn't fit. Likewise, the glove compartment appears suitable for gloves, but not much else. Heck, I even stuck the owner's manual in the Legacy's generous trunk.
Only the driver's window features auto-down capability, and it won't come back up that way. This is a small point, but I get spoiled by cars that offer one touch up and down.
I was struck by the overall strength of the Legacy when, while returning from our mountain jaunt, we got rear ended by some oblivious oaf in an old Accord. We received a pretty good jolt, enough that I think the driver's seat was thrown out of alignment, and the rear bumper was crunched pretty well. Despite that, the car was perfectly drivable after the accident – and none of us were hurt (so much for a lawsuit that would let me retire: gee, thanks, Subaru!).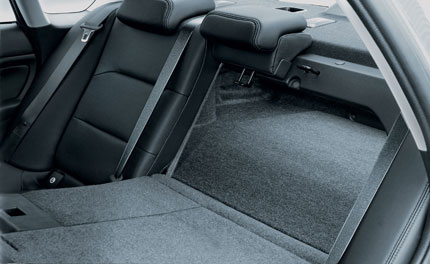 And you should've seen the other guy! In all, the incident was confidence-inspiring.
Which brings me to safety equipment. Subaru says the Legacy is an Insurance Institute for Highway Safety (IIHS) "Top Safety Pick", with a "good" rating (the highest) for 40 mph frontal offset, 31 mph side-impact and 20 mph rear-impact crash tests, as well as having Vehicle Dynamics Control. After our experience, I believe it.
Naturally, you also get an assortment of airbags, belts, head restraints and the like.
Copyright 2008 Jim Bray