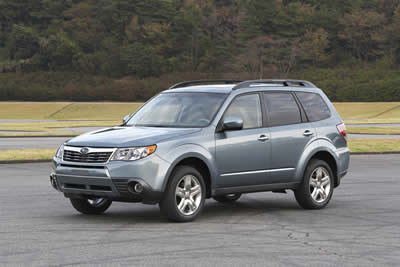 Subaru Forester a Clear Cut Choice
By Jim Bray
July 9, 2008
My favorite Subaru is back, with a new set of clothes and fresh make-up for the 2009 model year. But are the changes enough to keep the Forester in the hunt for consumers' small SUV dollars?
Probably. The new Forester is a compelling vehicle that has a lot going for it, not that it didn't already. Its new body style is handsome, with a grille that reminds me of the Tribeca (which, on the other hand, reminded me of a Chrysler Pacifica, though the Forester's is less like that).
The '09 Forester looks quite a bit bigger than the retired lumberjack whose job has just been outsourced to it. Actually, it's only about three inches longer and less than two inches wider, which makes Forester Nouveau just a tad smaller than the Toyota Rav4 and a bit longer, but narrower, than the Honda CR-V. And that feels about right. Forester feels more like a car to drive than those other two fine competitors, though, and that's fine with me.
The new Forester has a very good greenhouse, with excellent visibility in all directions except below, and hatch window features a handy intermittent wiper/washer (though more settings to the intermittent feature would be nice).
It's very roomy inside, too, with more interior space than last year's model.
Fortunately, the fresh Forester also brings back some of Subaru's tried and true bits, such as symmetrical full-time All-Wheel Drive and a center of gravity enhanced by the low profile of a boxer engine with its horizontally-punchin' pistons.
That pugilistic power plant is a 2.5 liter single overhead cam (SOHC), 16-valve, 4-cylinder engine with Electronic Throttle Control and i-Active Valve Lift System. In the non-turbocharged version I drove, it puts out 170 horsepower @ 6,000 rpm and 170 lb-ft of torque at 4,400.  This is adequate, though I'd loved to try the turbocharged model with its 224 hp @ 5,200 rpm and 226 lb-ft @ 2,800 rpm.
The engine's also a tad buzzy when pressed, though it isn't bothersome; it's the sound of an engine happily at work. It encourages one to press it.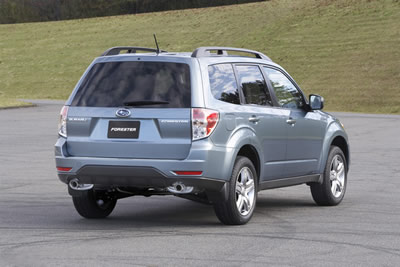 My test unit featured Subaru's four (and only four) speed electronic direct control automatic transmission with SPORTSHIFT, and it's a good sport shift. Unlike some examples of the species, sport shifting this auto/manual causes it to actually shift when you tell it to instead of when it deigns to.
A five speed manual tranny is available.
Forester's on-and-off road nimbleness comes from a fine tuned fully independent four wheel heavy-duty raised suspension, with struts up front and a redesigned double-wishbone derriere. It feels good on the road, too, not too soft and not bladder-busting.
Four wheel disc brakes feature four channel ABS, electronic brake force distribution, etc.
I didn't have a chance to do much rural travel during my week, but the Forester was great for tooling around the city, with room for four comfortably (five will fit, of course) and a generous payload bay; it handled freeway on ramps and multi-lane speeds fine, and was a wonderful all-around getter-around.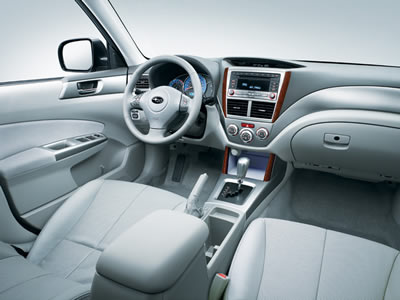 There are plenty of nice touches, too. For example, the windshield washers hose down the glass beautifully, its wide spray seeming to have enough pressure to remove rock chips, and the driver's side wiper clears all the way over to the "A" pillar, which is unusual but very welcome. And there are about ten thousand detent positions for the variable intermittent setting.
The steering wheel is nice and thick, and feels great in the hands. The driving position is first rate, too, though the brake pedal is on about the same plane as the gas, which feels strange until you get used to it.
Instrumentation is straightforward and clear, and the controls are laid out logically and are nicely at hand.
Only the driver's window opens with one bash at the control, and it doesn't go back up that way. The Sunroof doesn't open or close with one touch, either, but it's sure easy to live with. Big enough to get everyone inside very wet if you get caught with it open when the rain hits, it's a delight.
The heated front seats are comfortable and hold you in reasonably well. The rear seats are pretty good, and of course they fold down so you can shove more stuff in the back. The driver's seat is power adjustable.
The 60/40 split/fold rear seat features a retractable cushion table in the center that flips outward to reveal illuminated cup holders and a little storage tray. It's pretty cool unless you're the third person in the back and find people groping at your crotch.
Then again..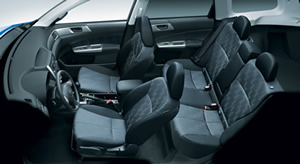 The AM/FM/CD/MP3/WMA audio system sounds pretty good, but by the time you crank it up to an interesting level it runs out of steam. It features four speakers, an auxiliary audio input jack and is satellite radio ready.
The center console is a bit weird, though not necessarily bad. While most vehicles put in bins and the like that fit within each other and/or slide around and/or open and close, Subaru has installed one largish bin that has a couple of smaller ones inside that aren't attached but which can be removed if you need the extra space below. This faces you with the challenge of finding bins in which to put the bins so they don't fly around inside the Forester, but what's life if not a grand adventure?
One thing I didn't like about the Forester is the way it started whining for me to put on the seat belt as soon as I started up the engine, not when I shifted out of Park or drove away. So if I were just firing it up to get the odometer reading or mess around with the stereo, it would nag.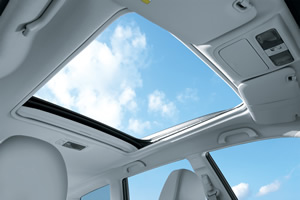 Safety equipment includes dual stage airbags up front, front side impact bags and side curtain airbags. Height adjustable anti-whiplash head rests are up front.
The 2009 Subaru Forester starts at $19,995 U.S./$25,975 Canadian. The turbocharged version starts at $ 26,195 U.S./$34,895 Canadian.
Copyright 2008 Jim Bray
Jim Bray is a member of the Automobile Journalists Association of Canada. His columns are available through the TechnoFile Syndicate.