What can you get in a great sports car for under $35,000? Quite a lot!
By Jim Bray
February 1, 2018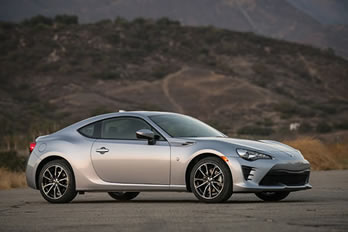 What would you do if you found yourself with an extra $35,000 burning a hole in your pocket? Would you give it to charity, buy stocks or other investments, or maybe just blow it on a four wheeled toy?
A good friend of mine, Blair, posed that query to me a couple of days ago and it got me thinking about what I'd do in such a situation if I didn't have to consult with anyone about how (or if…) it should be spent.
I don't know if Blair has an extra 35 grand burning a hole in his pocket or if he was merely "goal setting," but his challenge was: "you have $35K and want to buy a sports car for occasional use. What would you choose?" He also mentioned I didn't have to use the full 35 grand of "play money" but I imagine that by the time all is said and done I'd have spent that amount and maybe a little more.
Friends, neighbours and readers ask me for advice on buying cars regularly and I'm reluctant to give it because my priorities don't necessarily align with other people - heck, just ask my wife! Sure, I get to drive a lot of different vehicles in my work and that does give me a wonderful perspective on what's available - at least in the new vehicle market, but that doesn't mean I know what you will like.
But that experience reviewing cars is why, when we purchased our last vehicle, I knew I wanted an Audi A4 Avant. My wife and I both wanted a wagon, I wanted something sporty and, since I'd reviewed a few Audis, I knew I wanted to own one: they fit me as if the designers had taken my measurements and built me a car. They also have marvelous interiors and interfaces.
So we found one, and as it turned out, the original owner (we were the second) had ordered the thing specced as if he knew what I'd want in a car when it came time to sell it (kind of like some Audi commercials I've seen in the past): it had the V6 (as opposed to the turbo four), a six speed manual transmission, lowered sport suspension and every option available on the 2005 model year. We've now driven that car for some five years and I love it more now than I did then.
Yet as wonderful and sporty it is, and as dependable as it has been, it doesn't quite qualify for Blair's Sports car category because it has four doors. He didn't specify only two doors, but he already has a lovely Golf GTI five door hatchback, so I assumed he meant two doors and maybe a drop top. In one way that's too bad because, whereas sports cars used to be in-car-nated mostly as two door coupes or convertibles, over the past couple of decades sports sedans (four doors) have really come on strongly.
Sports sedans/wagons are my favourites, because you can actually do stuff with them while they're putting a smile on your face. But since that's irrelevant to the task at hand, I'll stick to coupes and convertibles in this piece. Watch for a sports sedan/wagon one in the future, though!
Buying someone else's problems….
The first thing to ask oneself is if you want to put your $35K into something new or something used. New is always nice, but you're financing the car's depreciation - and you can get some really nice wheels used these days. For example, my A4 sold new for about $58K and when I bought it at seven years of age (the car, not me) I managed to get it for just over $16K - and it was mint, with low kilometres! So I got a premium car in mint shape for about the price of a new Yaris! No warranty, of course, since it was a private sale - but nothing beyond regular maintenance has reared its ugly head since then.
We were very lucky to find that car, but if I can find one like that, so can you!
But let's start with new cars, because that new car smell is a real thing and it's lovely. What can you get for $35 grand?
There's Mazda's little bundle of joy, the MX-5/Miata, which I've loved dearly in all of its incarnations. It starts at $31,900 CAD for the base ragtop model, according to the company's Canadian website. I preferred the previous generation's retractable hard top compared to the current one's, which is more like a motorized Targa top than a true drop top so, while I'd rather have the full hard top if I had my druthers, I'd opt for the soft top if I were buying the current generation. Besides, the partially retractable hard top on the current MX-5 starts at $38,800, which puts it over the limit for this exercise.
For those who don't care about open top motoring, there are the Toyota 86/Subaru BRZ twins You can get into a Subaru BRZ for a base price of $27,995 and the Toyota starts at $29,900, both of which will leave you a couple of grand left over to buy some real performance tires. These are great little sports coupes that are a joy to drive - and they have a little more power than the Mazda.
You can also get into a VW Golf GTI for $30,595 but it appears you can only get it as a four door hatch, so I can't include it here. Too bad; it's a fantastic car.
Nissan's 370Z, according to the company's Canadian website, starts at just shy of $30K for the base model and that'll get you a powerful V6. On the other hand, the last time I drove a 370Z (a higher end convertible) I spent the time thinking I could get a used Cayman for that price - and probably would have had I been shopping.
No "news"? What then?
If you're feeling lucky, or want something higher end that's depreciated already, you can head where I go when researching pre-owned wheels: Autotrader.ca, which for vehicle shoppers is like shooting Amphicars in a barrel. I was gobsmacked to find that when I put in my search criteria ($35K, two doors, manual transmission, for sale right now in Alberta, etc.) I got 619 choices, everything from the Honda Civic Si and Ford Mustang to Kia Forte Koups and more! And a lot of them cost a lot less than $35K. A lot!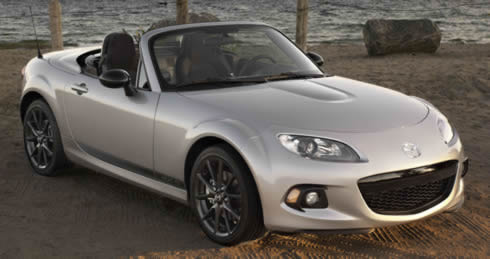 Want a used Miata? AutoTrader currently has several for sale and it looks like you can get a decent last generation one for well under $20K - and you could use the fiscal cushion from your $35K to buy me some beer to thank me for my wisdom (C'mon, I'm holding my breath!). You can also get an RX-8 in that price range, but since it's really kind of a sedan I won't mention it. Wait…
Depending on their condition, a Porsche Cayman or Boxster would be awfully tempting. Autotrader has a 2007 Cayman S (with 100k km on it) for $32K which, if Porsches are as reliable as I've heard, means it's nearly broken in. Anything with a Porsche badge on it will put a smile on your face, though the darn things hold their value so well it's challenging to find a good one at a good price. That 2007 Cayman very nearly had me going to my wife, cap in hand, a hopeful smile on my face.
Alas, she wasn't born yesterday…
BMW's have some interesting choices in this category as well. I saw a 2008 BMW M3 coupe listed for $33,988 (which would probably be an absolute blast!) and a 2002 BMW M COUPE Z3 roadster (with 100,000 km) for $31,900 (which seems like a lot, to me). Closer to my heart, AutoTrader currently has a 2007 Audi S4 coupe convertible, with its 4.2 litre V8 and six speed manual transmission, for $19,900. You could buy that and put that extra 15 grand into all the premium unleaded you'll need when you drive it. And drive it, you will!
These are obviously only a few suggestions and they barely scratch the surface - and of course the used market changes all the time as cars are bought and sold. This being winter, it might be a good time to buy a sporty car, since I'm willing to bet the sellers will try jacking up the price when the weather gets more "sports car-ish."
And think of this: if you buy now but choose not to drive it until the snow is gone you'll have a couple of months to anticipate, to plan, to dream - at no additional cost (hat tip to Professor Harold Hill).
Or you could spend that time saving up for those inevitable speeding tickets…
Jim Bray is a member of the Automobile Journalists Association of Canada. His columns are available through the TechnoFile Syndicate.