Saturn's Looking for a Few Astra-Nuts
By Jim Bray
June 21, 2008
The Saturn Astra, according to a radio commercial in my neck of the woods, is the top selling car in Europe.
Really? It's certainly not a "disAstra", but the bestselling car of any sold in all of Europe? I don't get it.
Maybe it was the automatic transmission of my test unit that colored my opinion. Or maybe it was the periodically-annoying interface. Or maybe it's just me.
Anyway, my test Astra was the five door wagon-like version, which looks quite a bit like a VW Golf/Rabbit, not that there's anything wrong with that. Saturn offers the five door Astra in XE and XR trim levels; my test car was of the XR variety. The three-door model, which Saturn says was created with enthusiastic drivers in mind, gets only the XR trim.
Horsepower from the standard 1.8 liter Ecotec DOHC four cylinder engine with variable valve timing is rated at 138 horsepower with 125 lb.-ft. of torque. These aren't "Astra-nomical" figures, but they're reasonably competitive in this segment and perfectly adequate for tooling around the urban and rural environs found in my neck in the woods.
The standard transmission is a five-speed manual; my test unit had the optional Aisin electronically controlled four-speed automatic and, as mentioned, it may have taken away some of the fun I imagine driving the Astra would be otherwise. Shifts are smooth, but I pined for the manual transmission. Auto/manuals can strike a nice balance between performance and convenience, but the Astra's box is strictly auto.
The car handles just fine, though. Its front suspension is a strut-type with the control arms, stabilizer bar and steering rack mounted to the subframe. Saturn says the front suspension's bushings are designed to minimize noise and vibration, so if you find the Astra quiet and vibration free it's (to paraphrase the liberal left) Bushing's fault!
Astra's bum features a semi-independent torsion-link axle design with "an axle-beam formed to a double-U-shaped profile", which really does sound buttock-like.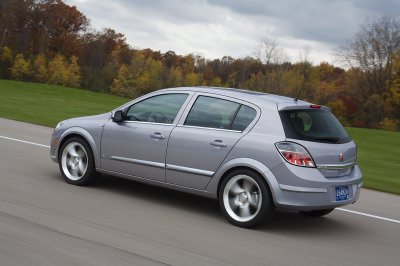 The steering feel is also very nice, thanks to the optional electro-hydraulic, rack-and-pinion system with which my Astra was equipped. Saturn says it ups the ante on a garden variety hydraulic power steering system by operating the power steering pump only when necessary (such as when steering?), which they claim increases fuel efficiency.  
Brakes are power-assisted four-wheel discs all around, with ABS as standard equipment. Pedal feel and stopping power are very good.
Five-door Astras come standard with 16-inch wheels, but mine wore the upgraded 17-inch aluminums that are standard on the three door (which in turn can be upgraded to 18 inchers). My Salsa Red sample also wore a nice set of Hankook P225/45 17 inch tires.
Inside, the Saturn Astra is comfortable and attractive, though the cloth upholstery on my test unit proved to be a pet hair magnet - and I didn't even bring a pet into the car. The hair (from three cats and a big ol' dawg) must have migrated from our clothes to the seats. And there it stayed despite much vacuuming and cussing.
The front seats are firm and offer good support. On the other hand, I couldn't find the right driving position from its manual adjustments; it wasn't bad, but I could've used more height and a lower thigh position.
Of course that's the story of my life outside of cars, too.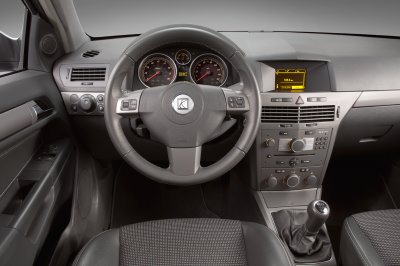 The thick, three-spoke tilt/telescoping steering wheel feels great in the hands and sits in front of a rounded binnacle housing a large and clear analog instrument cluster with a smaller digital display below the tach and speedo.  
The rear seats are fine for two, and there's a nifty little double cup holder that slides out from the middle of the bottom cushion.
One thing I loved about the Astra was its huge, two-panel sunroof, though it's only available on the five door version. Saturn says it's the largest in its class, and it would work beautifully with the as-yet-unannounced-and-unavailable (and possibly unplanned) passenger ejector seat.  The sunroof opens with two touches, one to tilt it and the second one to open. You have to keep your finger on the switch until it's closed all the way, though, which is a long time to have your hand off the steering wheel and could cause other drivers to think you're making a rude gesture at them.
My test unit featured the optional heated front seats as well as power door locks (controlled either via strangely labeled buttons on the key fob or from a switch mounted on the center stack), and power windows - all of which feature one touch opening but none of which feature one touch closing.
The standard stereo is a six-speaker AM/FM/CD unit.  A seven-speaker multi-disc and MP3-capable sound system is available, and that's what my XR test unit had.  Its sound quality is about average, though it has good power. And it's always nice to have steering wheel-mounted controls, though in this case the head unit is also close at hand. The steering wheel's volume control looks like the kind of thumb-operated volume wheel that's available (and so very handy) on Porsches, but it works just like a straightforward up/down button.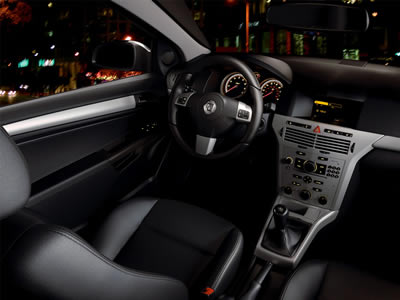 The central computer display could be a tad more intuitive, but worst thing about the interior is the cruise control controls. I had to check out the owner's manual to see how the little tabs on the end of the signal light stalk operate the cruise control - and even then it took trial.
Since when should you need to check out the documentation just to figure out the cruise control?
Maybe the car should come with a Euro-technish translator.
On the other hand, the Astra had rain sensing windshield wipers that worked beautifully.
The hatch - and the storage space behind it - is of a decent size, but I had to slam it to get it to close properly. The rear seats fold down, of course, to increase the storage space.
Safety equipment is what you'd expect from a modern car. Six air bags are standard, including roof rail head curtain air bags. There are also active head restraints, a pedal release system (hey, where'd the pedals go?) and front safety belt pretensioners and load limiters. The car is also equipped with OnStar and a tire pressure monitoring system.
The Saturn Astra 5 door starts at $15,995 U.S./$17,900 Canadian, which seems like a  reasonable price. My optioned up test unit tipped the fiscal scale at about  $22,110 U.S./$24,500 Canadian. Besides the auto tranny, heated front seats, upgraded stereo and the lovely sunroof, it had the Sport Handling Package (which includes the 17 inch wheels), Stabilitrak electronic stability control system, electro-hydraulic power steering and a lowered front suspension.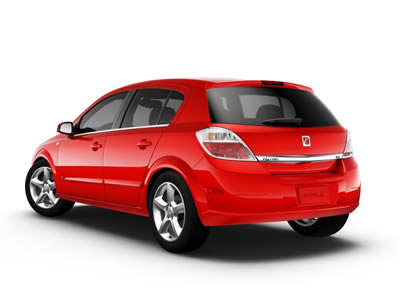 I'm really torn by the Astra. Other than the really strange controls (which you'd get used to soon enough) and the no-fun automatic transmission, it's a nice little car. But I never really connected with it like I do with some (many!) vehicles, and at the end of the review period I was ready to give it back.
Shucks. And I've always wanted to be an "Astra-naut."
Copyright 2008 Jim Bray
TechnoFile.com