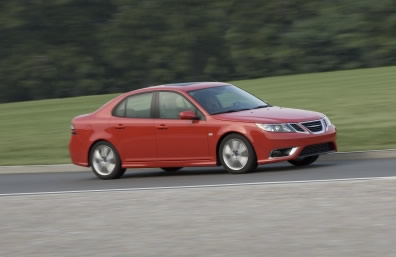 Saab 93 Aero – Euro Fighter
By Jim Bray
October 30, 2008
While the name Saab is also associated with cool jet fighters such as the Gripen, when it comes to the Saab 9-3 Aero sedan, the Swedish manufacturer's automotive offerings are far more down to earth.
That isn't necessarily a bad thing, especially since we're talking about cars here. I haven't reviewed a Saab for about five years, but remember that one fondly, so I expected to enjoy the 9-3 when I got my chance to live with it for a week.
It's quite a nice vehicle but, comparing the Saab sedan with other cars in this class that I've driven, I'm just not sure.  
Not that the 9-3 Aero sedan doesn't have a lot going for it, including some clever touches you may love – or possibly hate.
First up is the Saab styling, which I happen to like; it's recognizable immediately as a Saab, but modern and much more handsome than some of the old models. The 9-3 retains Saab's wedge-like profile culminating in what they call a "distinctive hockey stick curve", big, clamshell hood, overall headlight shape and the like. But it looks fresh nonetheless. 
And it works; the 9-3 I tested, which featured a sporty "Laser Red" exterior color, aero-specific bumpers, xenon headlights with washers and attractive 17 inch five spoke wheels wearing (optional) P225/50R all season tires, was quite a fetching beast.
The car's propelled by a turbocharged 2.8 liter V6 that's rated at 255 horsepower in its standard configuration. My test car had the performance package, which bumps the nags up to 280. This is plenty, though it isn't uncommon to get 300 ponies out of some V6's these days without adding a turbo.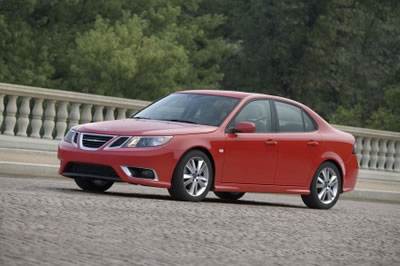 And the turbo comes on like an on/off switch – or at least that's how it makes the gas pedal feel. Step on the gas and in a very short moment you're being pressed back into the seat as if launched from a cannon. There's a bit of torque steer, but my test unit came with Saab's Cross Wheel Drive (XWD) four wheel drive system (which handles torque distribution from front to rear and left to right) and this undoubtedly helped tame it.
The sedan comes with a six speed "sentronic" automatic transmission with manual mode. It shifts well in automatic mode, but the manual shift mode controls on the steering wheel are just tab-like buttons on top of the center spoke (rather than paddles) and I found them a very long reach – enough so that I went back to using the gear shift lever when I wanted to play. And the car doesn't seem to like relinquishing control over the shifts to a lowly driver, preferring to second guess your inputs.
Suspension is via MacPherson struts up front with a four link independent bum. Road feel is a nice balance of luxurious and sporty without being sloppy or jarring. Brakes are ventilated discs all around with ABS and the usual electronic aides. Pedal feel is good.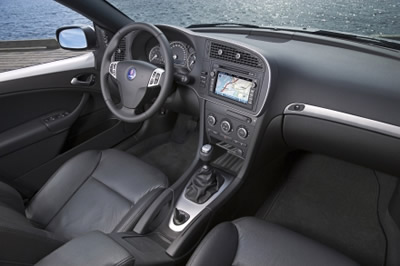 Inside, being a Saab means things like a keyhole on the center console where other vehicles (nearly every other vehicle!) would slap a cup holder. This is just plain weird, but I guess it's a Saab thing that longtime fans would miss. Fair enough. And to be fair, they still have one pretty good cup holder on the console (though it wouldn't take my son's gigantic drink) and another that hides in the center stack.
A nifty touch is the design of the hand brake, which looks just like the ridge on the other side of the center console, except that it's functional.
Saab says the car's cabin ergonomics, instrumentation, controls and seating position are all developed from the driver's perspective, which is how it should be unless you're designing a limo, and it works well. Instrumentation is straightforward and everything is where it should be; I also liked the (dual zone) HVAC vents' joystick-like controls, which work well and make it easier to aim the vents than some competitors' versions. Hopefully, those competitors will steal this idea.
There are also pretty green lights around the fan control that let you see the fan speed visually. It's attractive and clever, though in the grand scheme of things I can't imagine anyone caring that much about it.
The driving position would have been nigh on perfect if it weren't for how the assembly robot (or whom/whatever) put the steering wheel together. There's a handsome piece of what appears to be brushed aluminum on the front of the wheel and on the left side the space between it and the rest of the wheel irritated the flesh between my thumb and forefinger. The right side was fine, which leads me to think it was a quality control issue.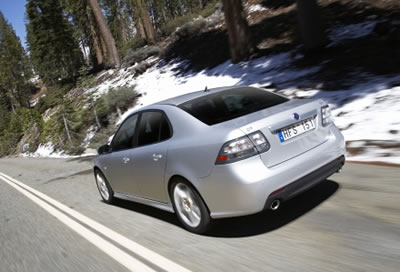 Other than that, it's a fine wheel that tilts and telescopes and features redundant audio controls.
One other issue with the driving position:  the B pillar was right beside my shoulder so on those rare times when I needed to shoulder check it was in the way.
Both front seats in my test unit were heated, power operated and quite comfortable, though the arm rests on the doors are small and my elbow tended to slip off.
My passengers found the rear seat a tad cramped, but on the upside it splits 60/40 and folds down to give access to the trunk.  
The glove compartment is nice and big, and the door pockets are also large enough to be functional. There's also a decently-sized bin in the center console.
All four side windows are treated to one touch opening and the front windows can be raised with a single touch as well.
The audio system is very good, with gobs of power and very good speakers. My test car had the optional AM/FM/CD/MP3 (including auxiliary input jack) with a Bose Centerpoint Surround Sound system, 11 high performance speakers and Bose's digital amplification system. It also had the optional navigation system with its 6.5 inch LCD screen.
I don't know if this is a Saab-ism or not, but the car has three windshield washer sprayers, with one mounted centrally. Each sprays two streams onto the windshield, which gives good coverage, though I've used some dual spray systems that hose the window down more effectively.
Saab lets you program a variety of functions to your own preference via buttons on the steering wheel and on-screen prompts, including stuff like the automatic climate control settings, the clock/alarm, speed scale illumination and (if the car has it) the anti-theft alarm, parking assistance, rain sensitive wipers and more.
Not meaning to stereotype but, this being a Swedish car, you might imagine that safety is a priority – and you'd be correct. Saab says they use a database of more than 6,100 real-life accidents in Sweden involving their cars to take such accidents into account in their designs. The research undoubtedly contributed to the 9-3's earning the best rating ("Good") from the Insurance Institute for Highway Safety.
Other safety stuff includes active head restraints up front, side impact protection with 'pendulum' movement of the lower B-pillar, roof-rail airbags for protecting occupants' heads, two-stage adaptive front airbags and seatbelt pre-tensioning.
Saab says the 9-3 Aero sedan is positioned to fight against the BMW 3 series, Audi A4 and Mercedes C class. I must confess, however, that despite the many things I liked about the 9-3 Aero, I never really felt "at home" in it. 
The base 9-3 starts at $21,190 U.S./$37,855 Cdn.
Copyright 2008 Jim Bray
TechnoFile.com