Porsche Cayman S – This "S" Car Goes!
By Jim Bray
"A body designed to seduce. An engine tuned to excite. Performance engineered to reward."
That's how Porsche's website describes the Cayman S, the German company's "entry level" sports coupe, and if one is ever going to start believing marketing hype this is a pretty good place to start.
After all, the Cayman S has been receiving raves from sources other than those with a vested interest in its profitability, lauded for its seductive body, exciting engine and rewarding performance. So it ain't just hype.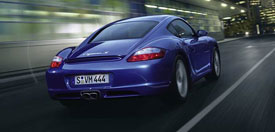 I was fortunate enough to spend about a week and a half with a drop dead gorgeous "Cobalt Blue Metallic" Cayman S. Needless to say, I loved it. It's a wonderful car to drive – fast and agile, and it's just as wonderful to park your butt in as well – comfortable and luxurious.
But there's no justice in life. I had to give it back before I could dream up a scheme to make it conveniently "disappear" from Porsche's inventory, then magically "appear" in mine. This would be a great car with which to have a serious relationship.
The Cayman S looks a lot at first glance like its big brother, the 911 Carrera (one of the most attractive cars on earth, in my never humble opinion) but with, among other things, a roofline that appears higher and more "concave" than the 911's graceful hump, and with intakes behind the doors that are similar to its stable mate (and inspiration) the Boxster's.
Also shared with the Boxster is the Cayman S' mid-engine layout, which brings about great balance since most of the car's weight sits between the front and rear axles.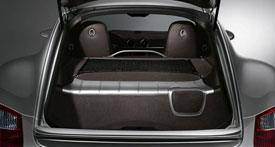 And it's a hatchback! Despite the presence of the engine back there, there's still a reasonable storage area behind the seats – including a depression right at the car's bum that's completely hidden when the hatch is closed. It was perfect for my notebook computer and could have held a small suitcase.
If you can't fit all your stuff in the hatch, there's a trunk up front as well.
The water and oil fillers are also in the hatch, and nicely assessable, though I'd hate to think of someone dripping oil over that classy carpet; I wouldn't even try topping it up, for just that reason!
Planted power….
The engine Porsche has dropped into the Cayman S's midsection is a 3.4-liter flat-six, four valve per cylinder, water cooled unit with variable valve timing that develops 295 hp @ 6250 rpm and 250 lb.-ft. of torque (available from 4,400 - 6,000 rpm). This is enough power, but I did find myself missing the 325/273 horses/torque I'd experienced a couple of weeks earlier in a 911 Carrera 4 Cabriolet.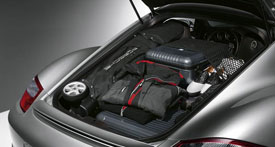 Not that the Cayman's a slug! No, indeed. It may be just a tad more, well, restrained than the brawling 911, but it's still more than capable of pushing you back into your seat and putting a smile on your face that won't fade until after you've shut the Cayman down and gone inside, memories of that famous Porsche growl echoing in your mind.
My tester came with the six speed manual transmission (a Tiptronic automatic is optional), with short throws and nice balance. The hydraulically-operated clutch is a tad heavy, but nothing you can't live with. I found myself shifting into neutral at some traffic lights to give my foot a rest, but most of the time I stayed on the clutch regardless, enjoying the feeling of being "at one" with the Cayman.
The heaviness could be a potential fly in the ointment if you're thinking of using your Cayman S as a daily driver, though I don't think it would be a deal breaker for me – and there's always the Tiptronic.
The Cayman's low center of gravity and rigid body are a great foundation from which to start a sports car. Add a lightweight independent suspension and you have a chassis that's capable of carving up roads like Dad working over the Christmas turkey. Toss the Cayman through a few high speed curves and you're in heaven.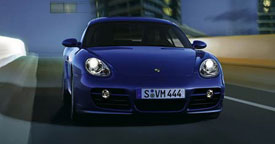 Porsche also throws in stability control, the threshold for which is mercifully high, and the power-assisted steering feels as if it's hard wired into your consciousness; a flick of the wrist and you're off on just the right tangent.
My tester had the optional PASM "Porsche Active Suspension Management" system, which lets you turn the Cayman S into a Jekyll/Hyde personality at the push of a button, switching between "Normal" and "Sport" modes that morph the car from "civilized cruiser" to "racing bruiser."
If you choose "Sport" the car hunkers down like a running back squirting through the defensive line and heading for the end zone. It is best used if you're serious about your driving (and why else would you buy a Porsche?) and have some good roads on which to use it.
I first tried the PASM system in a 911 S, on a highway so in need of repairs that by the time we got back onto a civilized surface I thought my kidneys and bladder had swapped places. But this time I found a better road and the Sport mode helped the Cayman S stick to it like poop to a diaper. It was quite exhilarating!
My tester also had optional 19 inch wheels with tires so low profile that it almost looks as if someone at Porsche had merely painted the edge of the rims black. They contribute to the on road stickiness, though they also contribute road noise that competes with the car's natural siren song.
The brakes on all four wheels are big discs with red-painted four piston calipers and ABS. Brake feel is just right, not flaccid or weak and not over boosted to make the car feel as if it's going to stand on its proboscis with the slightest pressure.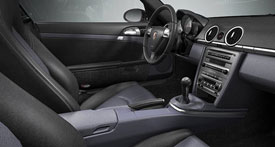 Cruiser Cabin...
Inside the typically Porsche cabin, with its beautifully laid out instrument panel, everything is laid out logically and placed close at hand.
The Bose audio system is very good, too, though I had to turn the bass down to keep it from being boomy. And you can set the audio settings separately for AM, FM and CD, which offers more flexibility of sound. There are about 100,000 radio station presets, which is certainly handy – though it also means the buttons are a tad small for those who are stubby of finger.
Finding a perfect driving position is easy, though it would be even easier if the seats were completely power-operated instead of just the backs. The seats are very comfortable, however, and hold you in nicely when the bits get twisty.
The headroom is spectacular! The curved ceiling was so far away from my pate it felt as if I could wear ten gallon hat in there, which is undoubtedly exactly the image Porsche would like to present….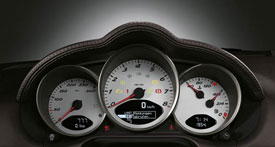 My test Cayman S also came with the optional Sport Chrono package which, among other things, mounts a stop watch at the top center of the dash board for those times when you want to time your commute or, more in the spirit of the car, your laps. My tester also had bi-xenon headlights, a "Preferred Package" (preferred by Porsche's accountants, anyway!) that includes wheel caps with Porsche crests, self-dimming mirrors, rain sensing wipers, heated seats and more. The inch-thick metallic paint is also optional.

Naturally, you get a plethora of bags, belts and the like, to help keep you safe.
One thing I missed was the availability of a sun roof. On the other hand, if open top motoring is important to you, there's always the Boxster, though I prefer having a window onto the world to baking in the summer sun.
I guess I'll have to hope a 911 falls from the sky into my lap instead. What a burden!
The Cayman S starts at $58,900 U.S./$83,900 Canadian. My well-optioned tester comes in at approximately $70,000/$100,000 Cdn.