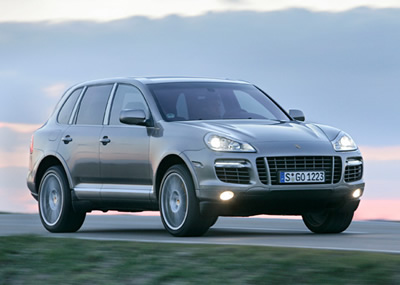 Porsche Cayenne Turbo S – Power Player
By Jim Bray
December 17, 2008
What would you do if you had 550 horses at your beck and call?
I don't know what you'd do, but I drooled. I mean, such power! And to come wrapped in the 2009 Porsche Cayenne Turbo S, the top line model of Porsche's great SUV, well, for what more could anyone ask?
Actually, after driving it for a week I thought of something in the ergonomics area, which I'll get to in due course. But overall, my favorite premium SUV has been made even more compelling for 2009 which, since it's such a great vehicle to start with, is quite a trick.
For '09, the Cayenne's twin turbocharged 4.8 liter direct-injection V8 cranks out 10 per cent more power, yet Porsche says it gets the same gas mileage as last year's turbo model. Not a bad achievement. Cayenne's no Prius of course, (which in the grand scheme of things is good), but if a big and heavy vehicle like this can hold the line on fuel consumption while upping the oomph ante, that's worth some applause.
Those 550 horses at 6000 rpm come with 553 lb. ft. of torque (a seven per cent increase), available from 2250-4500 rpm. This means that when you tramp on the gas pedal (heck, you don't even have to tramp it hard) the 5,192 lb (2,355 kg) vehicle leaps forward as if it's been given a swift tramp in the tailgate. It's quite heady stuff, this zipping ahead like you've been launched in the space shuttle.
Somehow, I don't think many people will use all this motivation as motivation to go racing on the highways, though the temptation is there for sure. And I doubt anyone other than pimply kids in their beaten up Cavaliers (the kind who've rear ended me twice this year) would be dumb enough to solicit a race once they've seen the Cayenne Turbo S lettering on the Porsche's butt. But if you need to pull out and pass, this is the vehicle to do it in.
I experienced that during my week with this uber-Porsche, when I was privileged to drive my wife, son and daughter-in-law to a craft show at a small town about 45 minutes from our home. I don't mean to cast aspersions on craft show aficionados, but this particular bunch seemed to think the bare, dry highways southwest of our city were actually playground zones, and they drove appropriately for such locations.
Needless to say, the view of the Cayenne most of them will remember the most is the one with the model designation written on it in text: the tailgate.
The Cayenne Turbo S comes with the company's six speed Tiptronic S auto/manual transmission, with Porsche Traction Management (PTM), permanent all-wheel drive. It's a peach, and the manual mode works very well indeed – either from the shift lever or rocker buttons on the steering wheel.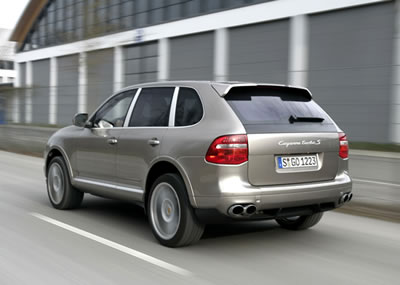 I left it in automatic most of the time, but the manual mode came in handy on freeway entrances/exits and when I wanted to pass (as if I needed extra power!). As always, I preferred  using the steering wheel-mounted buttons, but find them a long reach – as are the audio, cruise, etc. buttons that are also mounted on an otherwise sterling steering wheel that even offers heating for those chilly days.  
Cayenne's cat-like responses are created in large part by its independent suspension: large basis double wishbones up front, with a multi-link rear. The air suspension features self-leveling and ride-height control, including Porsche Active Suspension Management (PASM) and Porsche Dynamic Chassis Control (PDCC).
This is great stuff, and lets you tailor the Cayenne for your driving purpose: it can be lowered for loading, lowered and tightened up for when those pimply-faced kids really, really need a good reality check, raised and softened for comfortable freeway cruising and raised even higher if you're silly enough to want to take a Cayenne off road. I'm sure the Cayenne is more than capable of climbing a mountainside, but isn't that kind of like using a scalpel to carve a roast?
All that get up and go needs prodigious "settle down and stop", so Porsche has given the vehicle its Porsche Ceramic Composite Brake (PCCB) system, which includes internally-vented disc brakes with six-piston aluminum monobloc fixed calipers up front and four-piston aluminum monoblock discs on the rears. And ABS, etc. Pedal feel is a little direct for my taste: touch the brake and the Cayenne Turbo S grinds to a halt quicker than you can say "Whoa, baby!"
And get this: my Cayenne Turbo S came with whopping 21 inch wheels, giants which seem to turn about three times for every mile of road covered.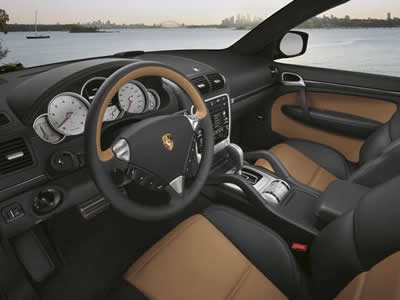 Of course, there's more to the exhilaration of Cayenne driving than being everyone else's radar bait. It's an extremely civilized vehicle to drive and to be a passenger in. I've always loved driving the Cayenne (heck, I love driving Porsches!), and it can be argued that the Cayenne is the only practical Porsche – "practical" being a relative term – since it can carry more than one passenger in comfort and still give you room to haul stuff with you as well. That's until Porsche's  Panamera sedan hits the market, anyway.
The Cayenne Turbo S cradles four people in luxurious comfort, and it also holds them in nicely for when the side roads get serpentine. The rear passengers in the turbo are treated to what are basically buckets, making the Cayenne Turbo S a two plus two – as opposed to the S models I've driven that can seat five in reasonable comfort. You won't want to stick anyone you like in the center seat here, though it might come in handy if you have a rowdy relative to discipline.
The standard interior of the Turbo S includes seat memory, carbon trim on the dashboard and doors, leather interior and steering wheel.
New for 2009, and standard on the Cayenne Turbos, is Porsche Communication System PCM 3.0. The most noticeable thing about it at first glance is the larger touchscreen that replaces the navigation knob and buttons of previous models, a move I applauded when I first read about it because I prefer touch screens to those cursor control-like knobs.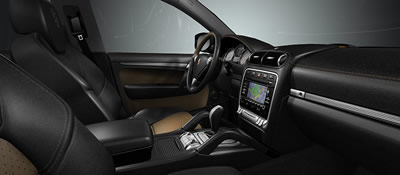 Then I tried it and discovered that a touch screen isn't a panacea. It all hinges on the interface, and in this case Porsche blew it. I was amazed to discover that navigating the new menu system wasn't as easy for me as Porsche's old knob and button system, which I had found very simple and intuitive – probably the best such system I'd tried. But I didn't like the new one at all, and wished they hadn't messed with it.
To be fair, the new system also offers great features such as satellite radio, an MP3 player interface, hard disk drive navigation, Bluetooth connectivity, DVD-Audio capability, a USB port and auxiliary jack.  And it's about time; for the price of a Porsche, it should sing and dance.
Despite what I think about it, the new PCM snagged the 2008 USE-WARE Award from VDI/VDE-Gesellschaft Messund Automatisierungstechnik (an association of German engineers) in recognition of its "excellent standard" for providing the driver with "simple, straightforward, rapid and easy-to-control communication functions."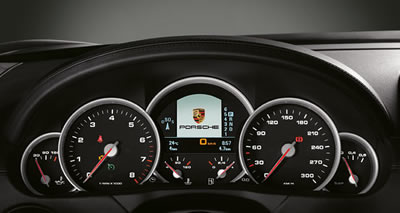 I guess those folks have never driven a Lexus, a Ford, a Cadillac….
The Cayenne Turbo S came with parking sensors, in this case a set of what appear to be LED's mounted front and rear that turn amber and then red as you approach a close scrape. They work fine, and are a most welcome feature, though an audible-only alarm would work just as well.
PCM petulance aside, I love the Cayenne and if I had the bread it would be on top of my SUV list. I think I'd opt for the "regular" S or maybe the GTS which, alas, I haven't driven, but if you really need enough power to light a small city, you certainly can't go wrong with the Turbo S.
The Porsche Cayenne Turbo S starts at $123,600 U.S./ $150,400 Canadian.
Copyright 2008 Jim Bray
TechnoFile.com