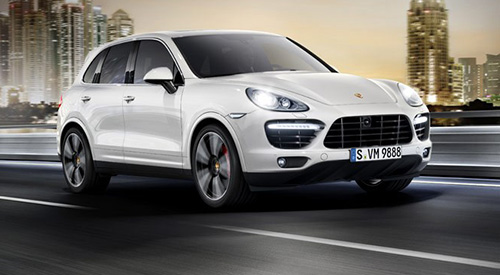 Porsche Cayenne Turbo S – Power Player
By Jim Bray
January 30, 2014
What has 550 horses, even more torque, and seats five?
Very few vehicles indeed - but the Porsche Cayenne Turbo S is one of them, and it's a real peach! (click to open a slideshow in a new window)
This top-of-the-line version of Porsche's popular SUV is an incredible vehicle - as it should be based on its starting price of $166,600 Canadian. That's a wad of cash, indeed, but it'll buy you one of the most interesting and rewarding SUV/Crossover vehicles you can find.  
Needless to say, when Porsche offered me a week with this beast - over the Christmas holidays to boot, when I could show it off to visiting family - I jumped at the chance. I mean, the power, the luxury, the prestige. Who wouldn't want to drive it?
I got some seat time in a Cayenne Turbo S once before, about six years ago (the previous generation), and was blown away by the combination of class and oomph, and since the new Cayenne is even nicer than the old one, I looked forward to some quality seat time. And after my week with Porsche Canada's sample 2104 Cayenne Turbo S I came away even more impressed.
Sure, no one needs 550 horsepower and 553 lb.-ft. of torque, but no one needs a big screen TV either, or a microwave oven. But if you want it and can afford it, why not?
Porsche Canada's sample only had a few options, which may explain why its "as configured" price only rose about six grand from the base. And while none of these options actually improve on the Cayenne's performance, they're still nice to have: a lovely panoramic roof system ($2110), power side window sun shades ($520), ventilated front seats ($920), "Porsche Entry and Drive" ($1250) and park assist with a rear view camera ($750).  
The best thing about the Cayenne Turbo S is how it drives and at the heart of that experience is a twin turbocharged 4.8 liter direct-injection V8 coupled with an eight speed Tiptronic S transmission with auto start/stop (to save gas at red lights, etc.) that puts the power to all four wheels in a manner guaranteed to put a silly smile on your face.
Where can you use all this power? Wherever you want, as long as you don't mind speeding tickets!
Okay, all that oomph is kind of wasted in the city - especially school and playground zones - but it comes in really handy on the open road, when you have to pass a slower vehicle or when you have to merge from an acceleration lane onto the freeway, which become child's play when you have all those horses at your beck and call. It's like unleashing the hounds of Hell, though with less impact on your eternal soul.
Hopefully.
Sweetening the Cayenne Turbo S' performance are such niceties as Porsche Traction Management (PTM), a fully independent air suspension coupled with PASM (Porsche's Active Suspension Management) system and Porsche Stability Management. This is typical Porsche stuff available on any of their vehicles (except that you can't get all wheel drive on the Cayman and Boxster), and it contributes to the vehicle's exquisite handling and performance. Leave the Cayenne in comfort mode and it's nice and comfortable, but fire up the sport mode and it tightens up the vehicle's performance appreciably, making the big SUV drive as if it had just shed hundreds of pounds and many inches of girth. It's quite remarkable.
The eight speed automatic has two more gears than the last Turbo S I drove, and Porsche's sample also sported paddles for shifting manually. The quality of the transmission is such that I left the Cayenne in automatic most of the time, though its manual mode did prove entertaining when I used it.
You can also control the vehicle's ride height, thanks to the air suspension. It can be lowered for those times when you're loading stuff or people, and you can also lower it for those times when you plan to drive really quickly. And you will.
Steering and braking are sublime, not surprisingly. Porsche's "Power steering Plus" is speed-sensitive so it firms up at higher speeds, and loosens when you're going slowly to help you navigate parking lots and the like. Sure, nearly every car worth its sale these days offers variable assist steering, but not many feel as if they're hard wired into your brain. In this, the Cayenne is typically Porsche.
Brakes, naturally, are power-assisted discs all around, with 15.4 inch vented rotors up front and 14.1 vented rotors on the rear wheels. The wheels themselves are 21 inches in diameter - so if you're short like me, you may really like being able to lower the Cayenne for getting in and out! Beats hauling around a step stool or a block and tackle…
The Turbo S will carry four people in luxurious comfort, and we had five in it for about a 90 minute highway drive and the rear seat was roomy enough that no fisticuffs broke out. Another half hour back there and that might have changed, though.
The lucky folks up front get to take advantage of adaptive, heated sport seats with 18 way adjustment and memory. They're extremely comfortable, too, though one of my passengers complained about the high "butt lift over" of the deep buckets.
Porsche's sample had a classy two tone (black and "Carrera red", you can also get black and luxor beige) interior and the entertainment system features excellent Bose surround sound, Bluetooth, a universal audio interface and navigation system. As with other Porsches, it's a model of ergonomic touch screen/knob design, and everything is located close enough to the driver to be reachable easily.
And here's a thoughtful touch that, while it isn't new to the Cayenne, is worth mentioning again anyway: it has two sets of front seat sun visors, so you swing one around to the side and still keep one lowered in front of you for those times when the sun won't cooperate. Sure, it's no big deal, but it shows just how much thought Porsche puts into this stuff.
Controls are laid out well across the dashboard, center stack and the sloping center console. As with the touch screen, everything's in easy reach and the overall look is Porsche family-friendly, reminiscent of the entire Porsche line, from this model through the Panamera, 911, Cayman and Boxster.
You can upgrade the Turbo S even more, with such additions as an awesome Burmester High-End Surround Sound System ($4,560) that cranks out "more than 1,000 watts," has 16 loudspeakers and a 16 channel amplifier. This is a simply awesome audio system, but seems a case of gilding the lily to me since the regular Bose is no slouch in its own right. But, hey, if you can afford it…
Or you can add the Porsche Ceramic Composite Brake (PCCB) option ($10,090), which the company claims is faster and more precise than the already excellent standard system. With this, you could probably stand the Cayenne on its nose or get it rolling end over end!
Of more mainstream use, perhaps, are options such as Bi-Xenon headlights ($660) and side running boards ($1,770). The SportDesign packages ($5,220 to $6,460) add aero stuff such as wheel arch extensions, aluminum side sill trim strips and plenty more, thereby, according to Porsche, enhancing the Cayenne's off road performance.
Basically, if you have the cash, Porsche has a way to custom tweak your Cayenne Turbo S to your specifications. And wouldn't it be lovely to have the wherewithal to pay for it all!
Porsche's Cayenne, in any of its many incarnations, is an awesome SUV. If it has any issues, it's that it's large. But fear not! Later this year Porsche is introducing the brand new Macan, a smaller SUV I have a feeling will make Porsche even more profitable.
And if it's anything like a smaller Cayenne, it'll probably be fantastic. I can't wait to drive it!
Copyright 2014 Jim Bray
TechnoFile.com