A Tale of Two Porsches – High End Low End, and Low End High End
Boxster S and Carrera Put Smiles in Your Miles
By Jim Bray
October 4, 2007
Do you lust after the legendary Porsche, but find the Carrera Turbo just a little too, well, stratospheric? Take heart! Even the more "down to earth" Porsches are still an absolute blast, as evidenced by a couple of weeks I spent with the "entry level" Carrera and the "upscale" entry level model, the Boxster S.
Okay, when you put "entry level" and "Porsche" in the same sentence, you're obviously not talking about the same market segment as a Toyota Yaris or Volkswagen Rabbit, as good as they may be. Porsches are world class sports cars, the stuff that dreams are made of (to borrow from Bogie), the kind of car that turns as many heads as they do laps.
Bottom Line….
Porsche's bottom of the line cars are the Boxster and its hard top brother the Cayman, both of which will put a smile on your face if you love to drive. The Boxster is Porsche's latest iteration of the two seat open top roadster concept, and the Boxster S is even more so. The latest version cranks out 295 horses (50 more than the base Boxster) from its 3.4 liter "Boxer" six-cylinder, thanks to new cylinder heads and the same VarioCam Plus technology as the 911 Carrera uses.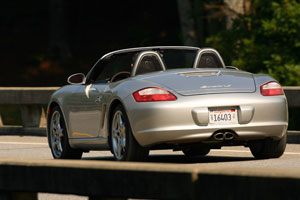 Porsche says the Boxster S goes from a standing start to 60 miles per hour in 5.1 seconds and will reach a top test-track speed of 169 mph. I believe it, though I never tested either figure. 
The Boxster S gets a 6 speed manual transmission as standard equipment (it's an option on the Boxster), with a Tiptronic S five speed automatic as an option. My tester had the stick, and it's a slick-shifting unit with a lighter clutch feel the Carrera's (it's still heavy compared with many other clutches, but a little exercise is good for the soul).
The S gets larger cross-drilled disc brakes than the garden variety Boxster, though both systems use four piston calipers and have an anti-lock system built in. Brake feel is terrific, and the car stops straight and quickly.
Both Boxsters come with variable-ratio rack-and-pinion steering that makes the car seem to handle almost psychically. Porsche says that when the steering wheel is turned more than 15 degrees from center, the ratio tightens up, giving you better control on winding roads; in slow-speed maneuvers such as parallel parking, it's looser but still as responsive as all get out. 
Boxsters now get a tire pressure monitoring system as standard equipment. This is a double-edged sword because I've driven quite a few cars in which the system gives false alarms, especially (but not necessarily) when it's cold outside. I haven't experienced that with a Porsche, though.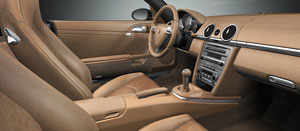 And there are other little tweaks now, such as a rear trunk (there's also one up front) that's shaped to hold stuff better, though it isn't really bigger.
My tester was a fairly basic S, with only a couple of options such as color keyed floor mats, heated seats and a wind deflector behind the seats. The latter does a pretty good job of keeping the hair unmussed, especially if you also keep the windows up, but you still get a lot of wind noise and road noise when the roof's down (well, duh!) and that works against the standard issue stereo system, which I'd have to rate as merely good.
An upgraded "Surround Sound" system is offered that's really fudged surround, but which features more power and better quality sound that really rocks. This is one option I'd want. The base system not only gets drowned out by wind noise when the roof's down, but the audio source buttons (AM, FM, CD) are on the passenger side of the center stack, which makes them a long reach away in what's otherwise a marvelously designed interior.
But those are pretty picky nits.
You can option the car with many performance, comfort and safety features that are also available on the 911 Carrera, but even my fairly Spartan version was still a wonderful driving experience. About the only complaint I had was that the shoulder belt cut me at an awkward angle and isn't adjustable – annoying, but hardly enough to make one run from the dealership, screaming.
The roof opens at the touch of a console-mounted button (after opening a single, centrally-mounted latch up top), revealing a world of driving wonder. Naturally, you lose some of the visibility and lots of the appeal of the Boxster when you have the power-operated roof up, but this is more of a convertible thing than a Porsche-specific grievance.
Carrera Boom De-Ay…
If you want something a little more meaty, you may love the 911 Carrera. My week in the base model Carrera was quite an eye opener, because I figured that, with its less powerful engine and less stuff in general, it would pale in comparison with the other iterations I've grown to love so much.
I was wrong. While the specs say it "only" puts 325 horsepower onto the road, it appears as if each of those horses could pull Ben-Hur's chariot to victory over Messala single-hoofedly. This is not the "slow" car that I had feared; heck, if you can't afford the Carrera S (or more), this one'll do you just fine.
The legendary 911 has been evolving since the 1964 model year and it has never been more stunning in appearance and technology than in its current, sixth generation. Like the Boxster S, my tester was pretty basic, with one option being the gorgeous Cobalt Blue Metallic paint job that convinced me to stop dreaming about ordering a silver Carrera.
Not a lot has changed from the 2006 model, just the addition of stuff like leather seats and tire pressure monitoring as standard equipment, tweaks to the navigation system, a new exterior color choice (Meteor Grey Metallic) and new optional 19-inch wheel designs.
Suits me. I lust  after the Carrera just as it is, whatever clothes it may be wearing. It's a fabulous car to drive, a visceral thrill every time you tromp on the gas (and tromp you will, believe me!) and hear that glorious Porsche growl (MP3 format).
The 911 Carrera is a rear engine car (as opposed to the more balanced mid-engine placement of the Boxster/Cayman and front engine configuration of most vehicles), which has apparently caused drivers some angst over the years. But the decades of refinement have tamed the twitchiness, at least so far as my driving skills have been able to discover.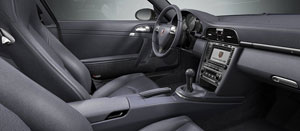 I haven't come close to pushing the envelope with these cars (mostly through fear of breaking them and not being allowed to drive them anymore) but I've still had some exhilarating drives on the unpopulated back roads I use when I want to play a little.
If you want to play a lot, you may want to add the optional Porsche Active Suspension Management system (PASM, which is standard on the Carrera S), which tightens the car up for serious driving. This is one option my tester had and, despite the fact that it can result in a pounding to your bladder on rougher roads, I've grown to love it. It helps unleash the beast in the bonnet and makes the car feel more like a race car than a sports car.
Standard on the Carrera is a six speed manual transmission that's a lot of fun to play with. The clutch is heavy, though not the heaviest I've experienced, and the heaviness is made up for by its feel: this is no "on/off switch" type of clutch. Shifts are short and tight.
You can also get a Tiptronic auto/manual with shift buttons mounted on the front of the steering wheel, but the buttons aren't as easy to reach as paddles are, at least with my stubby little fingers.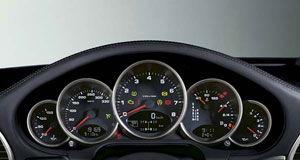 Besides, shifting is fun!
My tester also came with the standard, and very efficient, four wheel disc brakes with ABS, and Porsche Stability Management (PSM).
The driver's compartment, which in my tester was outfitted in Stone Grey standard leather, feels as if they took my measurements and built me a car. Everything is close to hand, the five pod instrument panel is a model of high tech simplicity (and that isn't an oxymoron here), and the driving position is perfect. The car just feels right.
One thing that isn't right is the rear seats, which are suitable only for toddlers, if that. And they're hard to access: when you move the front seatbacks forward they hit the ceiling before they're far enough forward to matter much. Better to just toss your gym bag or briefcase back there and not worry about passengers. Porsche really should get rid of the seats and make it a better storage compartment. But who am I to question 40 years of success?
Optional, but fortunately included on my tester, was the upgraded Bose audio system I recommend highly. It boasts addictive power and excellent tone. And you can play it loud enough to drown out the engine's song, though that may be a mistake.
"My" car also had the Bi-Xenon headlight option, with dynamic leveling and headlight washers (though they didn't get rid of the bugs that seemed attracted to the car even more than I was), self dimming mirrors, and the extended navigation module – which records your route, triangulates the vehicle's position in unmapped areas and allows for "back – track" navigation via GPS and compass coordinates. I imagine that's for those who take their Porsches to the ends of the earth.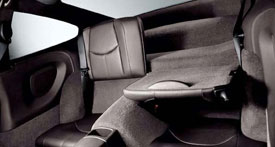 I might also recommend the parking assist system (which may help keep your 911 from getting dinged in parking lots – self inflicted ones, at least) and maybe the rear window wiper.
But even the base 911, as I discovered, is still a heckuva ride.
The Porsche Boxster S starts at $55,700 U.S./$77.300 Canadian. The Porsche 911 Carrera starts at $73,500 U.S/$110,700 Canadian.