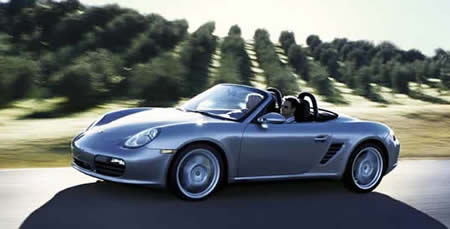 Porsche Boxsters – Fun, Fast and Easy to Drive
By Jim Bray
September 13, 2008
My name is Jim and I'm a Porscheholic.
I make this admission because I've lusted after Porsches since I first saw a 356 back when I was a nipper. It looked to my youthful eyes somewhat like a Volkswagen Beetle onto which someone had dropped a heavy weight and then smoothed out the dents to create a lower, sportier bug.
Then there was the 911, introduced in the early 1960's and still being produced in exquisite form today. Those Porsches, and Ford's GT40, share the credit (though my wife calls it blame) for helping make me a car nut 'way back then.
So when it comes to spending seat time in any Porsche, I'm a slut. I love them and every time I'm offered one I'm there, with bells on. And while many times in one's life the anticipation is often better than the actual experience, driving Porsches is every bit as exciting as I had fantasized.
Which brings me to the Boxster, Porsche's entry level two seat sports car. This is open top motoring as it should be – like driving an MGB of days gone by, but with a little more room, a little more luxury – and a lot more performance. Boxsters, unlike B's, also run in the rain and don't require a college degree to get the roof up when the clouds burst.
I was lucky enough to drive two Boxsters nearly back to back during some fine summer weather that was perfect for top down driving: the base model and the more adrenalin-inducing Boxster S. The first treat was a Speed Yellow Boxster, followed by a Carrera White Boxster S.
Other than the color, there aren't a lot of exterior clues to differentiate the two, though the S appears to have bit of a fat rear end (strangely enough, that's what Porsche said about me, too!) compared to the regular Boxster. This is because the S comes standard with 18 inch wheels wearing 265/40 series tires compared to the Boxster's 17 inchers and 235/50 series rubber. Better to extend the fenders a tad than have that rubber sticking out and looking like an afterthought.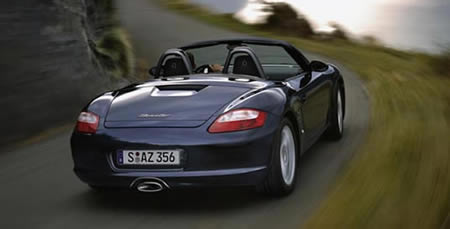 The extra girth helps raise the Boxster S' drag coefficient from 0.29 to 0.30 for the manual transmission-equipped models, but the difference is mostly academic: both Boxsters slide through the air as if they were born to run which, of course, they were.
The 2008 model year brings some tweaks and upgrades to the Boxster family, of course. For starters, both Boxsters are now available with new optional sports folding bucket seats with adjustable backrests. You can also order your Boxster in Macadamia Metallic, and can option it with Carrera Red natural leather inside. Oh, and the recommended oil-change interval is now 12,000 miles or a year and you only need to replace the spark plugs every 36,000 miles or four years.
I'm willing to bet Boxster owners reach the mileage figure before the time interval is up….
Boxsters are motivated by a 245-horsepower 2.7 liter, horizontally opposed six cylinder engine that uses Porsche's VarioCam Plus system to adjust both intake valves' lift and timing "for better performance and fuel efficiency". Base Boxsters come with a five speed stick you can swap out for a six speed manual or a five-speed Tiptronic S.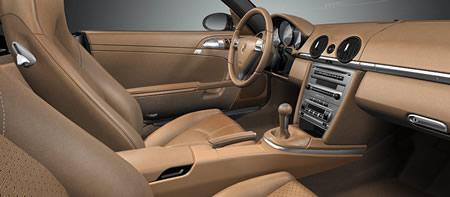 My tester had the five speed manual, which shifts slickly and smoothly. I preferred the six speed stick of the Boxster S, which is even more fun to slap around, but could live easily with the base tranny. The clutch in both cars is a tad heavy, but just a tad – and what's a work of art if you don't have to suffer for it, even a bit?
Standard on the S is a 3.4 liter flat six cylinder nuclear reactor that Porsche says can propel it from zero to 60 mph in 5.1 seconds, seven-tenths of a second more quickly than the base model. Also standard is that terrific six-speed manual; the five-speed Tiptronic S
is an option.
Boxsters received a power upgrade last year to 245 horses for the base model and 295 for the S, with 201 and 252 lb. ft of torque respectively. 245 may not seem like a lot of oomph for a modern relatively high end sports car, but in practice it's just fine. The S's thrust is better, of course, but if I hadn't driven it I probably wouldn't have missed the extra 50 nags and topped up twist.
This means that if you can't afford the extra entry fee for the S, which is about ten grand U.S., living with the "little" Boxster is hardly a chore.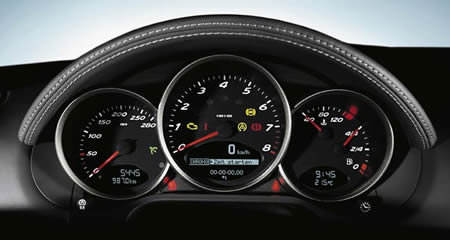 If gas mileage is important to you chances are you aren't looking for a Porsche, but you might be pleasantly surprised to find that the Boxster's EPA fuel economy rating is 20 mpg city/29 mpg highway (for the five-speed manual) and 18/26 mpg city/highway for S with the stick shift.
A good part of the Boxster family's driving appeal comes from its mid-engine design, which places the power plant right behind the seats. This not only gives nearly perfect balance you'll marvel at every time you enter a curve, it also gives you a small but usable trunk at the rear, just where a trunk should be.
There's also a typical Porsche trunk up front, where most cars have their engines. It's quite deep but doesn't extend back very far.
The convertible top is easy to open and close; just open the handle near the top/center of the windshield and press the console-mounted button and Voila! The side windows lower a tad while the roof folds itself down quickly, then return to their default position when the process is complete. Raising the roof (as in "closing the top" rather than "going to a wild party") is just as easy.
The roof closes nice and tightly, too. I experienced what must have been the Mother of all Rainstorms shortly after picking up the Boxster – where I couldn't see bupkis beyond the car's windows – and the interior stayed snug and dry. Ditto for when I took a trip through a touchless car wash.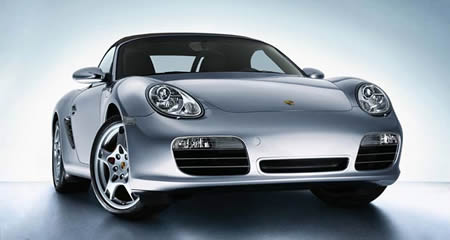 Visibility with the roof up is very good, too, which is an important bonus.
Driving either Boxster is very nearly a spiritual experience for a fan of fine sports cars. The handling is superb, not only because of the mid-engine configuration but also because of the independent suspension all around and the variable-ratio rack-and-pinion steering that feels as if it's hard wired right into your brain. Steering wheel feel is nigh on perfect and the wheel tilts and telescopes for extra comfort and efficiency.
My test units had the base seats, which offer powered seat back adjustment but manual bottom movement. I often find manual seat adjustment translates into not being able to find a perfect driving position, but such isn't the case with the Boxster. It was easy to find that sweet spot and once there, everything in the cabin – knobs, buttons, levers, etc. – is close at hand.
The S sample I drove had the optional Porsche Active Suspension Management, which tweaks the shocks continuously as you tool along, and I recommend it highly if you plan to toss the Boxster (or any other Porsche) through any twisty bits. It can be a tad tough on the tush when the road surface is a little iffy, but it returns benefits in handling and overall driving fun. The system is activated by a little button on the center stack and can be shut off for those mundane times when you're merely commuting.
Both of my test units featured the optional bi-xenon headlamp package, which lights up the road ahead beautifully, features dynamic leveling and headlight washers and is a desirable upgrade. They also had a clear plastic(ish) wind deflector that helps keep your hair from being mussed too much (a certain amount is inevitable and acceptable). This is also pretty cool, but it'll set you back a few hundred clams.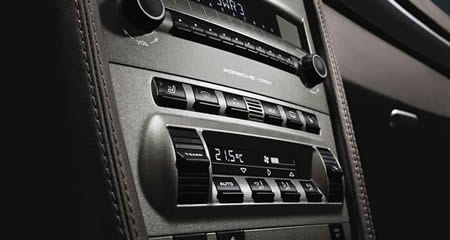 The Bose audio system offers plenty of power and good sound, though it's a tad bassy. I like the bank of a zillion radio preset buttons Porsche gives you. I also like the automatic HVAC's wide variety of fan speeds.
You can option up Boxsters with about a googolplex of nifty things, focusing on performance, luxury or a combination of both. But as much as I love creature comforts and have been impressed with the "more loaded" Porsches I've driven, my fairly sparsely optioned Boxsters didn't lack anything important.
After all, a Porsche is about the drive, and even in its more staid livery the Boxster is a blast. It's fast, easy to drive and about as much fun as a person should be allowed by law.
If, like me, a convertible isn't your favorite type of car you can get all this fun with a solid top. It's called the Cayman.
And I'll get to drive one of them next month! Life is good.
The Porsche Boxster starts at $45,800 U.S./$58,100 Canadian. The Boxster S starts at $55,700 U.S/$70,200 Canadian.
Copyright 2008 Jim Bray