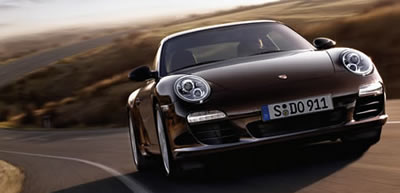 Porsche Introduces a 911 for Chocoholics
By Jim Bray
November 5, 2008
Who would have thought that painting a car brown would cause it to become an object of lust?
Not that the Porsche Carrera S isn't an object of lust to begin with. Heck, I've lusted after the 911 since the 1960's and enough other people have too, or the car would have gone the way of such other sixties icons as the Corvair and the E Type Jaguar.
Porsche has kept the 911 fresh by updating it constantly, yet never forgetting from whence it came. This strategy has kept the sports car state-of-the-art, yet timeless – an interesting balancing act Porsche has managed to pull off beautifully: the current 911 is the most attractive version ever and people in the know opine that it's the best to drive as well.  
It's the stuff that dreams are made of, a superb sports car you can drive every day and which will only run you about the cost of a quite modest house (these days) instead of a modest mansion (depending upon where you live, of course!).
So what's with the Macadamia Metallic paint? Well, other than needing something new to bring in potential Porsche purchasers, it's far more subtle than such colors as "Speed Yellow" and "Guards Red", which are shades you – and the cops – can see for miles. Macadamia Metallic paint makes the 911 as much of a "stealth rocket" as a car that looks like the 911 can be.
It's a beautiful shade. I've never had people comment so much about a car's color as with the Macadamia Metallic 911S I drove. And the comments were generally along the line of "I don't usually like brown on a car, but this paint job is beautiful". I had to agree with them, a most annoying prospect.
This generation of the 911, which Porsche calls the 997, was introduced in 2005, but has been refined constantly since then. Last year, for example, they added a tire pressure monitoring system as one of the new features, a nice tweak as long as it isn't really cold outside.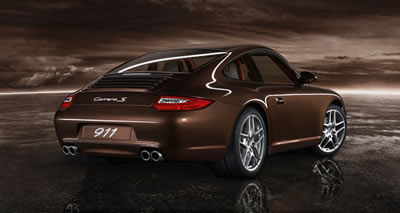 This year, besides tweaking the color choices, they've upped the recommended oil change interval to 12,000 miles (20,000 km), or one year and now recommend changing the spark plugs in the normally aspirated versions every 36,000 miles (60,000 km), or four years.
Leather sport bucket seats are optional now as well, though my test car had the standard seats upgraded with the power adjustment (with memory) package. I imagine the sport buckets are lovely, but the seats into which I slid by bounteous bum were such that I could live in them happily as long as they were in a Porsche 911 (especially if I owned it). They're comfortable, supportive and hold you nicely into place when the road gets serpentine.
The 911S is powered by a 3.8 liter flat six engine that emits a lusty howl from its quadruple tail pipes even when you merely start it up. It produces 355 horsepower and 295 lb.-ft. of torque, which is puh-lenty! Heck, the "base" 911's 3.6 liter engine's 325 horsepower and 273 lb.-ft. of torque are puh-lenty! But who can argue with more ponies to prod?
Shift the standard 6 speed manual transmission into first, let out the relatively heavy clutch while pressing the fun pedal floorward and you're rewarded with a most exhilarating push of your back into whichever style of bucket seat you've ordered on your 911S.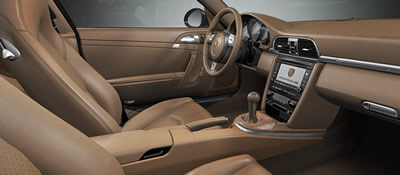 Porsche says the Carrera S with the manual transmission (a Tiptronic auto/manual is also available) goes from zero to 60 mph (96 km/h) in 4.6 seconds, with a top track speed of 182 mph (293 km/h). I never came anywhere close to reaching those figures, mostly due to paranoia, but when I took the 911S onto one of my favorite two lane highways through the Rocky Mountain foothills it gobbled up the miles like the thoroughbred it is, with a running back's responses to the twisty bits and a jet fighter's to the straight stretches and when passing slower vehicles (which is just about all of them).
Porsche also claims the 911S fitted with that slickly-shifting manual tranny can get fuel economy of 17 mpg city and 25 mpg highway. This is pretty impressive on paper, but it must have been achieved by trying to maximize mileage, which minimizes the merriment in a car like this. I didn't track my mileage, but if I got anywhere close to those figures I'll eat my now-collectible Champ Car hat.
Let's face it. If you're buying a car like this, gas mileage probably isn't anywhere near the top of your list of priorities.
To annoy the greenies even more, Porsche offers the optional X51 Power Kit, which ups horsepower ante to 381, shortens the zero to 60 time to only 4.5 seconds and extends the top track speed to 186 mph (298 km/h) with the manual transmission.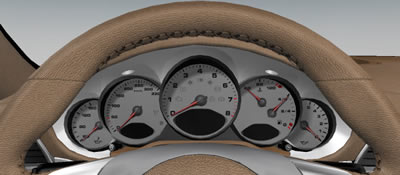 I love Porsche's interiors and instrumentation, the latter with its perfect blend of analog and digital: you get a big analog tachometer right in front of your eyes, with a smaller digital display below on which you can display your speed digitally. This lets you monitor your revs and your speed with one quick glance in one place. I love Porsche interiors because of their exquisite blend of luxury and sportiness, with everything you might need close at hand.
The 911S comes with Porsche's Active Suspension Management system, which is activated by a switch on the center stack. Fire it up and the car hunkers down and tightens up for action, changing from a wild beast to a Wild Beast. This is the setting you'll want if you're on a track or a well-paved twisty mountain road. On a poorly paved road, however, your bladder will become your enemy.
Any 911 draws a crowd, and whether it was the Macadamia Metallic finish or not, the little beauty seemed to get even more reactions than usual. Heck, at one point I was driving along a four lane divided highway minding my own business and a car load of young men in a Ford Focus made a point of pulling up in the passing lane beside me, motioning and hollering to get my attention then, when I looked, waving and giving me the thumbs up sign before backing off and pulling in behind me as a good economy car should when on the road with a Porsche.
It felt really good until it hit home that it wasn't my car I was driving…
There were several other, similar examples during my time with the 911S. Heck, if I'd had that car in high school I might not have had to stand on one side of the gym during dances….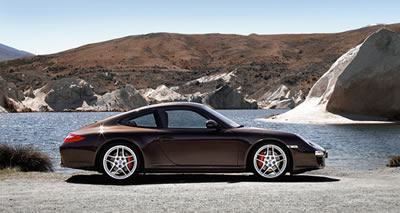 Having driven a couple of Boxsters shortly before the 911S arrived, I really noticed how the big Porsche's handling isn't quite up to the mid-engined Boxster's. Not that it's a piece of junk wallowing its way along the highway, of course: it handles superbly. But its rear engine/rear wheel drive configuration isn't quite as precise and balanced as the nigh-on perfect Boxster, throwing in a bit of understeer that makes you work a tad harder than you have to in the smaller Porsches.
The 911's larger size also means the cabin is just a tad larger and more roomy. This is a double-edged sword, in that the buttons on the center stack aren't quite as close to reach as in the Boxster/Cayman interiors, where I can reach everything with just the sweep of my arm. In the 911, I have to lean forward a bit – but just a bit.
On the other hand, the extra size means there's more room for you and your stuff, too – including a back seat that's more of a joke/storage compartment than an actual seat. It might work for small kids, but it's an ordeal for grownups.
To test this, we crammed my daughter in law, kicking and screaming, into the back for a short, urban trip. She managed to get seated and belted, but within only a couple of minutes her initial kicking and screaming had turning into prodding and moaning as she begged to be set free. The trip only took about 10 minutes, but she was so grateful to be released from the bondage of the 911's rear seat that she actually pretended to like me for a few minutes.
But who cares? A Porsche 911 is about what happens to the occupant of the driver's seat, and a lot of very nice things occur there. Everything else is gravy.
The Porsche 911S starts at $86,200 U.S./$107,600 Canadian.
Copyright 2008 Jim Bray
TechnoFile.com